Kwame Anthony Appiah
2008 Recipient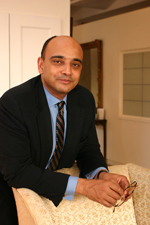 Kwame Anthony Appiah, the Laurance S. Rockefeller University Professor of Philosophy and the University Center for Human Values at Princeton University, was named the inaugural winner of the Joseph B. and Toby Gittler Prize.
Appiah was awarded the prize, which honors the legacy of the late sociologist Joseph B. Gittler and his late mother, Toby, during a ceremony and lecture Oct. 27, 2008, at Rapaporte Treasure Hall in Goldfarb Library on the Brandeis campus.
"I believe that Professor Gittler would have applauded Brandeis' selection of Kwame Appiah as the inaugural recipient of the Gittler award," said Brandeis president Jehuda Reinharz, who chaired the awards committee. "Appiah embodies Brandeis' and Professor Gittler's fundamental belief in the importance of freedom, community and justice, and the need for continuous questioning and revision of our moral and ethical beliefs."
The Gittler prize is the first and one of the largest academic prizes awarded to a U.S. or international scholar for outstanding and lasting contributions to racial, ethnic and/or religious relations.
Appiah, 54, a Ghanaian philosopher, cultural theorist and novelist, has taught at Princeton since 2002. This fall, he is serving as the Bacon-Kilkenny Visiting Professor at Fordham University School of Law in New York City.
He previously taught and held academic positions at Harvard University (1991-2002), Duke University (1990-91), Cornell University (1986-89) and Yale University (1981-86), among others. He is the author of numerous articles and several books.
In 1992, Appiah won the Herskovitz Prize for African Studies in English for the autobiographical "In My Father's House," which placed Appiah at the forefront of scholars dealing with contemporary African studies and identity. Among his later books are "Colour Conscious" (with Amy Guttman), "The Ethics of Identity" (2005) and "Cosmopolitanism: Ethics in a World of Strangers" (2006).
Appiah's body of work questions and challenges most accepted theories about race, ethnicity, gender, sexuality, class, religion, nationhood and multiculturalism.
He holds a doctorate in philosophy from Clare College at Cambridge University. Appiah speaks four languages other than English: Asante-Twi, French, German and Latin.
"[Cosmopolitanism is a] stoic philosophical ideal … of the openness to others that I learned from my home family, an ideal…that can help guide the human community."
Kwame Anthony Appiah
From the Inaugural Gittler Prize Lecture