Gustavo Gutiérrez
2014 Recipient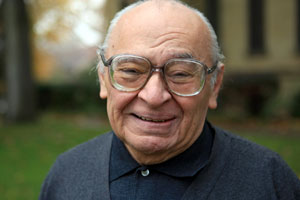 Matt Cashore / University of Notre Dame
A world-renowned Catholic Dominican priest from Peru, now the John Cardinal O'Hara Endowed Professor of Theology at the University of Notre Dame, Gustavo Gutiérrez is a founder of liberation theology, which combines theology with social activism. His book, "A Theology of Liberation: History, Politics and Salvation," is widely considered one of the most important works in 20th-century theology, and plays a critical role in informing the ethical values of faith-based organizations working in developing countries in Latin America and beyond.
His other major books — which have been translated from Spanish into multiple languages — also touch on issues of spirituality and Latin American history. They include "We Drink From Our Own Wells: The Spiritual Journey of a People," "On Job: God-Talk and the Suffering of the Innocent," "The Truth Shall Make You Free," "The God of Life" and "Las Casas: In Search of the Poor of Jesus Christ." He is currently working on a book exploring the historical background and continuing theological relevance of the preferential option for the poor.
Gutiérrez was awarded the Legion of Honor by the French government "for his tireless work for human dignity and life, and against oppression."
After studying medicine and literature in Peru, Gutiérrez studied psychology and philosophy at Louvain in Belgium, and received a doctorate at the Institut Catholique in Lyons, France. Gutierrez has been a principal professor at the Pontifical University of Peru, a visiting professor at many major universities in North America and Europe, and holds nearly 20 honorary degrees.
Gustavo Gutiérrez was in residence Oct. 5-6, 2014. The Gittler award presentation and lecture was held  Oct. 5, 2014.
Videos
"My goal is not to be the voice of the voiceless. The goal must be that the voiceless have voice."
Rev. Gustavo Gutiérrez
From his lecture, "Liberation Theology and Social Activism"