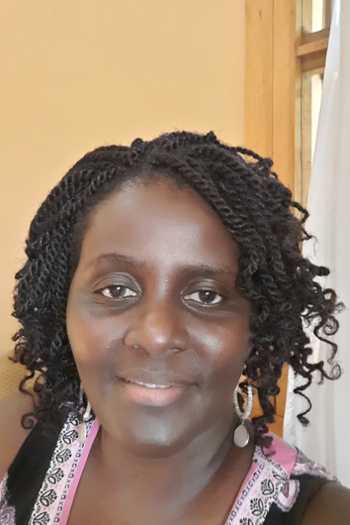 Why did you choose Brandeis International Business School?

The International Business School stood out because of the diversity of the student body, the pedagogical approach that simulated real-life scenarios in the classroom, course selection, and the possibility of student aid for foreign students. I also liked the location near many other excellent schools, which was good for collaboration and networking.
What were some highlights of your Brandeis experience?
Activities such as competing in the National Black MBA Association Case Competition and visiting a property during Professor Ed Bayone's real estate class stand out, as well as having successful finance and business practitioners come to speak and motivate the students. And I really enjoyed interacting with other students in the different activities that were organized by the Office of Academic Affairs and Student Experience Office, such as the spring and winter formal parties, among others.
How would you describe the learning environment and support services at the International Business School?
The International Business School campus was well equipped with technology, the Career Strategies and Engagement staff were very helpful in advising students in different aspects of careers and life, and the career fairs both on and off campus were great ways to meet and interact with recruiters from reputable organizations. Finally, the International Students and Scholars Office was also very supportive when students needed assistance to travel or to comply with regulations and annual tax filings.
How did experiential learning at Brandeis help prepare you for your career?
The different research and class projects I did, along with my internship at the World Bank's International Finance Corporation, helped me understand and appreciate how the theoretical concepts I acquired could be applied in the real world. The diversity and multicultural setting also prepared me for an international career. Classroom groups comprised students from different countries to encourage breaking cultural and language barriers and learn how to interact and work with people from different backgrounds.
What are you doing in your current role, and what knowledge, skills, or experiences from your time at Brandeis are you using in your job?
I oversee external fund managers' operations in the Reserves and Investment Management Office Division of the Financial Markets Department at the Central Bank of Uganda. This involves ensuring smooth implementation of the bank's objectives and compliance with international regulations. I also review the strategic asset allocation and the foreign exchange reserves management policy for the bank to align them with global developments.
The work I do includes portfolio management, conducting market research, performance and risk analysis and reporting — all of which are deeply informed by the classes I took at Brandeis, such as financial theory, options and derivatives, fixed income instruments, financial modelling, quantitative techniques, credit risk analysis and global economic environment.