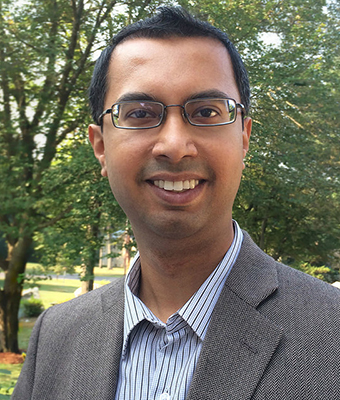 What led you to choose the MBA program at Brandeis International Business School?
I'd been working in software development, but I was very interested in learning about international business strategy, finance, economics and marketing. I looked for programs with a diverse student population and exceptional quality of teaching. Brandeis was my top choice. I remained impressed with the program when I arrived, particularly by the tools and resources that the school provides for international students transitioning to life and education in the U.S.
What extracurricular experience stood out?
My favorite memories involve working in the Admissions office. I gave tours and spoke directly with prospective students, which gave me the opportunity to share my experience and answer the questions that I had just recently explored in determining my graduate school path. It was very satisfying to see those students enroll the following year!
What was the most valuable lesson you learned in the classroom?
Collaboration and teamwork. The MBA program prepares its students to meet, interact and work with students from so many different countries, with everyone bringing their unique perspective to the discussion. The coursework helped me enhance and practice skills such as delivering presentations, speaking in public and leading a team — all of which I used in managerial positions.
You've worked in a variety of sectors in the business world. How do you keep up with such a dynamic, shifting landscape?
The only way to keep up with the fast pace of change is to be on the forefront of learning and to make that a lifelong commitment. I've had the opportunity to work in finance, human resources, marketing and business operations — and through it all, I could always trace my work back to something that I learned in the MBA program, either in a class, group discussion or one-on-one consultation with faculty and peers. But graduating from Brandeis IBS with your MBA degree is just the beginning. Keeping in touch with alumni from different fields in different parts of the world is one way to stay on top of the latest trends. I give credit to the school for preparing me to take on different positions and to grow my career and network along the way.
What advice do you have for current MBA students?
An MBA from the International Business School opens the door for any graduate to pursue multiple opportunities — with some of those drastically different from your professional background prior to attending, as was the case with me. The school provides the resources to learn and grow your skillset in a number of different areas and prepares you to take on any challenge that comes your way. Keep an open mind for new opportunities and stay on the cutting edge of learning.