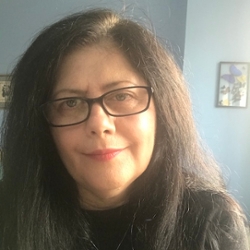 Global Climate Finance : Challenges Five Years into Paris Agreement
Friday, April 16, 9:30 A.M. EDT
Elida Reci is an Economist working for the United Nations Department for Social and Economic Affairs/UNDESA/NY at the intersection of governance, financing for development, technology, and innovation. She is a regular contributor to several UN publications such as UN E-Government Survey, World Public Sector Report, World Social and Economic Survey, Interagency Task Force on Financing for Development, etc, where she has written on issues related to digital transformation and frontier technologies, innovation, climate change and disaster risk reduction, institutional frameworks and financing for sustainable development. Her work has led Elida from Latin America and the Caribbean, to Sub-Saharan Africa, Middle East and Asia contributing to institutional and regulatory frameworks on sustainable development.

Elida joined UNDESA after 18 years of working experience as a senior economic advisor to the Prim Minister of Albania, a former Director at the Albanian Ministry of Finance and a founder of Public Private Finance Institute. During her career, she has been advising and working closely with parliaments, governments, civil society, and business communities on a wide range of issues from international trade and FDI, public financial management, ICT for development and innovation. She was part of the Stability Pact Initiative for Western Balkans (1999-2005) with Economic Table II as a senior regional expert, where she closely cooperated with a number of international and regional organizations, such as IMF, WB, UNDP, UNCTAD, EBRD, OECD, etc.
Elida is a Fulbright Scholar. She holds a MA in International Economics and Finance from Brandeis University, USA and a BA in Finance from Tirana University, Albania. Elida has taught international trade and development economics at Tirana University. Since 2020 she serves a four-year term as a Member of International Advisory Panel of the Chartered Institute of Public Finance and Accountancy (CIFP).