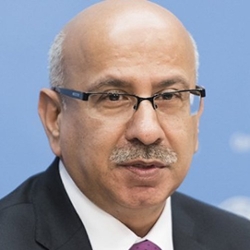 Global Climate Finance : Challenges Five Years into Paris Agreement
Friday, April 16, 9:30 A.M. EDT
Navid Hanif Director, Office for Financing for Sustainable Development, Department of Economic and Social Affairs (DESA) United Nations Navid Hanif is the Director of the Financing for Sustainable Development Office of the United Nations Department of Economic and Social Affairs (UNDESA). He joined UNDESA in 2001; until 2003, he was Senior Policy Adviser in the Division for Sustainable Development and member of the team for the World Summit on Sustainable Development held in Johannesburg in 2002. He later joined the office of the Under-Secretary General for UNDESA and focused on departmental initiatives in various policy areas. He worked as the Chief of Policy Coordination Branch in the office for Economic and Social Council (ECOSOC) support from 2004 to 2009. In 2005, he was sent on a special oneyear assignment to work as a Principal Officer in the Office of the United Nations Secretary-General. He worked there as a member of the team for the 2005 World Summit. In 2010, he was appointed as Head of the newly established DESA Strategic Planning Unit. He served as Director of the Office for ECOSOC Support and Coordination (June 2012 – February 2018). Mr. Hanif holds Masters in International Political Economy from Columbia University, New York and Masters in English Literature from Government College, Lahore.