Hornstein's 50th Anniversary Reunion & Celebration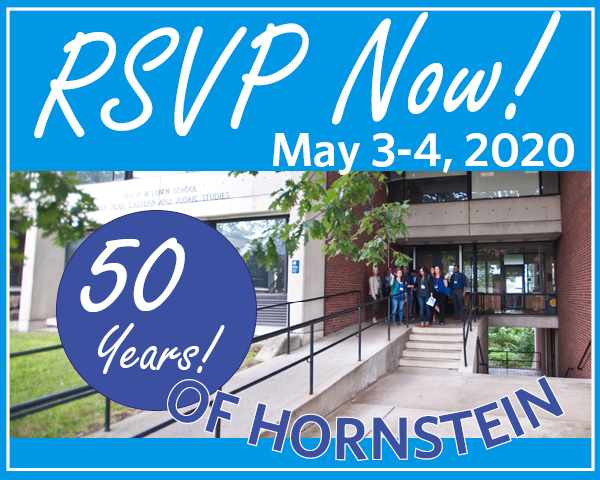 CANCELED WITH REGRET
Sunday, May 3, 2020
12:00 p.m. to 9:00 p.m.
Gala Dinner, 6:00 p.m.
Monday, May 4, 2020
8:00 a.m. – 3:15 p.m.

Location: Hassenfeld Conference Center,
Brandeis University
Admission: Invitation only; limited seating
Questions? Email hornstein50@brandeis.edu or call us at 781-736-2990
With regret, Brandeis University announced late yesterday, March 9, that all on-campus scheduled events that will gather more than 100 people this spring (through early May) will be canceled or postponed.

It is with our own regret—but with gratitude for the enormous alumni and community support we have had—that Hornstein's 50th Anniversary Reunion & Celebration on May 3-4 will not take place. 
---
The Hornstein Program celebrates its 50th anniversary this May 3 and 4 with a joyous gathering on the Brandeis campus—and we want you to celebrate with us!   
From 12:00 p.m. on Sunday May 3 through 3:15 p.m. on Monday May 4, 50 years of Hornstein alumni, faculty, and other stars of Jewish communal thought and practice will gather to mark Hornstein's contributions to 50 years of Jewish life. Along with networking and a banquet on Sunday evening May 3, we will gather for two days of discussion of the Jewish future and the role of Jewish professionals. 
From our founding directors, Leon Jick z"l and Bernie Reisman z"l, the Hornstein Program—and, in particular, our alumni—has redefined and reshaped Jewish communities around the world.
Now, as the American and world Jewish communities ponder both our potential and fragility, we will convene to learn and to collaborate in meaningful ways about how we will craft a strong and enduring Jewish future.
Program
Sunday
12:00 pm Registration
1:00 pm Welcome!
1:15 pm Text Study on Leadership
2:00 pm Conversations by Class
3:15 pm Plenary Panel
4:45 pm Walk & Talk
5:45 pm Cocktails
6:30 pm Gala Dinner
9:00 pm Closing


Monday
8:00 am Breakfast
9:00 am Session #1: Power, Money and Philanthropy
10:30 am Session #2
12:00 pm Luncheon: Honoring Hornstein Directors 1994-2020
1:15 pm Open Choice
2:15 pm Reflection
3:00 pm Closing
Accomodations
The Hornstein Program has reserved a block of rooms for Saturday and Sunday nights at the Hampton Inn & Suites Boston/Waltham and at the Courtyard by Marriott Boston/Waltham. Special rates apply through April 1, 2020. Some home hospitality will be available. Please email the Hornstein office if you would like to offer home hospitality or if you need it.
The Planning Team
Ellen Smith, co-chair
Cindy Chazan, MA'74, co-chair
Amy Sales
Contact Us
We welcome your questions and comments, which you can email to the Hornstein office at hornstein50@brandeis.edu.
---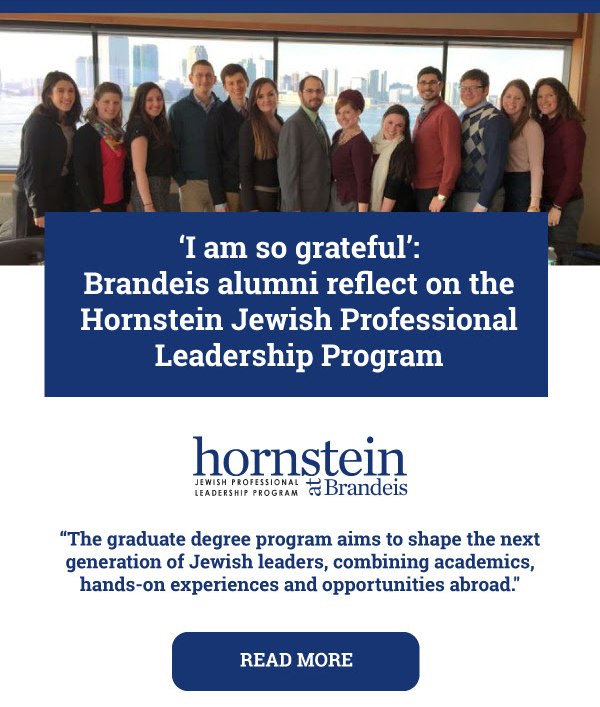 Brandeis alumni reflect on the
Hornstein Jewish Professional Leadership Program
In anticipation of celebrating 50 years of the Hornstein Program and students past and present, Hornstein organized an article about alumni at The Forward. Eight alumni are featured. The photo shows students during the Starr Seminar in NYC in 2015.
---
Sponsors
The Hornstein Program is grateful for the generous support of the following organizations.