ICC's 30th Anniversary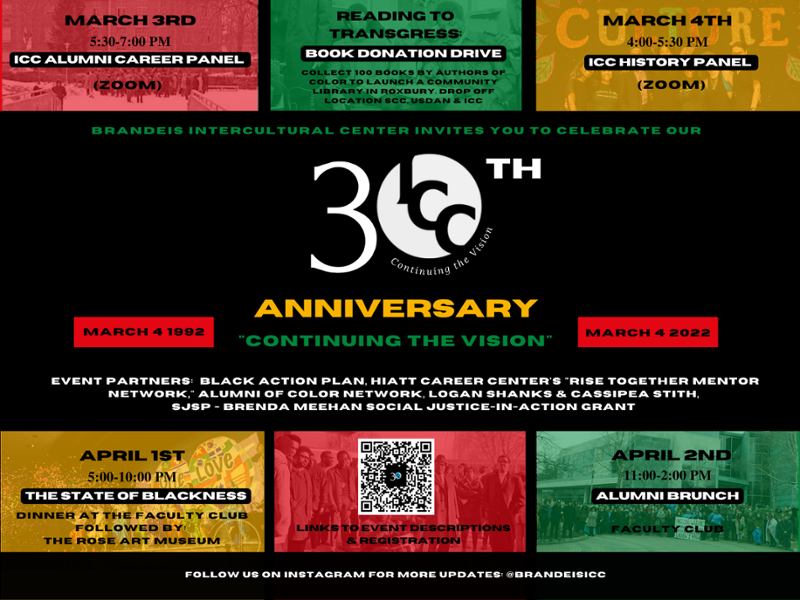 Events
Continuing the Vision - ICC Alumni Career Panel
March 3, 2022
5:30-7 p.m.
In honor of their 30th anniversary, the Intercultural Center (ICC) hosted an Alumni Career Panel in partnership with the Alumni of Color Network and Hiatt Career Center's Rise Together Mentor Network. The ICC invited all Brandeis students, alumni, faculty, and staff to join them virtually to hear from remarkable alumni with careers represented in various industries including Education, Law, Career Services, Healthcare, and more. Following the panel discussion was the opportunity to gather in breakout groups for informal networking with students. 
After this event, the conversation continued with Brandeis students in the Rise Together Mentor Network on BConnect at brandeisconnect.com.
ICC 30th Anniversary - History Panel Discussion
March 4, 2022
4-5:30 p.m.
The Intercultural Center (ICC) was founded on March 4th, 1992 as a dedicated space where historically marginalized students could foster a welcoming community to which diverse experiences and perspectives were respected, valued, embraced, and celebrated. The inaugural theme of ICC's founding, "A Vision Realized," recognized the efforts of the organizing and advocacy student group known as the Push Committee.
This year's theme, "Continuing the Vision", celebrates 30 years of cultural enrichment, diversity, and inclusion. To help us celebrate, we invite back the founders and leaders of the Intercultural Center. Join us as we commemorate our 30th anniversary and hear directly from our beloved ICC Alumni as they recount their experiences as student leaders and reflect on their legacy.
State of Blackness - Dinner and Brunch
Friday, April 1, 2022 
5:30 - 7 p.m.
Saturday, April 2, 2022
11 a.m - 2  p.m.
 
 In collaboration with the Black Action Plan (BAP), the ICC co-hosted "The State of Blackness," an event celebrating 69 years of Black art, activism, and culture at Brandeis University. This event seeks to honor the intellectual, emotional, spiritual and physical contributions of Black students, faculty, staff and alumni.
Join us to commemorate the timeless legacies whose movements have made generational ripples of influence, making way for other legacies to take root and flourish.
Reading to Transgress: Book Donation Drive & Roxbury Community Library
March 1-31 
In partnership with Rich/Collins Fellows Logan Shanks and Cassipea Stith, the ICC will be collecting 100 book donations to help launch a community library in Roxbury, MA. Roxbury, a historically redlined city in Massachusetts, currently lacks adequate educational resources and access to books, particularly within the Black community. Through a partnership with Frugal Bookstore and More Than Words, we seek to provide the Roxbury community with additional educational resources and sponsor intergenerational opportunities for critical engagement.  
Book Donations can be mailed to the following mailing address:
Intercultural Center
415 South Street
MS 39
Waltham, MA 02453
On campus drop off locations are: Usdan Game Room, Shapiro Campus Center and the Intercultural Center