Class of 1983
Class Correspondent
Lori Berman Gans
46 Oak Vale Road

Waban

, 

MA

 

02468
Facebook has been a revelation for me! I've found and reconnected with so many Brandeis friends and classmates in the last year. It's been fascinating to see where fate and choice have taken them. Facebook is fun, but one source you can always count on for news and updates is Class Notes in Brandeis Magazine. Brandeis taught us all to be endlessly curious. Well, we're curious! Please take a moment and write in. It's never too late to tell us what you're up to. And for those of you who are interested, I'm delighted to announce that we have raised almost $40,000 for the John "J.J." Jamoulis '83 Endowed Scholarship Fund in memory of our beloved classmate. During the last fiscal year, we raised the second-highest amount since the fund was established in 1996. This is a terrific accomplishment for our class. All contributions, at any level, make a difference in helping Brandeis students and maintaining a lasting legacy. If you are interested in contributing, please call Lisa Fleischman in the Office of Development and Alumni Relations at 781-736-4062.
Lorin Reisner and Kenneth Lench '84 were part of the U.S. Securities and Exchange Commission legal team that charged Wall Street firm Goldman Sachs with defrauding clients. Lorin, a former federal prosecutor, was recruited to the SEC last year by new enforcement director Robert Khuzami as his deputy. Ken, an SEC veteran, helps lead a new agency group specializing in the types of exotic investments that nearly wrecked the financial system.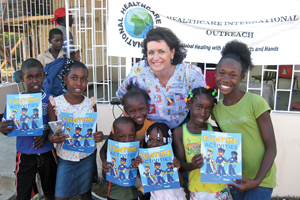 Jamie Diament-Golub '83, a pediatric dentist, brought smiles to Jamaica as a volunteer with Health Care International.
Jamie Diament-Golub
, a pediatric dentist who lives in Woodcliff Lake, N.J., spent a week in Jamaica as a volunteer with Health Care International. Jamie, a part-time faculty member in the Department of Pediatric Dentistry at Columbia University College of Dental Medicine, joined with her 12 dental students and other team members to treat an estimated 1,600 patients during the week.
Submit a Class Note