Class of 2002
Class Correspondent
Hannah (Johnson) Bornstein
136 Grove Street

Scituate

, 

MA

 

02066
Greetings, Class of 2002! I hope everyone had a great summer. My husband and I escaped the summer heat by visiting the beaches of our town, Scituate, Mass., a harbor community just south of Boston. One of the perks of living in the Boston area is that I get to visit the Brandeis campus every so often. I reunited recently with some Brandeis swimming and diving team alumni who were on campus. While the campus has many new buildings and looks quite different from the campus we knew in 2002, it was reassuring to remember that many friendships from our college years continue as though time has not changed anything at all. It was great to catch up with my former teammates and hear about the exciting changes and events in their lives. I also enjoy hearing about the exciting events involving members of the Class of 2002. As always, if you have any updates you would like to share, please email me!
Anna Cannold married Daniel A. Weiser on Dec. 12, 2009, at the Beach Point Club in Mamaroneck, N.Y. Anna is a doctoral candidate in clinical psychology at Yeshiva University and an intern in clinical psychology in the Tuttleman Counseling Services at Temple University in Philadelphia. Daniel is a fellow in pediatric hematology and oncology at Children's Hospital of Philadelphia.
Jamie Agins Lincow and Jeff Lincow welcomed their first child, Shiloh Jaxon Lincow, in August 2009. Jamie graduated from Temple University with a Ph.D. in Spanish literature and teaches AP Spanish classes at Lower Moreland High School in Huntingdon Valley, Pa.
Paul Kursky recently appeared as a contestant on the game show "Jeopardy!"
Brett Huston married Katherine Barth on May 8 at Tappan Hill Mansion in Tarrytown, N.Y. They are both fourth-year medical students at the State University of New York Downstate Medical Center at Brooklyn, where they met. They begin their internships in June, he at Lenox Hill Hospital and she at Stony Brook University Hospital.
Daniela (Kulikov) Burg and her husband, Adam, welcomed Ethan Joshua on July 30, 2009. She writes, "He is quite the yummy little guy and will hopefully be part of the Brandeis Class of 2031!"
Nicole (Lukehart) Villamizar and her husband, Manuel, welcomed daughter Sophia Nicole on Dec. 28, 2009.
Benjamin Schlesinger completed an M.B.A. at the MIT Sloan School of Management in June. After spending the summer working in Jerusalem for Middle East Education through Technology (MEET), he joined Brightstar Corp. as manager of strategy and business development.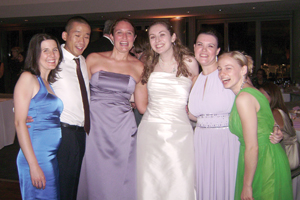 Picture pretty at the wedding of Lauren Warner '02 and Brian Cohen are (left to right) Emily Kastelic Law '04; Andy Law '01; Carina Canaan '01, maid of honor; Lauren Warner '02; Sarah Landry '02; and Becca Heller-Steinberg '02.
A number of Brandeisians attended the August 2009 wedding of
Lauren Warner
to Brian Cohen at the Skirball Center in Los Angeles.
Carina Canaan '01
was the maid of honor and
Sarah Landry
was a bridesmaid. Other attendees included
Emily Kastelic Law '04, Andy Law '01
and
Becca Heller-Steinberg
.
Submit a Class Note