Class of 2004
Class Correspondent
Rebecca Incledon
5530 South Shore Drive, #8-C

Chicago

, 

IL

 

60637
After 10 years in the Boston area, I moved to Chicago and am getting to know my new home. On April 17, I attended Nissa Brown's wedding as she married Storms Reback in Austin, Texas. Other alumni in attendance included Susan Peterson, Dahlia Metchis, Ted Kolwicz and Sarah Ferri-Kolwicz. Keep sending in Class Notes and let us know where life is taking you.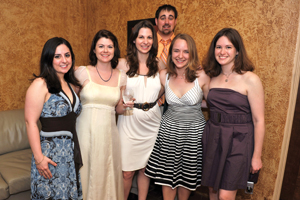 Brandeis classmates gathering at the wedding of Nissa Brown '04 to Storms Reback are (left to right): Sarah Ferri-Kolwicz '04, Nissa Brown '04, Dahlia Metchis '04, Ted Kolwicz '04, Susan Peterson '04, and Rebecca Incledon '04.
Craig Lareau
of Rumford, R.I., married K. Thirza Campbell on Aug. 29, 2009, at Sacred Heart Church in Springfield, Mass. A reception followed at the Log Cabin Banquet and Meeting House in Holyoke. Craig is an orthopedic surgeon at Rhode Island Hospital in Providence. Thirza is a pediatrician at Hasbro Children's Hospital in Providence.
Ilana Herring was recently promoted to director of marketing at California Miramar University. She is simultaneously pursuing an M.B.A. Ilana is thrilled to be living in San Diego and enjoying time with her friends and family.
Rachel Schneider is pursuing a master's degree in mental-health counseling at the Ferkauf Graduate School of Psychology at Yeshiva University. She has also been appointed a predoctoral fellow in applied behavioral psychology at the Rose F. Kennedy Children's Evaluation and Rehabilitation Center at the Albert Einstein College of Medicine.
Alex Green, owner of Back Pages Books on Moody Street in Waltham, has published "The Shaking Tent," which is about philosopher Ralph Waldo Emerson's connection to Waltham. The book features Emerson's first two sermons, delivered at First Parish Church in Waltham in 1826, and a 30-page introduction written by Green. The book was published by Back Pages Books.
Alison and Isaac Judd welcomed their second child, Penelope Rose Judd, in June.
Allan Sternberg and Sara Felt Sternberg '05 had a baby boy, Daniel, on June 1.
Lisa (Pritzlaff) and Phil Roloson are proud to announce the birth of a baby girl, Said Alexandra, on Nov. 16, 2009. Lisa writes, "Big sister Cali is thrilled to have a little sister!"
Grace Allendorf received a master of music in voice from the Longy School of Music on May 16. She graduated with distinction.
Emily Goodwin and Evan Burke were married on June 26 at Eolia Mansion in Waterford, Conn. Brandeis alumni in attendance included bridesmaid Yelena Trepetin and guests Natasha (Arnopolskaya) Horowitz, Daniel Horowitz, Leah Rooney '03, Joshua Chappie '03 and Benjamin Greenfield '08. The couple resides in Windsor, Conn., and Emily and Evan are both residents in anesthesiology at the University of Connecticut.
Sharon (Goldsmith) Weber received a master of science in physician assistant studies in May. She works in the Pediatric Cardio/Cardiothoracic Intensive Care Unit at Mount Sinai Medical Center in New York.
Joe Serkin resigned from the New York Police Department and moved to Israel with his wife, Yonit. He is pursuing a master's degree in counter-terrorism and homeland security.
Diony Elias is co-founder and president of New City Investment Solutions, a Philadelphia real estate company that celebrated its fifth anniversary in August. The company manages more than a million dollars in liquid and real estate assets and is a qualified developer for the Redevelopment Authority of the City of Philadelphia.
Adam Shain, M.S. '04, earned an M.B.A. from Babson College in May.
Geryl Rich married Louis Baer on Jan. 2. Alyssa Krop-Brandfon and Rachel Bressler were in the wedding party, and many more Brandeis alumni attended.
Audra Lissell married Michael Kirtland on July 24 at Andover Country Club in Massachusetts.
Lauren Lichtenfeld married Bradley Abel on Feb. 20.
Jeff Rosenspan is in his final year of Northeastern University's J.D./M.B.A. program. He works for State Representative Louis Kafka, chair of the Committee on Steering, Policy and Scheduling. His tutoring company, testsuccess@yahoo.com, has helped more than 700 students succeed on the LSAT, GMAT and MCAT exams.
Steve Dupree is pursuing an M.B.A. at the Stanford Graduate School of Business. He was formerly vice president of online marketing and operations at LogMeIn, which had a successful public offering in July 2009. After six years working at LogMeIn, Steve took three months to travel around the world and participate in a Spanish immersion program in Guatemala before returning to school.
Abby Gondek and Nelson Serieux, a St. Lucian reggae singer and songwriter, "jumped the broom" (got married) on March 21 in a small ceremony in their apartment in Brooklyn, N.Y. Kerry Ann Patricia Gordon '05, who was Abby's resident in Pomerantz (East Quad) in 2001–02, was there. Abby and Nelson had another ceremony in Thousand Oaks, Calif., on Aug. 15 for extended family and friends at Abby's parents' home. Ilana Herring and Whitney Stern, who were both involved in the Feminist Majority Leadership Alliance with Abby, were there to celebrate.
Janna Meyrowitz married Ethan Turner on June 12 in Portsmouth, N.H. Bridesmaids included Julie Fabricant '01, Carly Bishow, Annie Austerlitz, Dana Winik '05 and Becky Fromer '05. Other Brandeis attendees included Michelle Poliak, Anna Natsume, Anna Statnikova, Eric Strauss, Joseph Kekst '05, Tiffany Taylor Lapidus, Amy Tu, Mark Tapper '03, Andrew Kahn '03 and Adam Koblenz '03.
Nina (Auster) and Jordan "Yitzi" Cusner had their second daughter, Lucy, on Nov. 6, 2009. Their first daughter, Naomi, was born on Jan. 7, 2008.
Adam and Paula Landau's daughter, Hannah Rose, was born on May 18. After Adam graduated with an M.B.A. from the Kellogg School of Management at Northwestern in June, the family relocated to Teaneck, N.J.
Josh and Jaye-Lacey Centor welcomed son Gabriel Eli on July 5.
Submit a Class Note