2000s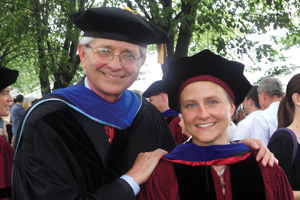 Heller associate dean of admissions and career services Tom Broussard, Ph.D. '06, was invited to place the academic hood on his daughter,
Josiane '02, at June's University of Chicago commencement, where she received a Ph.D. in molecular metabolism.
Renita Martin, M.F.A. '00, is the founder and director of Rhythm Visions Production Company, which works to bring professional productions and arts education programs to communities of color around the globe. 
She is a playwright, solo performer, musician, actor and arts educator, as well as a teacher, who works with everyone from private clients to juvenile ex-offenders and prisoners.
In his Broadway debut, J. Bernard Calloway, M.F.A. '00, has a featured role as Delray, a nightclub owner, in the Tony Award-winning musical "Memphis." Calloway has appeared in numerous regional theater productions and TV shows, including "Law and Order" and "All My Children." He has been the voice talent in commercials for Miller Genuine Draft, Tropicana Twister Soda and Kmart. He also made his movie debut in "The Taking of Pelham 1 2 3."
Elizabeth Osborne, M.F.A. '01, an assistant professor of theater studies at Florida State University, received the distinguished Robert A. Schanke Research Award from the Mid-America Theatre Conference. The award recognizes excellence in the researching and writing of theater history by a not-yet-tenured professor.

Zachary Mason, Ph.D. '02, a computer scientist specializing in search recommendation systems and keywords at a California start-up, has received critical praise for his first novel, "The Lost Books of the Odyssey," a compilation of 44 alternate versions of Homer's epic. He told The New York Times he produced the work at night, during lunch breaks, and on weekends and vacations.
Sari Lynn Edelstein, M.A. '05, Ph.D. '09, and Holly Jackson, Ph.D. '08, were married on June 19 at the Red Inn in Provincetown, Mass. The couple met at Brandeis, where they studied English and American literature. They teach in the English department at Skidmore College.
Elan Divon, M.A. '05, a religious scholar, educator and entrepreneur in the field of conflict resolution and personal development, recently published "Reaching Beyond the Religious." In the book, which compares the biblical and Hindu traditions, he reveals a wisdom that transcends time, culture and creed and that has the power to transform the way we think about religion in the 21st century.
Jared Matas, M.A.T. '05, a kindergarten teacher at Boston's Jewish Community Day School, was one of 20 young Jewish educational leaders to be named a Wexner Graduate/Davidson Scholar by the Wexner Foundation. Matas will begin studies in the joint Northeastern University/Hebrew College doctorate in education program. He will continue to teach at JCDS.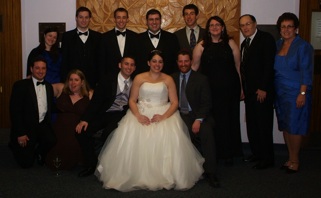 Front row: Josh Blumenthal '93, Rachel Wilgoren '95, Dave Finstein '08, Audrey (Shore) Beerman, MA '07, Michal Goldstein '05. Back row: Devora (Loike) Weinstein '04; Danny Weinstein '02; Chaim Kirby '02; Jonathan Abbett '02, MA '03; Jacob Holzberg-Pill '02; Kelly (Belt) Scibelli '95; Mark Gladstone '70 and Debra Gladstone '70.
Audrey Shore, MA '07 married Hal Beerman of New York on March 27 at Temple Beth Am in Randolph, Mass. A large group of Brandeisians attended, including Devora (Loike) '04 and Danny Weinstein '02; Chaim Kirby '02; Jonathan Abbett '02, M.A. '03; Jacob Holzberg-Pill '02; Kelly (Belt) Scibelli '95; Mark '70 and Debbie '70 Gladstone; Josh Blumenthal '93; bridesmaid Rachel Wilgoren '95; Dave Finstein '08; Michal Goldstein '05; Barbara Greenberg '79; Abe Weinograd '03; Francesa Golub-Sass '03; and Roberta Jean Jacob, the manager of the Office of Admissions at Brandeis from 1983 to 2005.
Dorothea Hertzberg, M.A. '07, serves as associate director for the Peace Corps in Ethiopia. She provides technical and emotional support for 75 volunteers in Ethiopia and also coordinates an AIDS/HIV educational program.
Ann Varghese, M.S. '09, who works for IMA World Health, survived 55 hours in a collapsed hotel in Haiti following the earthquake that struck the country on Jan. 12.
Submit a Class Note