Class of 2006
Class Correspondent
Alex Goldstein
95 Kilsyth Road, #3

Brighton

, 

MA

 

02135
Hey, folks! It's hard to believe that we are coming up on our 5th Reunion in June. I hope everyone can attend what is bound to be a great event. I live in Brighton, Mass., working every waking minute as press secretary and spokesman for Massachusetts Governor Deval Patrick.
Ilana Cohen started on a master's degree in water resource management at Oxford University in September.
Ryan Parker lives in Boston, where he works as an investment operations analyst at Grantham, Mayo, Van Otterloo & Co.
Tae Youn Kim is an associate at Iron Point Partners, a real estate private equity fund in Washington, D.C., that pursues investments throughout the United States. Prior to joining Iron Point, Tae was an analyst in the Real Estate Group of Goldman Sachs' Investment Banking Division.
Brian Schon expects to earn a dual master's in public policy (M.P.P.) and business administration (M.B.A.), with a concentration in health policy and health management, from Brandeis' Heller School for Social Policy and Management, in 2011. Over the summer, he worked at JBS International as a researcher on federal government contracts to evaluate federal health care programs.
Judith Miller is pursuing a master's in public health and nutrition at NYU and planning her wedding, which will be in the spring.
Krish Dutta was a research analyst in Boston for four years. He traveled in Asia prior to starting his M.B.A. at MIT's Sloan School of Management this fall.
Thomas Smith-Vaughn writes that he is working as a financial accountant for Fidelity Investments and "enjoying the scene in Harvard Square."
Dan Mauer lives in Washington, D.C., and works as a legislative assistant for Florida Congressman George Miller, handling finance and defense policy.
Edgar Ndjatou works for a plaintiff-side employment law firm in the Washington, D.C., area. He graduated from American University's College of Law in May 2009.
Jonah Mink was one of three second-year students from the collaborative Ben-Gurion University–Columbia University Medical School for International Health to be awarded travel grants to present their research and education projects at the annual Global Health Education Consortium conference in Mexico in April.
Jane Farrell works for the Gymcraftics Network (gymcrafticsnetwork.com), which allows people to explore what can be created if they work together in a new way.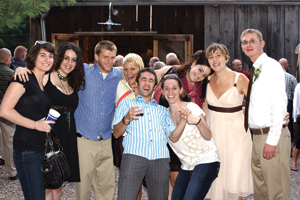 Sharing a Laugh at the wedding of Beth Garbutt '06 and Jon Tantlinger are Lauren Sullivan '08, Emily Berk '11, Eric Blasco '06, Laura Mulconrey '06, Jackson Weber '06, Nell Mendlinger, Amanda Berk '06, Beth Garbutt '06 and Jon Tantlinger.
Beth "Bounce" Garbutt married Jon Tantlinger on Aug. 7, 2009, at The Barn at Fallingwater in the mountains of southwest Pennsylvania. The couple was happy to be joined by Brandeis alumni Amanda Berk, Laura Mulconrey, Jackson Weber, Lauren Sullivan '08, Eric Blasco and Emily Berk '11.
Former Brandeis basketball standout Christine Clancy was named interim head coach of the Colby women's basketball team. She helped former coach Lori Gear McBride lead the Mules to a 24-5 record last year, the best season in school history.
Aliza Liebman and Benjamin Gellman-Chomsky '08 are engaged. Aliza is pursuing a doctorate in epidemiology at the University of North Carolina. Benjamin is a reporter and anchor at WCHL Radio in Chapel Hill.
Yael Buechler was recognized in The Jewish Week's "36 Under 36," an annual list of three dozen young innovators who are reshaping Jewish life in the New York area, in Israel and abroad. A rabbinical student at the Jewish Theological Seminary, she cocoordinates the women's center Isha el Akhota; leads services and teaches as part-time program director at Congregation Beth El in South Orange, N.J.; and serves as gabbai at the independent minyan Kehilat Hadar in Manhattan. In her search for ways to bring people together and connect them with Judaism, she paints her nails to coordinate with the nearest Torah portion or holiday (such as one nail for each plague).
Jennifer Goldstein received a master's degree in the science of instruction from Drexel University.
Maurice Joyce married Shari Gabel on May 2 in Woodbury, N.Y. They live in Newton, Mass.
Jason Unger married Emily Rubin-Johnson in June in Beverly, Mass. Alex Goldstein was the best man. Among the Brandeisians in attendance were Jacob Bockelmann '09, Krish Dutta, Ryan Parker, Paul Flynn and Dan Mauer.
Amanda DeMartino was named athletic director at Northwood University in Florida, where she also serves as women's basketball coach. She recently received a master's degree in organizational leadership from Gonzaga University.
Submit a Class Note