Undergraduate Departmental Representative
Undergraduate departmental representatives serve as a resource and representative for fellow majors and minors and potential majors and minors, and brings student concerns and/or ideas to the program faculty. They also provide feedback to the program chair, undergraduate advising head, and faculty regarding scheduling problems, course offerings, etc. and help organize events for majors, minors and other interested students.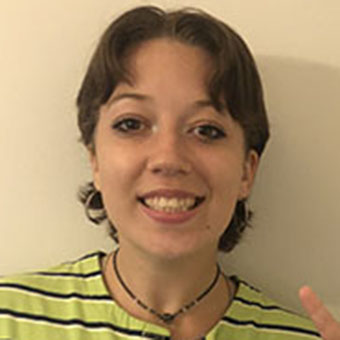 Alanna Shea
Class of 2022
Alanna Shea is a junior from Westchester, New York. She is majoring in philosophy with a minor in peace, conflict and coexistence studies. Alanna particularly finds the war narrative and the forms of oppression it perpetuates to be meaningful context for challenging those norms and discussing movements of political, interpersonal and personal peace. In addition to being a UDR, Alanna is teaching assistant for Deconstructing War, Building Peace. Alanna also welcomed the opportunity to have an internship with Grassroots Campaigns (NYC) canvassing for the ACLU and Planned Parenthood, where she learned about the current necessity and limits of fundraising in terms of political change. Alanna has also done activist work with J Street U in the hopes of promoting peace and justice in the Middle East, specifically between Israel and Palestine.
Alanna finds the peace, conflict and coexistence minor to be a major source of inspiration and would love to talk to students about how the inspiration the minor fosters can translate to internships, careers, activism and a new perspective on life! Please contact Alanna at adshea1114@brandeis.edu with any PAX-related questions.