Charles Irwin Schottland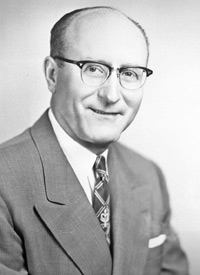 1970 to 1972
Charles I. Schottland, dean of the university's Florence G. Heller Graduate School for Advanced Studies in Social Welfare, was tapped for the presidency by the board of trustees after the resignation of Morris B. Abram.
Just two days after taking office, Schottland signed an agreement with the Afro-American Organization to bring 80 additional minority students to Brandeis, an issue that had been simmering during the Abram administration. Following two years at the helm of the university, Schottland returned to the Heller deanship.
Prior to his time in the academic arena, Schottland had served as director of the California Department of Social Welfare and as commissioner of the U.S. Social Security Administration during the Eisenhower administration.
He died in 1995 at the age of 88.
More Information
A treasure trove of documents and information about Brandeis University presidents may be found in the university archives.