Lab Members
Principal Investigator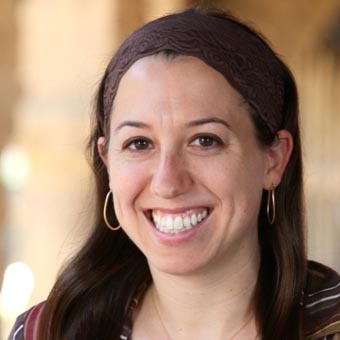 Ziva R. Hassenfeld
Jack, Joseph and Morton Mandel Assistant Professor of Jewish Education
Ziva R. Hassenfeld is the Jack, Joseph and Morton Mandel Assistant Professor in Jewish Education at Brandeis University. She studies reading comprehension from a sociocultural perspective, focusing on how children develop interpretations of the Hebrew Bible as a case of student reading development. She uses a variety of qualitative methods including ethnographic observation, stimulated recall interviewing and think-aloud interviewing. In her work on literacy she has also studied multimodal literacies, specifically the connection between computer programming and literacy in early childhood. Her courses at Brandeis include Reading (and Talking Back) to Educational Research;  Teacher Research: Principles, Methods, and Design; and Teacher Research: Analysis and Publication. She has previously taught The Centrality of Literacies in Teaching and Learning, a required course for all teacher candidates in the Stanford Teacher Education Program.
Student Researchers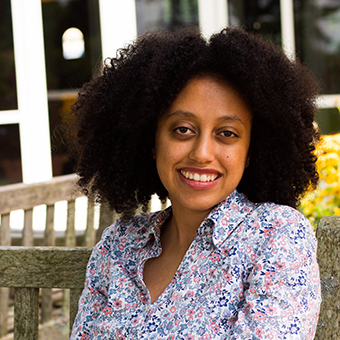 Kalkidan Antonios MA SID'24
Kalkidan Antonios is a graduate student pursuing a Master of Arts in Sustainable International Development at the Heller School. She received her undergraduate degree in international affairs with a concentration in development from Gordon College in 2021. She has taken courses in New Testament, Old Testament, religion and international affairs. Kalkidan is passionate about creating a sustainable solution to reduce period poverty in the developing world. She runs a non-profit educational platform that seeks to teach women how to make reusable biodegradable sanitary pads from locally sourced fabrics. She is excited to research children's literacy development in the case of Biblical text.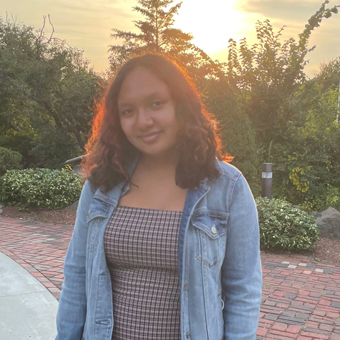 Daphne Ballesteros is a junior from the Bronx, New York majoring in Latin American, Caribbean and Latinx studies. On campus, she is involved with the Dr. Martin Luther King Jr. fellowship, the Woman of Color alliance, the Brandeis Latinx student organization, the gender and sexuality center and Delta Phi Epsilon. As someone who has attended religion-based schools her entire life, Daphne is curious about religions other than the one she grew up in. She is also curious about how religious education impacts viewing one's own religion as well as religion in general.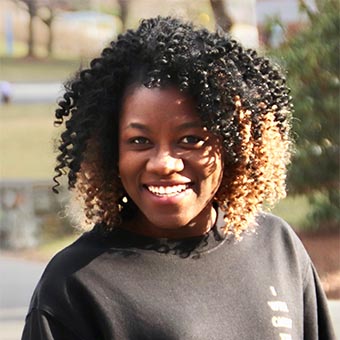 Geraldine Bogard '21, MAT'22
Geraldine Bogard graduated in 2021 with majors in education studies and theater arts; acting and a minor in business. In 2022, she received a Master of Arts in Teaching (MAT) in public elementary education at Brandeis. She was also a development apprentice at the Gloucester Stage, working on theater productions, researching grants and planning fundraising events. Geraldine has a great passion for learning, teaching and creating curriculum. Geraldine is thrilled to return to the Student-Centered Religious Learning and Literacy (SCRoLL) Lab for a fourth year.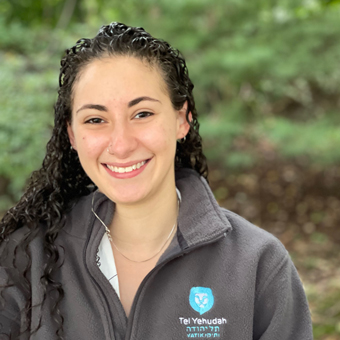 Charlotte Cooper is a senior double majoring in near eastern and Judaic studies and an independent major in philosophy, politics and economics, with a minor in women and gender studies. She is passionate about informal Jewish education and is a camp counselor at Young Judaea's Camp Tel Yehudah. Charlotte is an undergraduate departmental representative for the near eastern and Judaic studies department and the lead undergraduate departmental representative for the humanities division.
Sam Gessman is a senior majoring in education studies and psychology with a minor in near eastern and Judaic studies. Sam has worked in supplementary Jewish education for five years, serving as a classroom assistant, lead teacher and floating educator. He currently works at Temple Beth Shalom in Needham. During his summers, Sam can typically be found at URJ Eisner Camp in the Berkshires, where he most recently served as a unit head. Outside of the classroom, Sam can be found with Brandeis' men's ultimate Frisbee team, TRON, in the admissions office working as a student ambassador, or serving as one of the education program's undergraduate departmental representatives. Sam strongly believes in the power of text-based learning and is excited to investigate it more formally.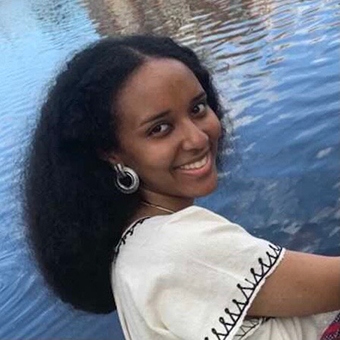 Wintana Sium is a senior double majoring in psychology and African and African American studies with a minor in journalism. She has worked as a history research assistant under Prof. Abigail Cooper in her upcoming book "Pierced Dimes and Placenta Fires," analyzing how Black communities made use of folk knowledge to forge and liberate their identities. Wintana is a rising researcher eager to work within the archives to preserve the narratives of various cultures, ethnic groups, and communities and strive to contribute toward a holistic and candid understanding of history. Additionally, Wintana designs curriculum courses for the Eritrean Orthodox Tewahdo Church Diocese of the U.S.A and Canada. She has created lessons regarding the history of the Eritrean Orthodox Church and topics surrounding iconography, liturgical history, dogma, creeds, and religious doctrines. Wintana is delighted to be a part of the SCRoLL lab, expanding her knowledge of the rich Hebrew Bible and its linguistic elements.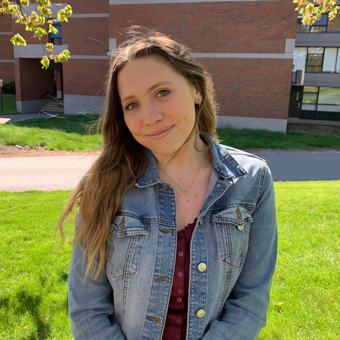 Sheindl Spitzer-Tilchin '23
Sheindl Spitzer-Tilchin is a senior double majoring in near eastern and Judaic studies and psychology, with minors in theater arts and education. She is a member of Proscenium a cappella and on the board of the Brandeis Hillel Masorti group. In her spare time, she participates in the Kaos Kids hip hop dance club and women's ultimate frisbee. She has been working with children since she was in middle school. As someone who attended Jewish day school and grew up in a Conservative Jewish household, she strongly believes in improving and transforming Jewish education. She is honored to be a part of this amazing team and to be working alongside other passionate Brandeis students.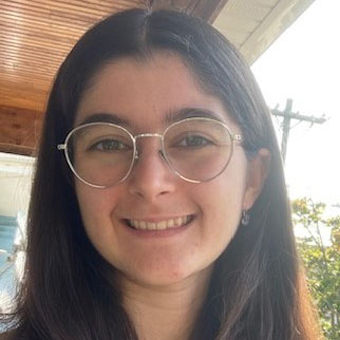 Gavriella Troper-Hochstein '23
Gavriella Troper-Hochstein is a senior majoring in education studies. She has worked in supplementary Jewish education since 2015 and is an assistant teacher at Congregation Dorshei Tzedek in Newton, Massachusetts. Gavriella is passionate about uplifting youth voices and creating inclusive access to Jewish knowledge, and she is excited to be learning new research skills in the SCRoLL Lab. She can be found building alternative Jewish educational programs at Habonim Dror Camp Miriam every summer. In her free time, she enjoys spending time in nature, participating in the Brandeis Masorti minyan and learning about fiber crafts.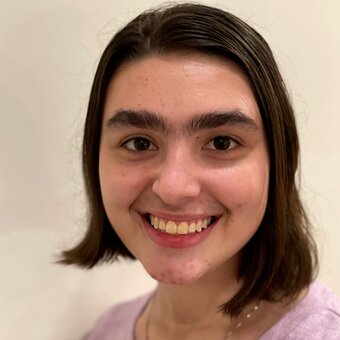 Reena Zuckerman is a senior majoring in politics and double minoring in near eastern and Judaic studies and legal studies. She is the education coordinator for Brandeis Hillel and is involved in Masoti Minyan. Having gone to pluralistic Jewish day school her entire life, she is excited to be researching different forms of Jewish education in the SCRoLL lab.