Lab Members
Principal Investigator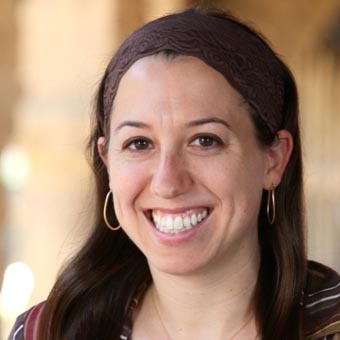 Ziva R. Hassenfeld
Jack, Joseph and Morton Mandel Assistant Professor of Jewish Education
Ziva R. Hassenfeld is the Jack, Joseph and Morton Mandel Assistant Professor in Jewish Education at Brandeis University. She studies reading comprehension from a sociocultural perspective, focusing on how children develop interpretations of the Hebrew Bible as a case of student reading development. She uses a variety of qualitative methods including ethnographic observation, stimulated recall interviewing and think-aloud interviewing. In her work on literacy she has also studied multimodal literacies, specifically the connection between computer programming and literacy in early childhood. Her courses at Brandeis include Reading (and Talking Back) to Educational Research;  Teacher Research: Principles, Methods, and Design; and Teacher Research: Analysis and Publication. She has previously taught The Centrality of Literacies in Teaching and Learning, a required course for all teacher candidates in the Stanford Teacher Education Program.
Student Researchers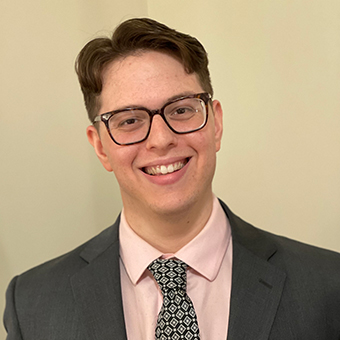 Joey Barr '18, MA'22, EdM'22
Joey Barr is a second year graduate student in the Hornstein Jewish Professional Leadership Program. He is pursuing a Master of Arts in Jewish professional leadership and a Master of Education in Jewish educational leadership. After graduating from Brandeis in 2018, Joey spent time working at Alpha Epsilon Pi (AEPi) as a Jewish programming associate and BBYO as the associate director of the New England region. Joey is a Moishe House resident and a graduate fellow of the Nachshon Project. He is interested in creating Jewish community and helping people cultivate a connection with Judaism.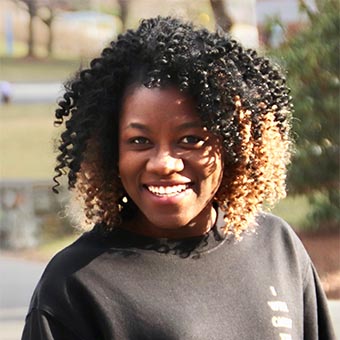 Geraldine Bogard '21, MAT'22
Geraldine Bogard graduated in 2021 with majors in education studies and theater arts; acting and a minor in business. She is currently pursuing a Master of Arts in Teaching (MAT) in public elementary education at Brandeis. She is also a development apprentice at the Gloucester Stage, working on theater productions, researching grants and planning fundraising events. Geraldine has a great passion for learning, teaching and creating curriculum. Geraldine is thrilled to return to the Student-Centered Religious Learning and Literacy (SCRoLL) Lab for a second year.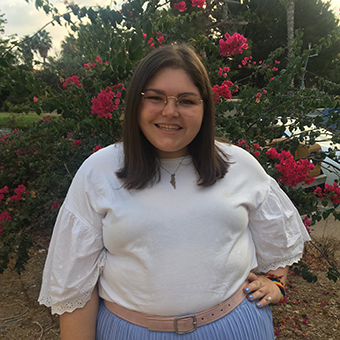 Orly Krupp is a junior pursuing majors in near eastern and Judaic studies and education studies with a minor in social justice and social policy. On campus, Orly is involved in the Brandeis orthodox organization and is honored to serve as their president for the 2021–2022 term. Orly also enjoys volunteering for NCSY, a Jewish youth organization, as an advisor for high school students. Exploring her passions for Jewish education and Jewish community leadership/ activism, Orly is thrilled to join this research team in hopes of improving learning opportunities for students in Jewish day schools. In her free time, Orly enjoys songwriting, listening to podcasts, studying Jewish texts of all genres and spending time with friends.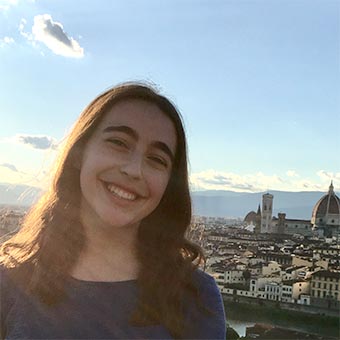 Hadassah Stanhill is a senior majoring in psychology and pursuing minors in linguistics and near eastern and Judaic studies. She is passionate about Judaism and developmental psychology and is excited to pursue these interests further at Brandeis. Outside of the lab, Hadassah works at the Brandeis library, and is involved with Brandeis Hillel and the Brandeis orthodox organization. In her free time she loves to read, take photos, cook and spend time with friends.
Gavriella Troper-Hochstein '23
Gavriella Troper-Hochstein is a junior from Portland, Oregon. A member of Habonim Dror North America, she can be found creating alternative Jewish education at Camp Miriam every summer. In response to the pandemic, she helped design and run an online summer camp and a socially-distanced day camp for children in her Jewish community. She has taught in supplementary Jewish education throughout her time in high school and college, and is an assistant teacher at Congregation Dorshei Tzedek in Newton, Massachusetts. She is passionate about youth empowerment and inclusive access to Jewish knowledge, and excited to learn new research and teaching skills on this project.