News and Events
Upcoming
Discussion and Doughnuts!
November 12, 2021
11:30 - 12:45 PM EST
Schwartz 103
Zoom link if you want to attend virtually
Join us for doughnuts while listening to a panel of Brandeis faculty discuss the social and political implications of abortion in Texas.
Brandeis Panelist: Dr. Jeffrey Lenowitz, Dr. Jill Greenlee, Attny. Sarah Curi, Dr. Siri Suh
Masks are required in all indoor spaces at Brandeis. View campus policies on COVID-19
Past Events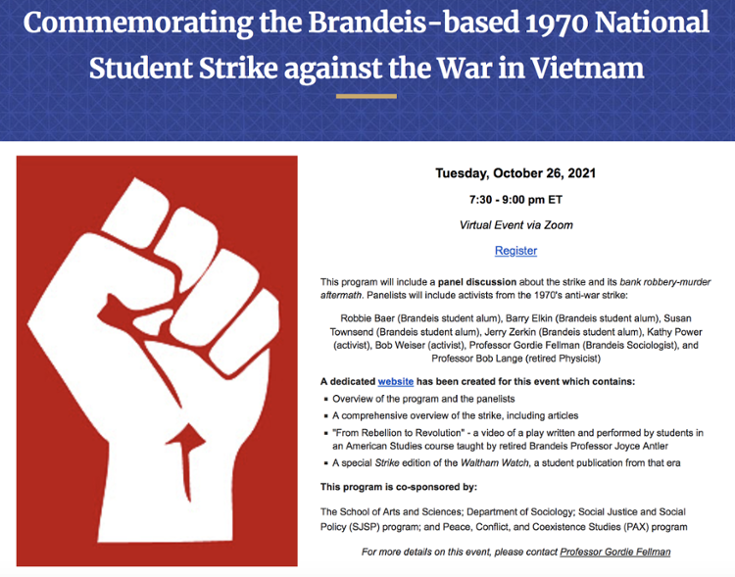 Tuesday, October 26, 2021
7:30 - 9:00 pm ET
Virtual Event via Zoom
Event Recording with integrated audio transcript of October 26, 2021 program: Commemorating the 1970 Brandeis-based National Student Strike against the War in Vietnam 
This program will include a panel discussion about the strike and its bank robbery-murder aftermath. Panelists will include activists from the 1970's anti-war strike: Robbie Baer (Brandeis student alum), Barry Elkin (Brandeis student alum), Susan Townsend (Brandeis student alum), Jerry Zerkin (Brandeis student alum), Kathy Power (activist), Bob Weiser (activist), Professor Gordie Fellman (Brandeis Sociologist), and Professor Bob Lange (retired Physicist). A dedicated website has been created for this event which contains:
Overview of the program and the panelists

A comprehensive overview of the strike, including articles

"From Rebellion to Revolution" - a video of a play written and performed by students in an American Studies course taught by retired Brandeis Professor Joyce Antler

A special

Strike

edition of the

Waltham Watch

, a student publication from that era
This program is co-sponsored by: The School of Arts and Sciences; Department of Sociology; Social Justice and Social Policy (SJSP) program; and Peace, Conflict, and Coexistence Studies (PAX) program
For more details on this event, please contact Professor Gordie Fellman
SJSP Statement of Solidarity with #FordHall2015
November 23, 2015
The Program in Social Justice and Social Policy (SJSP) stands in solidarity with the students who peacefully occupy the office of the University President. The mission of SJSP is to develop effective social policies and encourage students to advocate for change. SJSP seeks to teach students to
"Rigorously engage with core questions of liberty, equality, and justice
Interrogate the historical, structural, and cultural contexts that shape the dynamics of discrimination and inequality in a range of institutions
Clearly communicate theories, analyses, and policy solutions, both orally and in writing
Apply generalized principles to a range of real-world issues and settings
Deploy analytic frameworks and tools to develop effective policy approaches to specific social problems
Adeptly consider and respond to objections to proposed policy solutions
Collaborate with ...communities to develop policy strategies that address pressing issues" University Bulletin.
How can we demand these educational commitments for our students and not of ourselves? Our students are now taking the lead. These are the leaders of the next generation. It is our responsibility as faculty to support the peaceful demonstration and encourage the dialogue by which they seek change.
Activism from Vietnam to Palestine with Noam Chomsky
April 23, 2015