Undergraduate Departmental Representative (UDR)
The Undergraduate Departmental Representative for the Comparative Literature and Culture Program serves as a resource and representative for fellow majors and minors and potential majors and minors, and brings student concerns and/or ideas to the program faculty. They also provide feedback to the program chair, undergraduate advising head, and faculty regarding scheduling problems, course offerings, etc. and help organize events for majors, minors, and other interested students.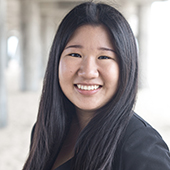 Vi Pham, '19
Majors: Comparative Literature and Culture, East Asian Studies, & Women, Gender, and Sexuality Studies
I'm going to be a Head Community Advisor for Rosenthal Quad, I work in Admissions as the Marketing Assistant, and I'm part of SSSP (Student Support Services Program). I'm currently abroad in Tokyo, Japan! I plan on pursuing a graduate program in Higher Education, Student Affairs. My dream job, however, would be personal stylist to Barack and Michelle Obama. I recently got into kickboxing, and I love repurposing vinyl record covers as posters or canvases for painting.
Fun Fact: I've written a paper arguing for the integration of memes into literary canon as an interartistic form of writing. To this day, I'm still not sure why my professor allowed me to submit it for a grade!