Impact Newsletter
Latest Issue:
December 2018>

More Resources
Hornstein Highlights
Social Media
What's Happening
#HornsteinHappenings
Community Highlights
2018-2019
Students spend nine days in Israel for the annual Myra Kraft Seminar
This year Hornstein students participated in a project-based seminar and mifgash in Israel. They spent time at numerous organizations, including the Ruderman Program for American Jewish Studies at the University of Haifa, The Jewish Agency for Israel, Taglit-Birthright Israel, The Jewish Agency for Israel Shlihim Training School, Hillel International Israel, Honest Reporting, and the ROI Community, and many more. Students met with Jewish leaders and thought-leaders, such as Zvika Klein who spoke to them about how Israeli media covers world affairs, and in Tel Aviv, a surprise visit from the Mayor! See more about the January 2019 Kraft Seminar at Hornstein's Facebook page>
---
Starr Seminar goes to D.C.!
In December, Professor Mark Rosen and Hornstein students took the Starr Seminar to Washington, D.C. Starr Seminar, an annual four-day seminar in NYC, is organized around visits to the national offices of both well-established and emerging Jewish organizations. They meet leadership from as many as 15 diverse Jewish nonprofits and explore issues from a variety of perspectives. Students from both cohorts attended the DC seminar.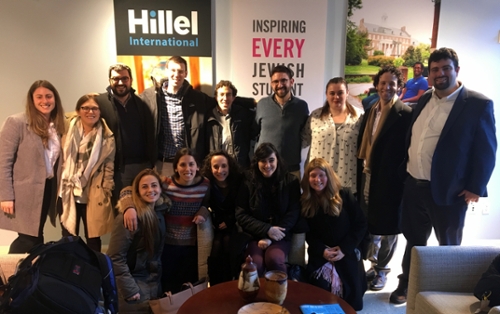 ---
The Hornstein Program welcomes the Class of 2020!
Welcome to new students in the Hornstein Class of 2020, and welcome back to the Class of 2019! Read their short bios here>
---
2017-2018
Barry Shrage, renowned Jewish leader, joins the Hornstein Program at Brandeis University
The Hornstein Jewish Professional Leadership Program is pleased to announce that Barry Shrage, a visionary leader of the American Jewish community, will join us in July as a member of our faculty. Barry, who has spent more than three decades as president of Combined Jewish Philanthropies of Greater Boston (CJP) will be appointed Professor of the Practice. 
At the Hornstein Program, Barry will train and mentor students and help further Hornstein's role as the premier academic training center for future Jewish professional leaders. Read the full press release>
---
Winnie Sandler Grinspoon Receives 2018 Bernard Reisman Professional Excellence Award
The Hornstein Jewish Professional Leadership Program at Brandeis University is pleased to announce that Winnie Sandler Grinspoon is this year's recipient of the Bernard Reisman Professional Excellence Award.
"Winnie's work embodies the vision, creativity, and sustained dedication that distinguished the Hornstein Program's long-term director, Bernard Reisman Z"L," says the Chair of the Hornstein Program, Prof. Jonathan D. Sarna. "She exemplifies the growing power of women in Jewish professional life, and also shows how careful succession planning can sustain Jewish family foundations over multiple generations."
Winnie will be presenting the keynote address at the Hornstein Class of 2018 commencement on Sunday, May 13, 2018.

Please join us in congratulating and honoring Winnie for her service to the Jewish community. 
Read the full press release> 
---
Hornstein Students Visit 14 Jewish Nonprofits
In February, first-year students spent four days in New York City for Hornstein's annual Starr Seminar where they visited fourteen Jewish nonprofit organizations. Hornstein alumni from the area joined students and Professor Mark Rosen, who leads the seminar, for dinner and a meet-and-greet. More photos from Starr>
---
Experiential Learning: The Annual Kraft Seminar in Israel
In December, Hornstein first- and second-year students traveled to Israel for Hornstein's annual Myra Kraft Seminar in Israel. In the picture above, students are seen visiting an educational bookshop in East Jerusalem where they met and talked with educator, Professor Sami Adwan, about history curriculum for Israelis and Palestinians. More photos from Kraft>
---
Hornstein Welcomes New and Returning Students
WELCOME to our new HORNSTEIN Class of 2019! And welcome back to the Class of 2018! They all joined us on Sunday, August 27 for orientation, a co-curricular event in which students play a major role in planning and management. Thanks to Mikhael Reuven, Dalia Krusner and Prof. Joe Reimer for making it a special day!
---
News from the Hornstein Program is published regularly on our Facebook page. Check it out!