Upcoming Events
Milender Seminar
 & Panel
March 29-30
Brandeis University
Every other year Hornstein students plan, manage, and evaluate the Milender Seminar. This year's fellow is IKAR's Rabbi Sharon Brous who will talk about leadership, community building, and much more. 
Milender Seminar
Public Panel
March 30, 7:30 p.m.
In the Media
Jonathan D. Sarna cited for his new book "Lincoln and the Jews" in "'With Malice Toward None' Exhibit at New-York Historical Society reveals rich relationship between Abraham Lincoln and the Jews," Sandee Brawarsky, March 17, 2015, The New York Jewish Week.
Mark Rosen cited in"Want To Give To Jewish Charities? Don't Do It Over The Phone," Josh Nathan-Kazis, March 16, 2015, The Jewish Daily Forward.
Ellen Smith and Jonathan D. Sarna cited in "Boston's Vilna Shul Connects Present With Past," Anna Goldenberg, February 27, 2015, The Jewish Daily Forward.
Jonathan D. Sarna cited in "Shomrim's Watchful Eye," Heather Norris, February 26, 2015, The Baltimore Jewish Times.
Leonard Saxe cited in "Federations join together for Birthright trip," Marvin Glassman, February 16, 2015, Sun Sentinel. 
Recent Publications
"Discovering Israel at War: The Impact of Taglit-Birthright Israel in Summer 2014," Michelle Shain, Leonard Saxe, Shahar Hecht, Graham Wright, Theodore Sasson; Cohen Center for Moden Jewish Studies, Brandeis University; February 2015. 
"2014 Greater Seattle Jewish Community Study," by Leonard Saxe, Janet Krasner Aronson, Matthew Boxer, Matthew Brown, Cohen Center for Modern Jewish Studies and the Steinhardt Social Research Institute, Brandeis University; January 2015.
"Conversations with Engagement Innovators: Alison Kur," interview by Rabbi Bradley Solmsen, URJ Director of Youth Engagement in Reform Judaism Blog; July 3, 2014.
What's Happening
Hornstein
Community Highlights
Milender Seminar in Jewish Communal Leadership
The Milender Seminar in Jewish Communal Leadership is fast approaching. Set for March 29-30, 2015, it will conclude with a public panel discussion about creating new models of Jewish community and dessert reception on March 30 at 7:30 p.m.
---
Join Professor Jonathan D. Sarna who will be talking with Rabbi R. Karpov, Ph.D. on Friday, March 6, 2015, noon - 1 p.m. This brown-bag lunch-&-learn will be held in room 315, Lown Center for Judaica Studies. Beverages and cookies will be provided.

Learn more>
---

FSU Seminar: Belarus!
Second-year students (class of 2015) traveled on Monday, February 16, 2015 to Belarus for their FSU Seminar. Read their Letters from Belarus, accounts of the trip and hints of deeper conversations they're having.
---

Betty Starr Seminar NYC 2015!
Hornstein first-year students (class of 2016) are networking this week with prominent Jewish organizations in New York City as part of the Betty Starr Seminar. The Museum of Jewish Heritage - A Living Memorial to the Holocaust (above) was just one stop on their busy schedule. More photos coming soon! 
---

Larry Tobin Promoted to Associate Vice President, Major Gifts, CJP
Please join us in congratulating Hornstein student Larry Tobin MA/MBA'16 (pictured above)! In early February, Larry was promoted to Associate Vice President, Major Gifts at Combined Jewish Philanthropies! 
Excerpted from CJP's announcement:
Larry Tobin on his promotion to Associate Vice President, Major Gifts. Larry began at CJP seven years ago as a Development Officer, Affinities and has grown into a true leader in CJP and the Boston Jewish community. For the past four years, Larry has been a key member of the Major Gifts team, working with our highest capacity financial service donors. 

We know that Larry's knowledge of and passion for this work will continue to inspire many donors to embrace and support adult education through the work of CJP. As AVP, Larry will significantly expand his management responsibilities, continuing his close partnership with a uniquely skilled and dedicated team of major gift officers... Together, this team has helped CJP to achieve unprecedented growth in the areas of Israel Advocacy, Jewish education and engagement with Jewish life, families with young children, interfaith, IACT, and most recently, combating poverty in the Jewish community. 
---

Arnee Winshall and Alan Leifer Visit Hornstein
Despite the mountains of snow, Arnee Winshall and Alan Leifer took time out of their busy schedules on January 29 to come to Brandeis and speak to Hornstein students about boards of directors and their roles in nonprofit management. 

Arnee is currently the president and CEO of Hebrew at the Center and Alan is president of The Leifer Family Fund and the founder of the Jewish Community Endowment Pool. 

Students were enlightened and inspired! Thanks so much to Arnee and Alan for visiting.
---

Elisha Gechter '07, A 2015 Chai in the Hub Winner
Congratulations to Elisha (Horen) Gechter MA/MBA'07, Hornstein alumna from the class of 2007! She's one of 18 Chai in the Hub 2015 winners honored for their outstanding contributions to the Boston Jewish community.
---

New Study Illuminates Seattle's Jewish Community
In January, Hornstein Program faculty Leonard Saxe and Matt Boxer from the Cohen Center and alumnus Matt Brown MA/MPP'13 released their report on the 2014 Greater Seattle Jewish Community Study. 

The study, like any community demographic study, was designed to help Jewish agencies in the community learn about the community's demographics; community members' interest in services, affiliations with Jewish organizations, behaviors, and attitudes; and a wide array of other subjects that inform communal planning. The results of such studies help local Jewish organizations make well-informed, data-driven decisions about programming, resource allocation, goals, and the impact of their efforts. Studies are also underway in Boston and Nashville. 
---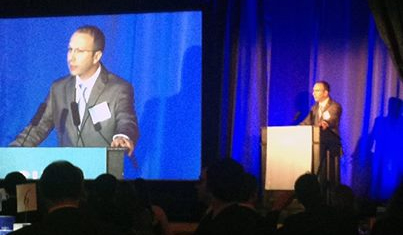 Joe Hyams '15 Gives Keynote Address to CJP Annual Lawyers & Accountants Conference
Joe Hyams (MA/MBA), Hornstein student and CEO of HonestReporting.com, gave the keynote address on January 15 at the CJP Annual Lawyers & Accountants meeting. His topic: "Israel and the Media: Why Your Voice Matters." 
---