Book artist's first installation celebrates female heroism through words and images
Hadassah Brandeis Institute showcases Lynne Avadenka's "A Thousand and One Inventions"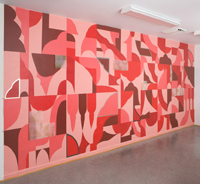 "Lynne Avadenka: A Thousand and One Inventions"
March 17 – May 21, 2008
Kniznick Gallery
Brandeis University
WALTHAM, Mass. – Words and images meld, the conceptual becomes tangible, and history meets modernity this spring as the
Hadassah-Brandeis Institute
(HBI) hosts its first artist-in-residence and an exhibition celebrating eloquence, bravery and wit.
From March 17 to May 21, Lynne Avadenka's site-specific installation "A Thousand and One Inventions" will boldly transform the Kniznick Gallery's unique architecture into a work of art.  Painting, drawing and assemblage will create an environment that opens up and reveals layers visually, as a book does conceptually.
Unprecedented in the artist's oeuvre in scope and scale, "A Thousand and One Inventions" expands on the themes in Avadenka's limited edition artist's book, "By A Thread." Created in 2004 with a grant from the HBI, the book imagines a conversation between Queen Esther, the heroine of Purim, and Scheherazade, the teller of a thousand and one tales. Both women spoke up when they could have remained silent, and saved many lives through their fortitude.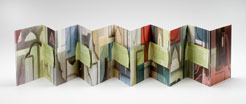 "Over twenty years ago, when I realized I was giving the same serious consideration to the titles of my work as to the work itself, I invited the words into the work. Ever since then, the combined power of word and image is an essential element in the work I make," says Avadenka. "The other constant in my work is an ongoing inquiry into Jewish subject matter … The challenge is to create a synthesis, inspired by tradition and informed by modernity, and to preserve the ancient spirituality of the material while connecting it to a wide audience in the present."
Avadenka achieves this synthesis in fresh ways by creating art on a grand scale for "A Thousand and One Inventions." Geometric patterns in warm, saturated tones recall traditional Middle Eastern architectural forms, while the abstract composition, boldly outlined in automotive tape, creates a modern context. Drawings and text on vellum recall Avadenka's artist's books and imbue the installation with a sense of intimacy and history.
Avadenka, HBI's inaugural artist-in-residence, invites the public to visit the gallery to experience the installation process from March 10 to 14.
Related Events
Opening Reception
Tuesday, March 18, 5 – 7 p.m.
Kniznick Gallery
Workshop with Lynne Avadenka 
"Begin the Book: Simple, Elegant, Adaptable Structures"
Wednesday, March 19, 12:30 – 2:30 p.m.
Registration is limited to 15 participants. Please RSVP to
hbi@brandeis.edu
by March 12.
Kniznick Gallery
Lecture and Book Signing
"The Book of Ruth and the Love of the Land" from "For the Love of God: The Bible as an Open Book"
Talk with Alicia Ostriker '59, Jewish feminist poet and scholar
Thursday, April 3, 12 p.m.
Kniznick Gallery
For more details about all events related to the exhibit, visit
www.brandeis.edu/centers/wsrc/
.
Kniznick Gallery Hours and Location
Monday - Friday, 9 a.m. – 5 p.m.
Weekends by appointment
781-736-8102,
wsrc-arts@brandeis.edu
Women's Studies Research Center, Brandeis University
515 South St., Waltham, Mass. (across from Brandeis/Roberts commuter rail stop)
"A Thousand and One Inventions" is made possible through the generosity of
Avoda Arts
and The Natalie Marcus Endowment for the Arts.
About the Hadassah-Brandeis Institute
The
Hadassah-Brandeis Institute
(HBI) develops fresh ways of thinking about Jews and gender worldwide by producing and promoting scholarly research and artistic projects.  
About the Women's Studies Research Center
The
Women's Studies Research Center
(WSRC) is a place where research, art and activism converge.  Bringing together scholars, students and artists, the WSRC is a community that thrives on the sharing of knowledge and ideas. The WSRC is home to the Kniznick Gallery, the only exhibition space in New England devoted to the display of women's art and/or art about gender.
Return to the BrandeisNOW homepage