The Rose Art Museum presents nine new contemporary art exhibitions in 2007-08
Fall 2007: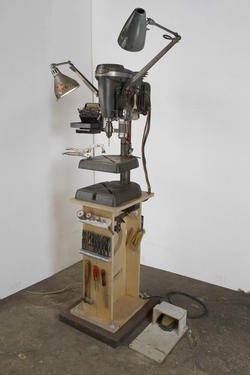 Sept. 25 – Dec. 16, 2007
Opening reception Sept. 25, 6 – 8pm
Tom Sachs: Logjam
(Lois Foster Wing)
Steve Miller: Spiraling Inward
(The Rose Building)
Videos from Tiger by the Tail! Women Artists of India Transforming Culture
(Herbert and Mildred Lee Gallery)
Winter 2008:
Jan. 23 – April 13
Opening reception Jan. 23, 6-8pm
Empires and Environments
(Lois Foster Wing)
Broken Home: 1997/2007
(The Rose Building)
Arp to Reinhardt: Rose Geometries
(Herbert and Mildred Lee Gallery)

Spring/Summer 2008:
May 8 – July 27
Opening reception May 8, 6-8pm
Alexis Rockman: The Weight of Air
(Lois Foster Wing)
The New Authentics: Artists of the Post-Jewish Generation
(The Rose Building)
Paper Trail II curated by Odili Donald Odita
(Herbert and Mildred Lee Gallery)
WALTHAM, Mass. – The Rose Art Museum is proud to announce its most ambitious exhibition schedule in years. Between Sept. 2007 and July 2008, the museum will host nine new exhibitions, including the first major U.S. museum solo exhibitions for Tom Sachs, Steve Miller and Alexis Rockman. Also included are video art from India; new painting, sculpture, photography and video from Israel; a fully re-mounted New York gallery exhibition from 1997; and collection-based exhibitions by a nationally recognized roster of visiting curators and artists including Dominique Nahas, Margaret Evangeline and Odili Donald Odita.
The fall season will feature one-person exhibitions of two American-born artists, along with an exhibit of videos created by women Indian artists. "Tom Sachs: Logjam;" "Steve Miller: Spiraling Inward;" and the video portion of "Tiger by the Tail! Women Artists of India Transforming Culture" will open on Sept. 25 and continue through Dec. 16, 2007.
Tom Sachs is known for his effusive installations and constructions of a variety of objects more commonly found within the public or commercial domain. "Logjam" augments the prevailing discussion of Sachs' critique of consumer culture by highlighting two bodies of work that focus on the actual making of art objects. Twelve installations consisting of Sachs' highly significant "work" and "living" stations, along with a video showing a day's activities in the artist's studio, clearly exemplify the artist's sense of play. His "living" stations function to support day-to-day activities, while his fascinating and often obsessive "work" stations allow the viewer to peer into the rarely seen spaces in which he works. Arguably Sachs' most personal exhibition to date, "Logjam" explores why he is driven to fabricate objects and how he chooses to make what he does. Jeff Fleming, director of The Des Moines Art Center, curates the exhibition, which will be Sachs' first solo museum show in the U.S.
Steve Miller has been exploring the boundaries between art and science for more than 20 years. Featuring more than three-dozen paintings and drawings, "Spiraling Inward" will offer a comprehensive view of the artist's attempt to capture visually the most basic functions of living organisms. For the past five years, Miller has been working with Nobel Laureate and Brandeis alumnus Rod MacKinnon to translate MacKinnon's research in biochemistry into a visual form. Miller's paintings and drawings are first and foremost works of art, not strict visualizations of scientific experiments. They are unique and personal. With references stretching from Picasso and Warhol to Rauschenberg and contemporary laboratory imaging techniques, Miller's work transforms the canvas into a locus of beauty and inquiry.
Miller is known to have said that everything he does "looks at the world through the lens of technology." Like the painter Vija Celmins who miraculously manages to translate the universes glimpsed in a night sky to the small frame of a canvas, Miller takes the invisible worlds of proteins and molecules and renders them palpable within the confines of a canvas - a canvas that has been prepped not only with paint, but in any given work, with a digital photograph, a sonogram, an MRI or a DNA code. Curated by Michael Rush, the Henry and Lois Foster Director of The Rose, this is the artist's first solo museum exhibition in the United States.
The Rose will showcase videos created by three female Indian artists – Shilpa Gupta, Sonia Khurana, and Navjot Altaf – as part of "Tiger by the Tail! Women Artists of India Transforming Culture," in collaboration with the Women's Studies Research Center (WSRC) at Brandeis. As Indian art breaks forth on the global scene, women are leading the way. Socially engaged and politically active, these artists examine the dramatically changing role of women in Indian society. They critique oppressive and restrictive social norms and confront stereotypical representations of the female. The exhibition as a whole will bring together the work of 17 Indian women artists, working in sculpture, painting, photography, and video, whose strong, feminist voices provide new models for the empowerment of women. The exhibition is curated by Wendy Tarlow Kaplan, curator of the WSRC; Elinor Gadon, a scholar at the WSRC; and Indian curator Roobina Karode.
The winter season will feature two collection-based exhibitions and a historical recreation of a 1997 New York gallery exhibition, one of the first "guest curated" shows in a commercial gallery, a practice now ubiquitous in the art world.
In the Lois Foster Wing, critic/curator Dominique Nahas and artist Margaret Evangeline will curate "Empires and Environments," an exhibition featuring several works from the Rose collection exhibited with new work from emerging artists. This exhibition continues the Rose's recent emphasis on exploring its extraordinary collection.
Dominique Nahas is an independent curator and critic based in Manhattan. He's a board member of Art-Omi having served as Art-Omi's International Artists Residency Program's Critic-in-Residence in 1999. A regular contributor to Art in America, Nahas has written articles and reviews for a wide variety of art publications such as REVIEW, ARTNews, Flash Art, Art On Paper, Paris Photo, New Art Examiner, ArtNet Worldwide, Art Asia Pacific, New Observations, C, Smock, Sculpture, Chelsea NY Arts and TRANS among many other periodicals. He is a former board member and current member of the International Art Critics Association (AICA-USA). His many curatorial projects have included BROOKLYN!, 2001, and JAPAN:RISING, 2003, both co-curated with Michael Rush for the Palm Beach ICA. He is former curator of the Everson Museum in Syracuse and former director of the Neuberger Museum in Purchase, NY.
New York-based, Louisiana-born painter Margaret Evangeline has long experimented with aesthetically resistant material, making work that deepens the immediacy of a moment. Evangeline uses gunshot and mirror polished stainless steel to open up the all-over 2D picture plane with its taproot in New American-Type Painting. Solo exhibitions of the artist's work have been held at venues as various as The Palm Beach ICA, The Delaware Center for the Arts, The Hafnarborg Art Museum outside Reykjavik, Iceland and the Taipei Museum in Taiwan. In 2008 Evangeline will create a site-specific installation for the River Thames in London on a barge across from the Tate Modern, commissioned by Illuminate Productions.
In recent videos, she experiments with sound and actions collected while shooting the steel panels of a commissioned sculpture. "Once Upon a Time, America," a three-minute video, was produced in conjunction with the site-specific installation now in the permanent collection of The Fields at ArtOmi, near Ghent, New York. She is currently at work on a midcareer monograph with the working title, "The Big Uneasy In Genius Loci."
"Broken Home, 1997/2007" is a recreation of the influential exhibition of the same name at Greene Naftali Gallery, New York, in 1997, curated by Meg O'Rourke and Caroline Schneider. Artists in the exhibition included Robert Gober, Vito Acconci, Felix Gonzalez-Torres, Dan Graham, Franz West, Thomas Demand, among several others. Only a few of the works sold. Today, these works are worth hundreds of thousands of dollars. For more than a decade, commercial galleries have created what have been called "museum quality" shows in their spaces, with some work for sale and some not. While all professionals in the art world recognize this phenomenon, no museum has yet historicized this practice by presenting what a commercial gallery has curated. To do so might be considered "crass," or "crossing the line" between what have been traditionally separate domains: the gallery and the museum. This year alone several noted exhibitions have been curated in commercial galleries, including "Picasso, Braque and Early Film in Cubism," curated by Bernice Rose at Pace Wildenstein; "Project for a Revolution in New York" curated by Mitchell Algus at Matthew Marks Gallery; and "Equal, That Is, to the Real Itself," curated by Linda Norden for Marian Goodman Gallery. Numerous controversial issues are inherent in presenting this gallery exhibition within the museum context. The recreation of "Broken Home" seeks to recognize a very important part of contemporary curatorial practice as well as prompt discussion about the ever-decreasing separations between galleries, auction houses, artists, collectors and museums.
The spring/summer season will feature "Alexis Rockman: The Weight of Air," "Paper Trail II," curated by Odili Donald Odita, and "The New Authentics: Artists of the Post-Jewish Generation," opening on May 8 and continuing through July 27, 2008.
Alexis Rockman is well known for his intricately crafted and often surreal depictions of the relationship between nature and human culture. In the past two years, he has been creating an extraordinary new body of works on paper that reveals a depth of experimental process resulting in a unique mix of beauty, feelings of wonder and encroaching catastrophe. "Alexis Rockman: The Weight of Air" represents Rockman's debut of a looser, flowing style, more concentrated on artfulness than representational prowess. This will be Rockman's first solo museum show of works on paper and the first museum display of the artist's latest works. It will present approximately 50 new pieces, each of which addresses dramatic changes in the worldwide climate, as well as representative pieces from his early career that will contextualize his current paintings. A full color catalogue will complement the show with essays by Rush, curator of the exhibition, as well as Helen Molesworth, curator of contemporary art at the Harvard University Art Museums.
"The New Authentics: Artists of the Post-Jewish Generation" will feature works by 16 American artists who are prominent in the global contemporary art world, and will serve as a platform for raising important questions about cultural, ethnic and religious identity in the United States today. The exhibition will examine how these artists are informed by their particular experiences as Jews and will address complex notions of Jewishness in American culture. Artists include: David Altmejd, Cheselyn Amato, Johanna Bresnick, Shoshana Dentz, Lilah Freedland, Matthew Girson, Karl Haendel, Laura Kina, Fawn Krieger, Jin Meyerson, Mindy Rose Schwartz, Collier Schorr, Ludwig Schwarz, Joel Tauber, Shoshanna Weinberger and Jennifer Zackin. The exhibition is curated by Staci Boris and organized by the Spertus Museum at the Spertus Institute of Jewish Studies in Chicago.
"Paper Trail II" is the second in a series of three exhibitions in which artists integrate their own work with pieces they select from the museum's works on paper collection. The project offers the rare opportunity to showcase samples from more than 2,000 works on paper owned by The Rose Art Museum. For this, the second installment in the series, Odili Donald Odita will be the featured artist. Odita is a Nigerian-born artist best known for his abstract paintings. Critic Gregory Volk has written that "Odita has earned a reputation for his colorful acrylic abstract paintings, in which slightly irregular bands, elongated triangles, stretched-out trapezoids and other off-kilter geometric forms extend horizontally across the support. While Odita's works have roots in patterned geometric abstraction, their choppy contours suggest both turbulence and organic growth. They also pull in hints of big landscapes, big skies, textile decorations and 'traditional' clothing from Odita's native Nigeria." Odita has exhibited widely, including at this year's Venice Biennale. He is a professor at Tyler School of Art in Philadelphia and a critic who has written for such publications as Flash Art and Nka.
About the Rose Art Museum at Brandeis
Located on the campus of Brandeis University in Waltham, Mass., The Rose Art Museum was founded in 1961. Over the past 40 years The Rose has earned a considerable reputation for its collections and exhibitions. The collection contains significant holdings in post-War American art including iconic works by Jasper Johns, Robert Rauschenberg, Willem DeKooning, Roy Lichtenstein, Andy Warhol and numerous others.
The Brandeis art collection of approximately 6,000 objects is considered one of the most significant and comprehensive collections of modern and contemporary art in New England. During the past four decades, The Rose has organized landmark exhibitions including Bruce Conner's and Louise Nevelson's first one-person exhibitions (1965 and 1967 respectively), Frank Stella's Protractor Series (1969), the first US museum video art exhibition "Vision and Television" (1970), Helen Frankenthaler's work from the 1950s (1981), Kiki Smith' and Ellen Gallagher's first one-person museum exhibitions (1981 and 1993), and the award-winning "More than Minimal" (1996); Roxy Paine (2002); Barry McGee (2003), and "DreamingNow" (2004).
Return to the BrandeisNOW homepage