Culture, global politics and science through the art of Sachs and Miller
Fall 2007:
"Tom Sachs: Logjam"
Foster Wing, Sept. 25-Dec. 16
"Steve Miller: Spiraling Inward"
Rose Building, Sept. 25-Dec. 16
Fall show opening reception Tues., Sept. 25, 6-8pm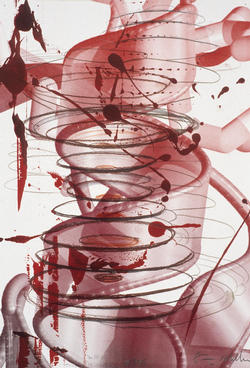 WALTHAM, Mass. – The Rose Art Museum is pleased to announce one-person exhibitions of two American-born artists, Tom Sachs and Steve Miller. "Tom Sachs: Logjam" and "Steve Miller: Spiraling Inward" will inaugurate The Rose's fall season, opening on Sept. 25 and continuing through Dec. 16, 2007.
Tom Sachs is known for his effusive installations and constructions of a variety of objects more commonly found within the public or commercial domain. The exhibition, located in the Foster Wing, will feature 12 installations consisting of the artist's "work stations" and one video showing a day's activities in the artist's studio. Sachs' work stations not only enable him to create art, but are also works of art in their own right. In the truest sense of form following function, Sachs' fascinating and often obsessive work stations allow the viewer to peer into the rarely seen spaces in which this artist works. The exhibition, the artist's first solo museum show in the United States, is curated by Jeff Fleming, director of The Des Moines Art Center.
"Tom Sachs has been exploring consumer culture and the complexities of global politics in alarming and winning ways for more than 15 years," said Michael Rush, the the Henry and Lois Foster Director of The Rose. "His meticulous reconstructions of everyday objects from refrigerators to the deck of an aircraft carrier are heightened experiences of the world around us that we often don't attend to."
Fleming points out that "each piece speaks to Sachs' creative process and to the act of art making. These private works tell of obsession and labor, but add to these attributes a sense of playfulness and exuberance that infuse each of his objects."
"Logjam" augments the prevailing discussion of Sachs' critique of consumer culture by highlighting two bodies of work that focus on the actual making of art objects. His highly significant work stations, and what could be described as his "living" stations, clearly exemplify the artist's sense of play. While Sachs freely admits his art actively participates in consumer culture, his overriding interest actually lies in the process of making objects. Examples of his work stations include a wall-mounted cabinet with spaces for tools and materials; a tall, wooden wardrobe filled with drills, saws, and tape dispensers; a hand held repair kit with compartments for glue and tape; a drill press; and his "Million Dollar Desk" (2005-06) that doubles as a table saw. These work stations are objects the artist uses every day to create his more public pieces.
Arguably Sachs' most personal exhibition to date, "Logjam" explores why he is driven to fabricate objects and how he chooses to make what he does. His "living" stations function to support day-to-day activities and include a working refrigerator complete with beer and a functioning toilet and sink with a toilet-paper dispenser included. For Sachs, daily survival is the basic level of existence, and thriving, sometimes playing, is the ultimate objective. Occasionally the components of survival become works of art, but most often art happens during the second level of activity. Sachs positions the handmade and evidence of the hand as paramount in his work.
Steve Miller: Spiraling Inward
This fall The Rose will also present "Steve Miller: Spiraling Inward," opening on Sept. 25 in the Rose Building. Miller has been exploring the boundaries between art and science for more than 20 years. Emerging in New York in the 1970s as an abstract painter and conceptual artist, Miller gradually became fascinated with the origins of life and the ways in which such fundamental and unseen realities could be translated into art. Featuring more than three-dozen paintings and drawings, the exhibition will offer a comprehensive view of his attempt to capture visually the most basic functions of living organisms. This is Miller's first solo museum exhibition in the United States.
For the past five years Miller has been working with Nobel Laureate and Brandeis alum Rod MacKinnon to translate MacKinnon's research in biochemistry into a visual form. MacKinnon, who graduated from Brandeis in 1978, received the Nobel Prize in Chemistry in 2003 for his understanding of how a charged ion moves across a cell membrane. This discovery has had a profound impact on life-curing medications. Miller met MacKinnon in 2002 and MacKinnon invited Miller to use his personal scientific notebooks in his art.
"This exhibition is an extraordinary opportunity for us to explore this enormously important frontier between art and science. Few artists have been able to bring their own imaginative skill to scientific processes the way Steve Miller has," said Rush, curator of the exhibition.
According to Miller, genetics and particle physics are asking 'the' questions about the origin of life and the origin of the universe. He says "indisputably, science and technology have transformed every aspect of culture, with the comprehensive impact of this transformation also affecting visual aesthetics. Using the tools of technology as a lens through which to view our world and exploring the language of this new science has been the driving force of my work." For Miller, this interest in the complexity of art was nurtured at a young age. "One of my earliest art experiences," he adds, "was standing in front of Jackson Pollock's painting 'Convergence' at the Albright-Knox Art Gallery in Buffalo, N.Y. There was something about the tumbling space created by the mesmerizing lines floating on air. At age 12, I had never seen anything like it. The new vocabulary, the freedom, the scale and the energy still endure."
Miller's most recent drawings and paintings document, through art, the new cultural paradigm that is scientific research, bringing a unique artistic perspective, based in both art history and scientific imaging processes, to his work. His paintings and drawings are first and foremost works of art, not strict visualizations of scientific experiments. They are unique and personal. With references stretching from Picasso and Warhol to Rauschenberg and contemporary laboratory imaging techniques, Miller's work transforms the canvas into a locus of beauty and inquiry.
Miller says his exhibition at The Rose is the result of stirring the cultural cauldron around the area of proteomics. This five-year cooking class produced artwork diverse in approach that was needed to stalk around this enormous subject. While working on this project, the access to innovative scientific research presented the opportunity to cut the tether to external appearances. This allowed for an expansive field of aesthetic play pertinent to his thinking about art.
About Tom Sachs
Born in New York City in 1966, Sachs lives and works in the city and exhibits internationally. In 1997, Sachs created his studio, Allied Cultural Prosthetics. Solo exhibitions include "Haute Bricolage" at Mary Boone Gallery, New York (1999), "Test Module Five (Urinal)" at Tomiyo Koyama Gallery, Tokyo (2000) and "Disaster" at Galerie Thaddaeus Ropac, Paris (2003). After several solo gallery exhibitions in New York and abroad, Sachs showed his major installation "Nutsy's" at the Deutsche Guggenheim in 2003. In 2006, the artist had two major survey exhibitions mounted in Europe, first at the Astrup Fearnley Museet for Moderne Kunst and next at the Fondazione Prada, Milan. His work can be found in major museum collections worldwide, including the Metropolitan Museum of Art, New York, The Solomon R. Guggenheim Museum, New York, the Whitney Museum of American Art and the Centre Georges Pompidou, Paris. Sachs is represented by Sperone Westwater, New York and Thaddaeus Ropac, Paris and Salzburg.
About Steve Miller
Born in 1951, Steve Miller is an artist who lives and works in New York. He has exhibited widely in the United States, Europe and Asia. Solo gallery exhibitions in the United States include "neomort" and "neolithic quark" at UCU Gallery, New York City (2000 and 2001), as well as exhibitions in Times Square (1985) and Artist's Space (1982) in New York. Miller also recently exhibited in the Drawing Center's 25th Anniversary Show in New York (2002). In Europe Miller's solo exhibitions include shows at Galerie Lilan Andree, Basel and Galerie Rigassi, Bern (2002), Karin Sachs Gallery, Munich (1998), Yvonamour Palix, Paris (1996) and AB Galleries, Paris (1993). In 1999 Miller exhibited at the Hong Kong Arts Center. He has also participated in numerous group exhibitions. His work can be found in public collections worldwide, including the Albright-Knox Gallery, Buffalo, NY; High Museum, Atlanta, GA; and Fonds National d'Art Contemporain, the French National Collection, Paris.
Return to the BrandeisNOW homepage