Constructing change
Women's Studies Research Center hosts "On Equal Terms" opening reception tonight
Opening Reception
Honoring the Contributions of Massachusetts Tradeswomen
Thursday, Oct. 16, 5:30 – 7:30 p.m.
WSRC, Kniznick Gallery
Which of the trades has historically employed the most women?
You can find out the answer and come face-to-face with a little known chapter in U.S. - and women's- history by checking out a new exhibition on campus.
"On Equal Terms," at the Women's Studies Research Center through Jan. 9, salutes those women who flexed their muscles, stuck out their necks and infiltrated one of the nation's biggest all-boys club—the construction trades. 
Timed to mark the 30th anniversary of affirmative action, the mixed-media installation boasts audio, found objects, sculpture, photography, and poetry all created by Susan Eisenberg—artist, poet, activist, WSRC visiting scholar, and master electrician. The show is a tribute to the women who, against all odds, have kept affirmative action alive for the past three decades.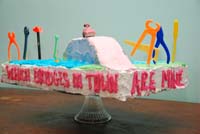 Here you'll find a brightly colored birthday cake topped with plastic tools, a pink Minnie Mouse car, and the frosted text, "My kids know which bridges in town are mine." In the same gallery, a full-scale bathroom shack, filled with misogynistic graffiti, recreates the messages too often sent to women in the workplace.
It's no coincidence that Susan Eisenberg got her first construction job and started her electrical apprenticeship in 1978—the same year President Carter issued affirmative action regulations "to provide immediate equal-employment opportunity for women in the construction industry."
Much of her experience, and that of dozens of others, was encapsulated into Eisenberg's 1998 New York Times Notable Book, "We'll Call You If We Need You: Experiences of Women Working Construction."
Her research shows that, based on affirmative action, the trades should now be about one quarter female – instead of the current two percent.
While the Boston-area poet and photographer no longer wires buildings, she keeps her electrician's license and union membership active. "We're seeing that voluntary affirmative action doesn't work," she says. "The culture will also have to shift to accommodate women. We need to open the public conversation for people who thought it was all taken care of."
That conversation includes a conference the center will host this Saturday, Oct. 18, where tradeswomen from across the country will discuss the issues they continue to face on construction sites, and seek ways to improve the situation for tomorrow's tradeswomen.  
"The motto of the Women's Studies Research Center is 'where research, art, and activism converge' so 'On Equal Terms' is an excellent use of our exhibition space," says center director Shulamit Reinharz, MA'69. "What Susan Eisenberg's interviews show all these years after affirmative action is the numerous formidable obstacles— sexual harassment being merely one of them—that are still keeping women out. Hopefully, this exhibition will open a much-needed conversation about what's become of women in the trades."
"On Equal Terms," curated by Wendy Tarlow Kaplan, is partially supported by Massachusetts Foundation for the Humanities, Ellen Stone Belic, David Goldberg, Diana Meehan and the Natalie Marcus Endowment for the Arts. For more information, read the press release. You may also want to check out the BrandeisNOW video that was filmed at Susan Eisenberg's home studio. And, oh, the answer to the opening question is painting.
-- Deborah Raub


Return to the BrandeisNOW homepage