The great bat mitzvah makeover
Latest issue of '614' takes a look at the change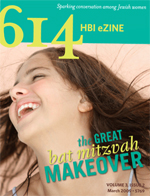 In the latest issue of its 614 eZine, the Hadassah-Brandeis Institute shines a spotlight on the bat mitzvah. 
Editor Michelle Cove says, "For too many Jewish girls, the bat mitzvah is no longer considered a meaningful rite-of-passage that connects them to their Judaism, but rather a theatrical event to endure. It's time to change that. Whether you're a mom, an aunt, a grandma, a sister, or just care about girls, we hope you enjoy our exploration of the topic and challenge you to send us ideas of your own on how to recapture the meaning of the bat mitzvah experience."
You can check out the bat mitzvah issue of 614 on the eZine's Web site. 
Return to the BrandeisNOW homepage