Hadassah-Brandeis Institute book wins National Jewish Book Award
Two Brandeis faculty members also named as finalists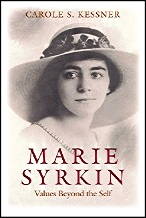 WALTHAM, Mass– A book published in the Hadassah-Brandeis Institute's HBI Series on Jewish Women has won a national award. "Marie Syrkin: Values Beyond the Self" by Carole S. Kessner, is the 2008 recipient of the National Jewish Book Award for biography. Kessner's volume recounts the fascinating legacy of Marie Syrkin. As a polemical journalist, poet, Zionist, educator, literary critic, translator, and idiosyncratic feminist, Syrkin was eyewitness to, and reporter on, most of the major cultural and political events in America, Israel, and Europe in the 20th century.

During her lifetime, Syrkin's name was widely recognized in the world of Jewish life and letters. Her passions demonstrated, as Irving Howe said, "a life of commitment to values beyond the self.

Kessner, professor emerita in the Department of Comparative Studies at SUNY Stony Brook, received a Research Award from the Hadassah-Brandeis Institute in the early days of the project.

Two Brandeis faculty members were also recognized in the National Jewish Book Awards: Len Saxe's "Ten Days of Birthright Israel: A Journey in Young Adult Identity," was a finalist in the "Education and Jewish Identity" category, while Jonathan Sarna's "A Time to Every Purpose: Letters to a Young Jew" was a finalist in the "Jewish Family Literature" category.

The HBI Series on Jewish Women publishes a wide range of books about Jewish women and gender issues in diverse contexts. By offering fresh perspectives on Jewish women's history, lives and experiences worldwide, the series aims to close a major gap in Jewish learning.

The Hadassah-Brandeis Institute, a research center at Brandeis University, develops fresh ways of thinking about Jews and gender worldwide by producing and promoting scholarly research and artistic projects.

The National Jewish Book Awards have been awarded annually since 1943 by the Jewish Book Council "to give recognition to outstanding books, to stimulate writers to further literary creativity and to encourage the reading of worthwhile titles." This year, the council selected winners and finalists in sixteen different categories. For a complete list of winners and finalists, click here.

Return to the BrandeisNOW homepage