Rose Art Museum announces fall show with renowned pop artist James Rosenquist
Exhibition will feature Rosenquist's work on a grand scale
"Rosenquist at the Rose" opening fall 2010

This September the Rose Art Museum at Brandeis University will open an exhibit of large-scale murals by celebrated pop artist James Rosenquist. The expansive pieces, which will be on view in the Foster Gallery, will be accompanied by smaller selections of the artist's work provided by Rosenquist and drawn from the Rose's collection.
Rosenquist's distinctive collage approach to Pop Art was informed by his early career as a billboard painter. A contemporary of other Pop artists such as Andy Warhol and Roy Lichtenstein, Rosenquist juxtaposes recognizable imagery from popular culture and reconfigures them into compositions, often in a monumental scale, that are both humorous and provocative. The works challenge the viewer to reexamine the meaning of imagery from every day life. The Rose Art Museum's Foster Gallery, designed by Graham Gund, will provide a grand backdrop to the paintings, some of which exceed 40 feet in width.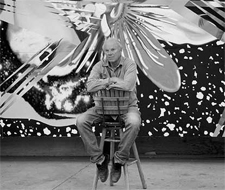 The show serves as a Rose and Rosenquist reunion. He first exhibited his work at the museum in 1963, as part of the Guggenheim's traveling exhibition "Six Painters and the Object."
 
"We're thrilled to invite James Rosenquist back to the Rose Art Museum at this stage of his career, when we have the opportunity to examine the breadth of his work," says Collections Manager Kristin Parker.

The Rosenquist exhibit takes the place of a previously announced show, "Atmospheric Conditions."

For Rose hours, directions and additional museum information, visit the Rose website. 
Return to the BrandeisNOW homepage