Benjamin C.I. Ravid will explore the Jewish ghetto Thursday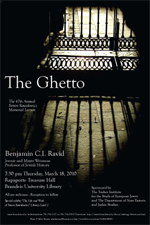 On March 18, Benjamin C.I. Ravid, the Jennie and Mayer Weisman Professor of Jewish History, will deliver the 47th annual Simon Rawidowicz Memorial Lecture on "The Ghetto," at 7:30 p.m. in Rapaporte Treasure Hall. His talk will center on the origins, problems and alleged mentality of the historic Jewish quarters.
 
Ravid, an emeritus professor of in the Department of Near Eastern and Judaic Studies (NEJS), is a specialist in medieval and early-modern Jewish history. A major focus of his scholarship is the varied experiences of the Jews of Venice, where the term "ghetto" originated.
 
Simon Rawidowicz was the founding NEJS chairman. This year's memorial lecture will coincide with the opening of a special exhibit on Rawidowicz's life and work on the second level of the library.
 
The lecture, which is sponsored by the Tauber Institute for the Study of European Jewry and NEJS, will be followed by a reception.
Return to the BrandeisNOW homepage