Students can make an impact March 4 with mission-driven employers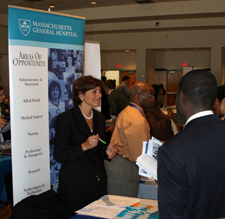 WALTHAM, Mass.— Who says employers are not hiring in a down economy, or that students can't start careers that make money as well as a social impact? On March 4, the Hiatt Career Center and the Office of Career Services at The Heller School for Social Policy and Management are co-hosting an inaugural sold-out Social Impact Career Fair from noon-3 p.m. in Sherman Hall. The event will connect Brandeis students with local, national, and international leaders in mission-driven fields.
 
More than 50 employers will be on campus representing a variety of fields including consulting, social and human service, health care, science research, policy and advocacy, community service, and government. The organizations attending the fair provide career opportunities for students and alumni to make a positive social impact. For example, Partners In Health, which was at the forefront of relief efforts following the earthquake in Haiti, and Teach For America, which provides much needed resources to school systems across the country, will both be in attendance looking to hire future leaders.
 
"We've had great success hiring candidates from The Heller School," said Janet Dooley, senior HR generalist, Education Development Center. "We have found that they share our values and our goal of creating workable and sustainable solutions in communities around the world." 

Jesse Flynn, a recruiter for Peace Corps, echoes those sentiments. "Peace Corps has a strong recruiting history with Brandeis University, based on candidates who are committed and well prepared, as well as the Hiatt staff that is organized, creative, proactive, and energetic," Flynn said. "Peace Corps has recruited 237 Brandeis graduates over our history working with the school, and we keep Brandeis on our top list of schools to work with because career services provides ample opportunities to meet with a variety of students in forums from career fairs, to one-on-one recruiter in residence time, to helping organize class talks."
 
In today's hiring market, employers are cutting back their presence on college campuses due to tightening budgets and a need to think more strategically about connecting with the right students for their talent needs. As a result, employer attendance at general career fairs is down nationally by a rate of 7 percent (National Association of Colleges and Employers 2009 Survey). In the New England region, many schools have seen declines in the double digits. At Brandeis, however, recruiting is up over previous years.
 
Providing employers with tailored programs such as the 2010 Social Impact Career Fair and keeps organizations engaged. This is one of many targeted programs Hiatt and Heller have organized to attract record numbers of employers to campus this academic year. More employers will be visiting Brandeis for programs like Government Week, happening March 8-15, and the second annual Green Careers Forum on March 25.
 
For more information about The Heller School for Social Policy and Management visit Heller's Web site, or email Denise Riebman.
 
For more information about the Hiatt Career Center visit the Hiatt Web site, or call Joe Du Pont, director, at 781-736-3613.
Return to the BrandeisNOW homepage