Two new exhibitions opened at Rose Museum
Two new exhibitions that invite viewers to consider how artists approach water and paint, elements fundamental to life and art, opened October 7 at the Rose Art Museum. The shows feature a wide range of artists who explore water as subject, metaphor and muse, and the physical properties of paint as an avenue into creative processes and ideas.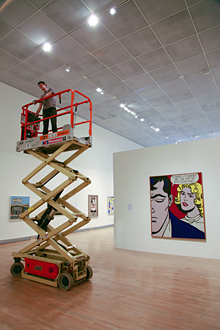 "WaterWays" is mounted in the Fineberg, Rose and Lee Galleries. William Kentridge's video "Tide Table" will be shown, along with a wide range of artists — from the traditional to the conceptual — including John Marin, Milton Avery, Fairfield Porter, Alfredo Jaar, Annette Lemieux and Sally Mann. Many of the pieces will be drawn from the Rose's impressive permanent collection.
"We cannot go far from water," said Director of Museum Operations and exhibition curator Roy Dawes.  "The recent oil spill tragedy in the Gulf of Mexico is something that we feel in our essence, that registers in the water table of our own bodies. The artists we will be exhibiting, in one way or another, have embraced that aspect of themselves through their work."
"Regarding Painting" fills the Foster Wing and examines paint as an act and an object. Visitors are encouraged to look closely — to revel in the physical properties of paint, consider how the form of a painting intersects with its content, and gain access to artists' processes and ideas. "Painting, 'is liquid thought,' to quote the artist and historian James Elkins," said Dabney Hailey, Director of Academic Programs who curated the exhibition. Spanning the last hundred years, this exhibition will bring to light many works long in storage as well as feature a selection of the collection's most renowned paintings. Artists include Roy Lichtenstein, Natalie Frank, Max Weber, Roxy Paine, Audrey Flack, Willem de Kooning, Agnes Martin and Forrest Bess.
"Both exhibitions broadly approach these themes, drawing from the Rose's permanent collection, demonstrating its depth and relevance," said Dawes.
Return to the BrandeisNOW homepage