Amb. Kurtzer calls US Mideast diplomacy weak
'If you're a big power, you've got to act like a big power, and we don't,' he says
Daniel Kurtzer – former U.S. ambassador to Israel, former U.S. ambassador to Egypt and scholar of the peace process – delivered a devastating critique of American policy in the Middle East at this week's meeting of the Association for Israel Studies at Brandeis.
"Does Washington understand what's happening in the region?" Kurtzer asked. "Does it have the will and the smarts to see the policy through?" He suggested that the correct answer to all these questions was "no."
The veteran diplomat, now a visiting professor of Middle East policy studies at Princeton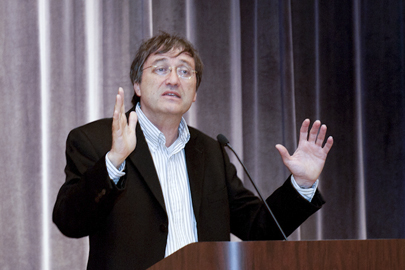 Philosopher says Israel shouldn't enforce Jewish law, customs

"What do we mean by a Jewish and democratic state? No question this has become the most existential and charged issue we are facing," said Moshe Halbertal, the distinguished Hebrew University professor of Jewish thought and philosophy, in the keynote address of Association for Israel Studies conference at Brandeis University.
To be a Jewish state, he said, Israel must act in solidarity with Jews all over the world, and must take into consideration the effects its actions might have on Jews living elsewhere. "If it breaks this solidarity," he said, "it becomes an Israeli state, not a Jewish state."
It must have the right of return, must embrace key aspects of Judaism – such as the calendar of holidays, Hebrew language and Jewish symbols – and must maintain in its education system a commitment to the continuation of Jewish culture.
Nothing more than these commitments is needed to maintain the Jewish character of the state, said Halbertal, who has been a visiting professor of Talmudic and civil law at Harvard University for the past year, and who is also a professor at New York University's law school.
A religiously observant Jew, Halbertal spoke sharply against using the coercive power of the state to enforce one kind of Judaism over another. The state should not be determining whether a woman is dressed modestly enough, it should not be a civil offense to eat bread during Passover. "The Knesset has no business to decide who is a rabbi or to enforce Shabbat," he said. "It should protect the rights of Jews to practice religion as they want."
"The more the state attempts to enforce Judaism, the fewer Jews there will be around," he said. "It will be like the Soviet Union at the end – no communists."
Also, to be democratic, the state must allow its Arabs a formal expression of their culture, Arabic as an official language, and use of their own calendar in areas where there is an Arab majority, he said.
University's Woodrow Wilson School of Public and International Affairs, was particularly critical of President Obama, who he said has failed to act powerfully, resolutely or presidentially.
Nearly 400 people, including scholars from around the world, packed Hassenfeld Conference Center to hear Kurtzer and other renowned scholars and practitioners of Middle East diplomacy at the Association's 27th annual conference. 
Kurtzer said Obama had articulated a clear policy in his May 19 speech, in which he urged Israelis and Palestinians to address issues of security and territory first, then proceed to consideration of refugees and the status of Jerusalem.
But, the veteran diplomat said, "are we in a position to see it through? I think not."
It was the right of the president to set policy, and the right on Prime Minister Benjamin Netanyahu to react negatively, he said, but Obama's non-reaction to Netanyahu was inexplicable.
"The prime minister of one of our deepest, friendliest allies put our president down, in the Oval Office and then in front of Congress," Kurtzer said. "The President did not react. He did not act presidential... So why should anybody take his policy seriously?
"If you're a big power, you've got to act like a big power, and we don't," he said.
Kurtzer also faulted the United States, starting well before the Obama years, with failing to do the day-to-day diplomatic work necessary to turn policy visions into action. He said lack of persistence and toughness, and the fact that new aid money to enhance U.S. influence is not available, may mean the era of great American influence in the region is winding down.
David Makovsky, director of the Washington Institute for Near East Policy's project on the Middle East peace process, urged listeners to "avoid worst-case scenarios" even though the region is in turmoil and the Israeli-Egyptian relationship, long a cornerstone of stability in the region, has been shaken by the overthrow of President Hosni Mubarak.
Makovsky recalled that 30 years ago the situation between Israelis and Palestinians bore many similarities to circumstances today. Both sides were led by politicians who were reluctant to enter negotiations, the United States had a liberal president who was not trusted by many supporters of Israel, and the Shah of Iran, Israel's primary ally in the region, was going down the tubes.
Some people "said to [Israeli Prime Minister Menachem] Begin that there is instability in the region, it is no time to negotiate peace," Makovsky said, but the peace made then with Egypt offset all the other factors "the worst case didn't happen, and Israel enjoyed 30 years of peace."
Joel Migdal, professor of international studies at the University of Washington, and Shibley Telhami, senior fellow of the Saban Center for Middle East Policy at the Brookings Institution, both asserted that the people-power movements that have rocked many regimes in the region have put a serious dent in Iran's ambitions for broader influence.
"Iran has been a gigantic loser in the turmoil in the Middle East," Migdal said, suggesting that perhaps the broad movement against authoritarian rule in the region began not with last December's Tunisian revolution but with the harshly repressed protests following Iran's allegedly rigged 2009 elections.
Added Telhami, a leading pollster of opinion in the region, "All the opinion polls we conduct shows Iran only wins because the enemy of my enemy [is my friend]. Iran wins because there is no Arab hero," and stands to lose broadly if nations like Egypt and Iraq successfully establish popular governments.
Robert Malley, program director for the Middle East and North Africa at the International Crisis Group, gave a slashing critique of American policy in the George W. Bush administration, which he accused of establishing a false dichotomy between moderates and militants that helped unify and strengthen the militants.
Malley, a former Middle East aide to President Bill Clinton, said Bush had "unfrozen" three conflicts – Iraq-Iran, Israel-Palestine and Lebanon-Syria – that the United States had managed to suppress. After opening up these situations, Malley said, Bush proved unable to manage any of them.
"The Bush policy was doubly pernicious," Malley said. "It was bad policy that was poorly implemented," and it misled the incoming Obama administration, which is still struggling in all three arenas.
Return to the BrandeisNOW homepage