Brandeis Magazine looks at Sandel '75, Power '71
Also featured are the fabulous nature photos of Biology Prof. Dan Perlman
The spring issue of Brandeis Magazine is on now available on campus and online.
The cover story explores the efforts of Harvard Professor Michael Sandel '75 to generate a global discussion among college students about their moral values in our market-driven society. Sandel asks questions like these: Is it justifiable to slay some endangered black rhinos to help save the species? Should we contract out our war efforts to private industry? Is outsourcing pregnancy to poor Indian women — some of whom earn more as surrogates than they would in a lifetime of hard work — the right thing for Western couples to do?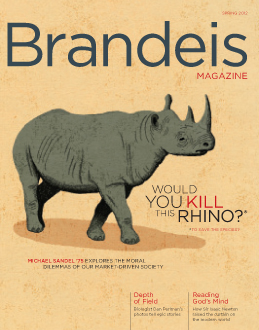 In his trademark style of gradually escalating the complexity of the moral dilemma at hand, Sandel gently drills down into hypothetical examples like these to compel audiences — sometimes numbering in the thousands — to reconsider their most deeply held assumptions about the right thing to do.
The issue also considers the meaning of justice from a deeply personal perspective. In "Turning Points," former radical Kathy Power '71, convicted in the shooting death of a Boston police officer during a robbery in 1970, describes her "deepening surrender" to personal responsibility for the crimes she committed, and her hopeful return to the Brandeis community.
Scientist Dan Perlman shares some of the photographs he's taken over decades of "biologizing" around the world, in Africa and Costa Rica, Yellowstone and Newton, Mass. His pictures capture the great themes of nature — life, death, predation, mutualism, sex, competition — as they play out in the Serengeti or a leafcutter ant colony in Texas.
So please check out the magazine and send your comments to letters@brandeis.edu
Return to the BrandeisNOW homepage