New class arrives from the four corners of the earth
Class of 2016 represents 36 states, 34 countries
For additional orientation information:

Members of the Class of 2016 put thousands of miles between themselves and the college application process as they spread across the country and the world in the months leading up to their Brandeis beginnings.
They worked for the disadvantaged in urban America and the upper Amazon, worked for communal and religious organizations, made films and music, studied and traveled just about everywhere.
Just over 820 new students who comprise the class are arriving this weekend. An additional 90-plus members will enter at mid-year. The class size is deliberately somewhat smaller than last year's, administrators say, reflecting a focus on maintaining Brandeis' intimate environment and not overtaxing the university's capacity.
Members of the class come from 36 American states and 34 countries. According to Dean of Admissions Mark Spencer, two-thirds of them ranked in the top 10 percent of their high school graduating classes and 93 percent were in the top quarter. Spencer said that 14 percent are the first members of their family to go to college and 27 percent are from groups considered under-represented minorities.
Like all highly regarded colleges and universities, Brandeis looks for students with strong academic abilities from challenging high school programs.
"This year's incoming class has demonstrated unprecedented academic ability and unbridled enthusiasm for learning and caring about the world," Spencer said. "These are students who have many passions and talents and will continue to channel that energy at Brandeis to enhance the student body and continue Louis Brandeis' great commitment to the cause of social justice."
Summaries and statistics only tell so much, so following is another kind of introduction to the tremendous diversity of people and interests embodied by the Class of 2016 – a selection of some of the autobiographies that class members wrote to help the academic services office in arranging faculty advisers.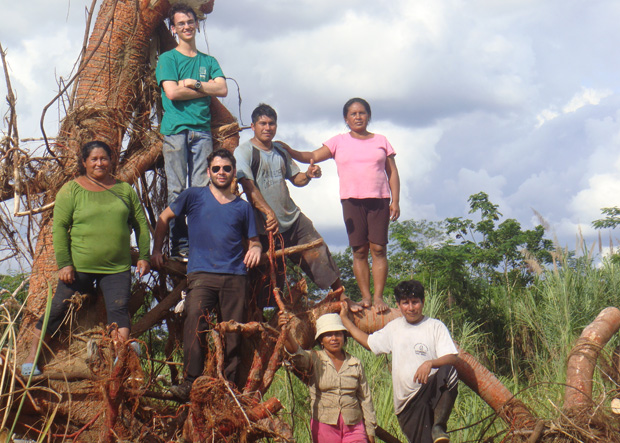 Mitchell Mankin

I am a born and raised San Franciscan and graduate of Lowell High School, the city's largest and most rigorous public school.  I'm interested in the social sciences, but I haven't decided exactly what major I'd like to pursue.
I carried a heavy course load in High School, which didn't leave much time for extra-curriculars, but I did play an active role in my school's psychology club and Ultimate Frisbee club. I play the saxophone, guitar, piano, and a little bit of the clarinet, drums, bass, charango, accordion and harmonica and am very interested in music, from rock and folk music to Latin music and jazz.
Last year, I took a gap year and lived and volunteered in the Amazon in Ecuador with a fledgling women's organization.  I lived with a very poor indigenous family of seven children and two parents, who became my brothers and sisters and mother and father.  I volunteered with a women's community organization working in tourism. It was the most significant experience of my life to date.  It broadened my perspective, taught me Spanish, and infused me with a desire to do more to help the world's poorest.
I'm still assessing the affects the experience will have on my life, but in the meantime, I'm doing what I can to continue that mission by acting as a medical translator for a free health clinic for San Francisco's poor and uninsured.
Cameron Wolfe

My name is Cameron Wolfe and I am a Graduate of the Birch Wathen Lenox School in Manhattan, New York. My passions include politics, debate, law, and philosophy. I have spent the last four summers interning with Mayor Cory A. Booker and Newark, NJ. This has been one of the most meaningful experience of my life and has inspired me to pursue a career in public office.
I am also an assistant director of a company called The Pencil Promise. We operate an online store where we sell backpacks and for every backpack we sell we donate another to a school in a developing nation. We have made trips to schools in India, Laos, Cambodia, and Kenya. We also operate a program where we provide vocational training to disempowered women and then hire them to sew our backpacks which we then deliver to schools in their communities. This program has been extremely successful in Laos, Cambodia, and Kenya. We also operate a program called Pencil Pals where we facilitate correspondences between classes in US public elementary schools and the schools to which we make deliveries.
I am founder of the debate and politics club in my High School and served as Class President my senior year.
Jennifer du Breuil

I am a graduate of MU High School, an online distance learning program based out of Columbia, Missouri. I switched from public school to MU High School in my freshman year of high school to accommodate my figure skating.
I began figure skating when I was three. About six years ago, I started synchronized skating, and fell in love with the sport. In my senior year of high school, I was honored to be on the Haydenettes, the current national synchronized skating champions and world bronze medalists. I will be continuing to skate for the Haydenettes while I go to Brandeis, and I am so excited to be able to continue both my passion for skating and history.
I first became interested in majoring in history as a sophomore, when I took Medieval History in the spring. Learning about the Hagia Sophia, Visigoths, Ostrogoths, and the rise and fall of Constantinople was and is absolutely fascinating to me. I hope to continue learning about Western Europe, specifically during the Dark Ages.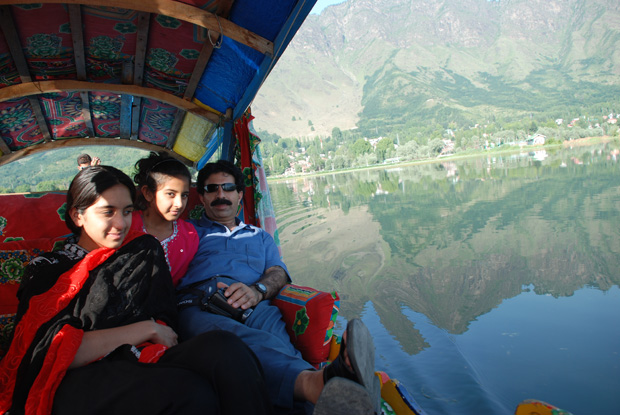 Hina Bhat and her parents on Dal Lake in Kashmir.
Hina Baht
I am graduate of Wayland High School in Massachusetts. My family (I come from 4 generations of doctors) has always said biology is in my blood, and I have found that it's kind of true. I am pretty obsessed with the human physiology side of biology.
But as I have gone through high school, I have found that I'm not only a biology geek, but also a history nerd. In high school, I was part of Asian Cultures Club (mainly because of the amazing food), and WHY club, which is basically a community service organization.
Outside of school, I am part of Kashmir Education Initiative, an organization that gives scholarships to underprivileged kids in Kashmir, India (where my dad is from). I started a pen pal program in coordination with the organization about two years ago.
I am also part of the Muslim Community Support Service. At our local mosque (Islamic Center of Boston) I teach fifth-grade Arabic and religion. I am also an active member of the Wayland Youth Group at my mosque. Religion has always been a big part of my life. I love to travel and immerse myself in new cultures (ESPECIALLY FOR THE FOOD)!!
I have been to India (where my family is from), Spain, France, Saudi Arabia and Switzerland. But the most important thing about me is that I am sucker for a good Bollywood movie. (I am not exaggerating when I say that I have seen all of them!)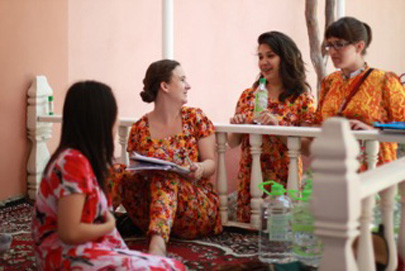 Jordan Brandt, second from left, studying with classmates in Tajikistan.
Jordan Brandt
I am daughter of diplomats, so I have grown up living all over the world -- Zambia, Senegal, Sweden, Israel, Canada, Tajikistan and the U.S. I can also speak six languages at various skill levels. The field of International Health has always fascinated me, and Dr. Paul Farmer is one of the people I look up to most in life.
I am also hoping to be able to spend time abroad. I have always been very involved in the Jewish community, specifically in a youth group called USY. I also spend about a significant amount of time horseback riding. I used to compete a lot, but stopped to start working with injured horses.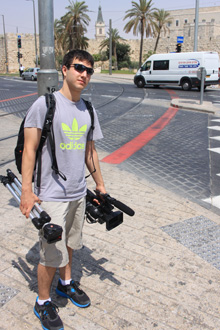 Jordan Schwartz

I am a graduate of Brookline High School in Brookline, Massachusetts.  Since 2009, I have been deeply involved in pro-Israel political advocacy.
This summer, I will be traveling to England and Israel to make my first documentary film, about the successes and failures of the pro-Israel movement in England, and what it means for the rest of the world.  I oversaw a fundraising operation that yielded $20,000 for the production.  I pride myself of my ability to write, and to adapt quickly to new surroundings and situations.  I make friends pretty easily, and am very passionate about the issues that matter to me most.  I speak English, Spanish (near-fluently), and I am teaching myself Hebrew.
Rima Tahini
I am a bi-racial with a Lebanese father and a Sierra Leonean mother, thus, I am a dual citizen. I graduated from African Leadership Academy in South Africa. I am interest in Business, Entrepreneurship, Economics, foreign languages like French, Arabic and Spanish, Education and Music.
In school, I was part of many student-run businesses such as salons and restaurants. I mostly employed as Operations Manager and Marketing Manager. My participation in these businesses helped to develop a passion not just for Business and Entrepreneurship but also for Leadership.
In the past two years of high school, I also became interested in Social Entrepreneurship and thus participate in many community service projects.  I have been working every summer with a group of my classmates, teaching English as a second language to students in a secondary school in Senegal. I also started a project in Sierra Leone to help young girls fight against early forced marriage.
I love singing, music, movie series and fashion. In my free time, I love spending quiet times alone or hang around with friends, read a book or play phone poker.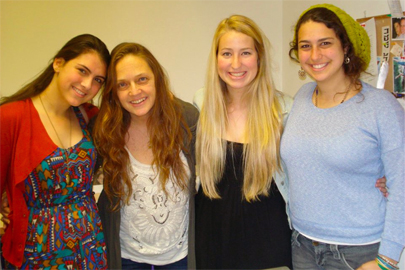 In the Tel Aviv Rape Crisis Center: Talia Neiderman, left, a mid-year
entrant to the Class of '16 and, second from right, Catriona Stewart.
Catriona Stewart

I attended a boarding school in Pennsylvania called Westtown School.  In high school I loved my Creative Writing classes and English classes and I was very passionate about the material.  I was also involved in theater and edited the school's literature magazine.
I am currently on a gap-year in Israel where I am volunteering and studying Hebrew.  I have also become very passionate about women's rights while in Israel and have been writing a blog about my experiences as a woman in a religious society (avoiceforwomen.wordpress.com).  Earlier in the year, I volunteered at the Rape Crisis Center of Tel Aviv and a women's shelter. I currently work at an after-school program for at-risk teenage girls.
I hope to be an English major of some sort while at Brandeis with a minor in Gender Studies or Education.
Return to the BrandeisNOW homepage