Upcoming Internships and Deadlines
Deadline: April 15, 2018 (for fall 2018)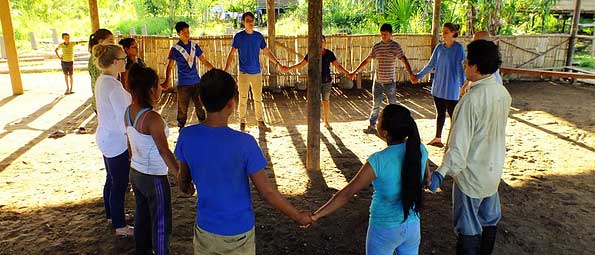 Pachaysana is a collective of Ecuadorian and international scholars, artists, development specialists and community organizers.Rehearsing Change carries out the central mission of Pachaysana by empowering local communities while simultaneously educating global leaders.

Local counterparts in Ecuador's Amazon region and international students learn together, studying development, sustainability, identity and globalization, all in the context of the reality of the local community. They apply learned knowledge and tools through the Applied Arts (or Arts for Social Change), Engaged Learning/Scholarship and Participatory Action Research.

Pachaysana is offering scholarships for its fpring 2018 program. For more information, visit their website or email them.
Deadline: May 7, 2018
This is an online course taught by the United Nations Institute for Training and Research (UNITAR) in partnership with Nonviolent Peaceforce. Students wishing to take this course for college credit would enroll in the course through Merrimack College.
Watch Merrimack College's video, Nonviolent Peaceforce: An Introduction
Unarmed Civilian Protection (UCP) is the practice of civilians protecting civilians in situations of violent conflict, imminent violence, and post-crisis situations. It involves expatriate civilians protecting national civilians, national civilians protecting each other, and even national civilians protecting expatriate civilians. The practice of UCP is nonviolent and nonpartisan. Protection is provided on invitation from local actors. It supports local actors as they work to address the roots and consequences of violent conflict. This practice is grounded in international law, in the principle of civilian immunity in war, and in the protection afforded by international conventions. This course aims to make a contribution to the common objectives of protecting civilians and keeping peace. More specifically, this course provides an introduction to the foundations of UCP, its principles, methods and required skills, as well as offers an overview of UCP in practice.
Complete information about the course is available on Merrimack's website. Feel free to email Merrimack's Office of Professional Studies with any questions.