Postdoctoral Researchers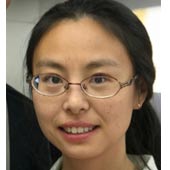 Yujun Liu
Postdoctoral Research
PhD, Virginia Polytechnic Institute and State University
Yujun Liu received her PhD in Human Development with a simultaneous degree in public health from Virginia Polytechnic Institute and State University under the direction of Dr. Karen A. Roberto. She holds a Master of Social Work from Washington University in St. Louis. Yujun's research interests include healthy aging and family caregiving.
Selected Publications
Liu, Y., Voskanova, K., & Jarrott, S. (2017). Feasibility of an electronic participant information system for adult day services: A qualitative study of staff perspectives. Home Health Care Services Quarterly. doi:10.1080/01621424.2017.1291389
Liu, Y., Xie, Y., Brossoie, N., Roberto, K. A. & Redican, K. (2017). Alcohol consumption and depression symptoms among older adults in China. American Journal of Health Education. doi: 10.1080/19325037.2017.1358123
Dou, X., & Liu, Y. (2015). Elderly migration patterns in China: Types, patterns and determinants. Journal of Applied Gerontology, 6. 1-21. doi: 10.1177/0733464815587966.