Research
The Lifespan Developmental Psychology Lab is currently working on four projects.
The Boston Roybal Center for Active Lifestyle Interventions

The Boston Roybal Center for Active Lifestyle Interventions is a collaboration among researchers from five Boston-area institutions to develop and test novel, evidence-based programs that promote healthy aging through an active and engaged lifestyle. The center, based at Brandeis University and directed by Dr. Margie Lachman, funds pilot projects focusing on strategies to increase and sustain active engagement in vulnerable populations of middle-aged and older adults. This research is supported by the Boston Roybal Center for Active Lifestyle Interventions (RALI Boston), Grant# P30 AG048785.
To find out more information please visit the Boston Roybal Center website.
Health in Midlife — MIDUS Project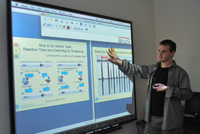 The Health in Midlife project is part of a large program project in which we collaborate with investigators at the University of Wisconsin-Madison and several other universities. We are analyzing a large longitudinal data set of more than 7,000 adults, ages 25 to 85, from the Midlife in the United States (MIDUS) national survey. Our questions focus on identifying modifiable psychosocial and behavioral factors that help to reduce aging-related declines in health and cognition.
We have found a number of important dimensions that can attenuate declines especially for those who are most vulnerable or at highest risk for problems, that is, those with less education and those who are older. We also have found evidence of a long-term protective role of these factors. Since 1995 the MIDUS study has been funded by the following: John D. and Catherine T. MacArthur Foundation Research Network; National Institute on Aging (P01-AG020166); National Institute on Aging (U19-AG051426).
Reinventing the Elder Workforce: Creative Productivity Over the Life Course Through the Lens of Patent Data
This work is being conducted with Adam Jaffe, Director and Senior Fellow, Motu Economic and Public Policy Research in New Zealand. The project is funded by the Alfred P. Sloan Foundation.
The focus of this research is on invention over the life course, with an emphasis on how the quantity and quality of creative outputs change as inventors age. This project will assemble longitudinal data including the dates of birth and death and the number and significance of inventions from 1975-2016 of over a million U.S. inventors. The aims of the project are: (a) to find inventors' birth and death dates using web searching procedures and to merge them with the NBER patent database documenting inventions from 1975 to 2016, (b) to use this new information to examine the trajectories of patent rate and quality over the life course of inventors, and to compare the age patterns across different technology fields, and (c) to examine variations in the quality of inventions in relation to the size and age composition of inventor teams. This research is guided by theoretical models and empirical findings on cognitive aging and life course development. The results have possible implications for extending the work life and productivity of older adults, and accelerating the professional growth of younger inventors.
Control Beliefs, Stress, Memory and Aging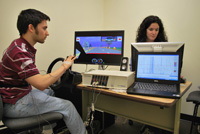 The Control Beliefs, Stress, Memory, and Aging project is a laboratory-based study with adults ages 25 to 85. There is evidence that having a high sense of control over outcomes in life is tied to better cognitive performance, especially in later life. Our goal is to understand how beliefs about controllability make a difference for memory. We are studying the role of using effective strategies for remembering information.
We are also interested in how stress and anxiety interfere with optimal memory performance in later life. As we begin to understand the processes that lead to memory problems, we hope to develop methods that can be applied to improve memory in midlife and later life.