Brandeis celebrates 75 years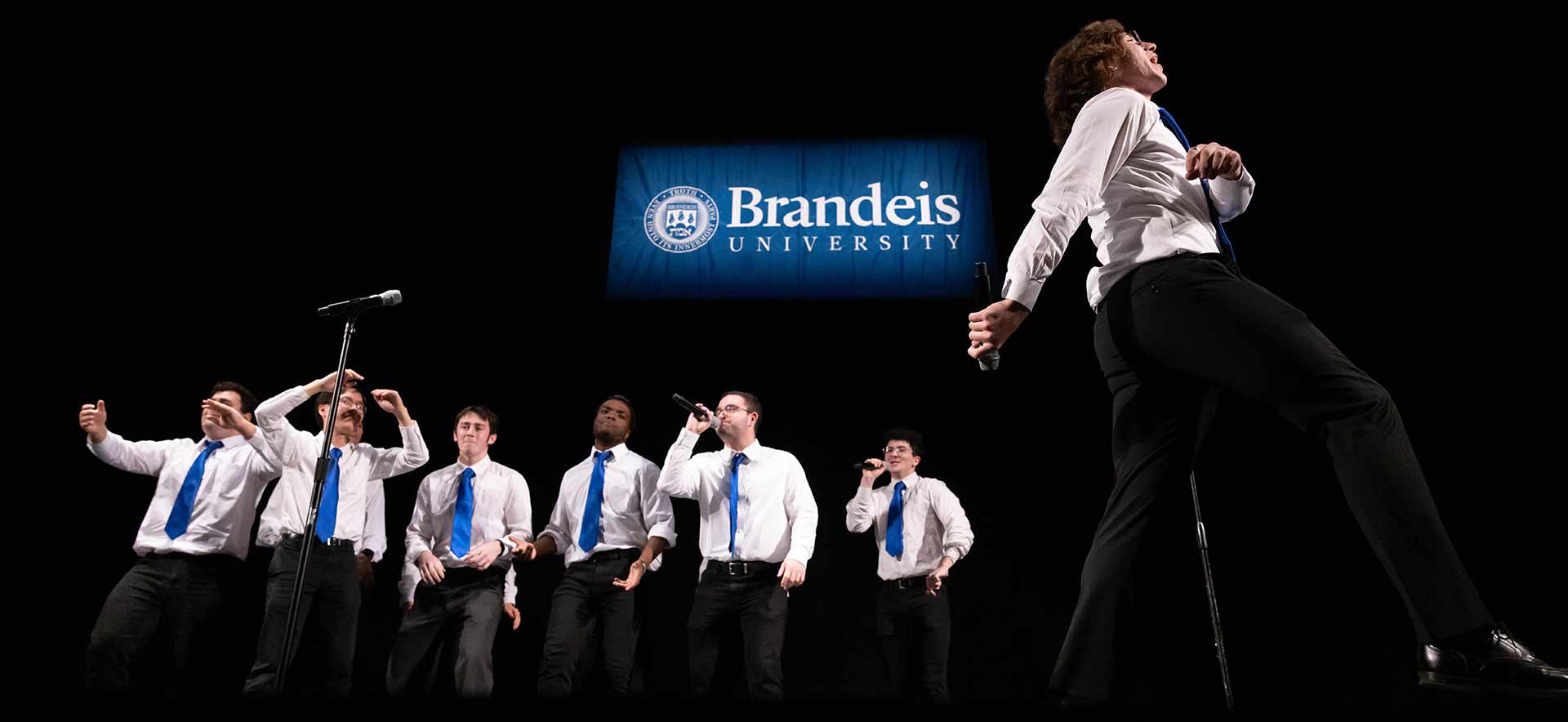 Thousands of proud alumni, students and families filled campus Oct. 13-15 to celebrate the university's 75th anniversary — a momentous milestone marked by a gala celebration, spirited panel discussions, and lively events and activities.
"As we celebrate our first 75 years and look ahead to our next 75, I am so optimistic about the future," Brandeis President Ron Liebowitz said during an opening reception Oct. 13. "I see students who push the limits of scholarship and ask difficult questions; students who engage, almost always, in the kind of respectful debate that Brandeis is known for, despite the realities of a world where opposing views are so often vilified and discussions seem to be had only for one to win an argument, rather than to learn from another's point of view. It's so important that all of you are here today, because each of you can be a partner in helping Brandeis ensure its future."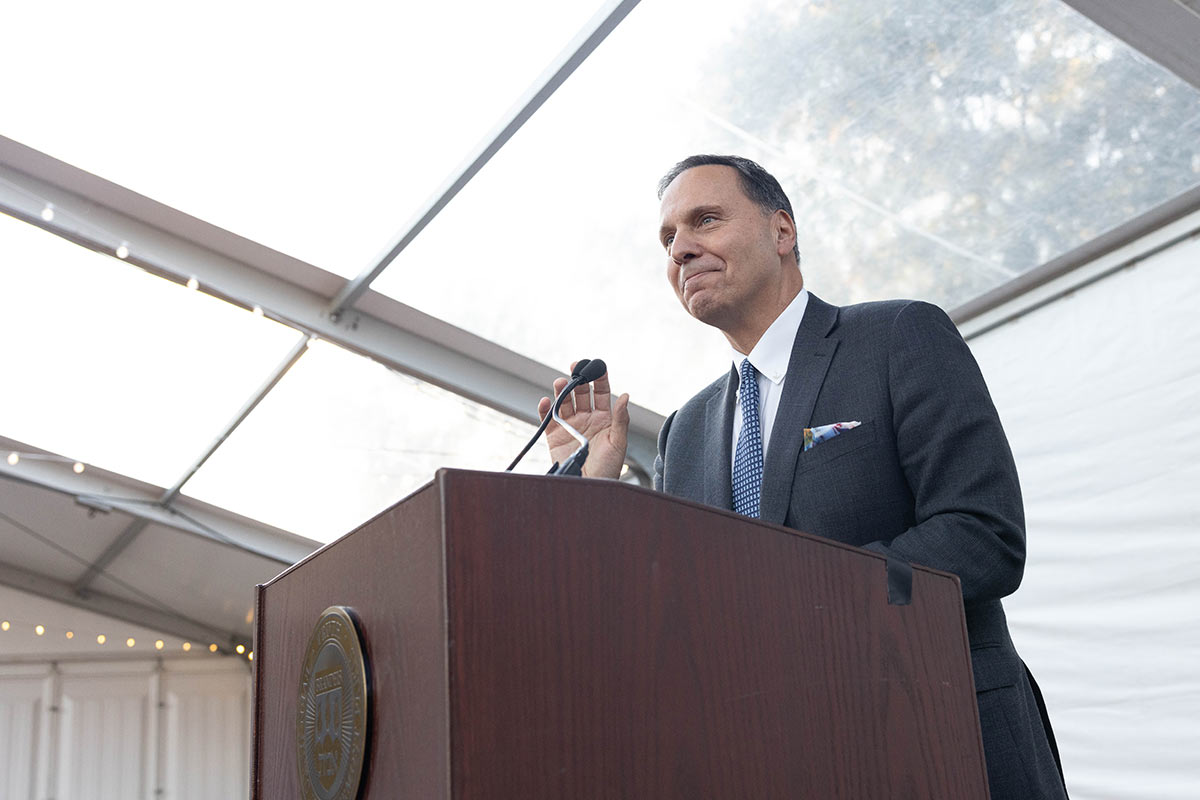 Events began Friday with academic panels on a variety of topics: A look back at Brandeis' founding; the illustrious history of trailblazing women scientists at Brandeis; an author's panel featuring National Book Award winner Ha Jin , GSAS MA'89, PhD'93, H'05; the legacy of Justice Louis Brandeis; stories of creativity in the face of injustice; repairing the global economy; and a series of discussions on Brandeis' past, present, and future.
In a panel Friday morning, current students joined alumni for a discussion on Jewish life at Brandeis.
"What is Jewish life at Brandeis? It's everything. I can't think of something we don't offer," said Samantha Brody '24. "We care about our Judaism in every shape or form it comes in."
Rabbi Herbert Tobin '75, senior consultant to Hillel International and the Foundation for Jewish Campus Life, looked back fondly on his time on campus, particularly his coursework in the Near Eastern Judaic Studies program.
"I had four of the most wonderful years I could have. What a feast. It was a smorgasbord of Jewish life," said Tobin. "The NEJS department was everything it was cracked up to be. It was the mothership of Jewish departments across the country."
A group of esteemed Brandeis faculty in Jewish and Israel studies came together to discuss the future of American Jewry on Friday, but the event almost didn't happen. In the aftermath of the attack on Israel by Hamas and the beginning of a war in Gaza, the panel strongly considered canceling the event.
"We are all exhausted, emotionally overwhelmed, and as educators, we've also been busy supporting our students, speaking to the press," said Alexander Kaye, the Karl, Harry, and Helen Stoll Assistant Professor of Israel Studies, and moderator of the event. "But we decided very quickly that cancellation was not an option. In our opinion, mourning and sadness and anger are emotions that have the effect of narrowing one's horizons, urging us to frantically do something. It's very hard at times like this to think about the future at all, but it's precisely at times like this we need to think of the future."
Also Friday, a panel with Chad Williams, the Samuel J. and Augusta Spector Professor of History and African and African American Studies, and Roy Deberry '70, GSAS MA'78, PhD'79, examined the many remarkable Black graduates, visitors, and scholars who have shaped Brandeis' intellectual and political community.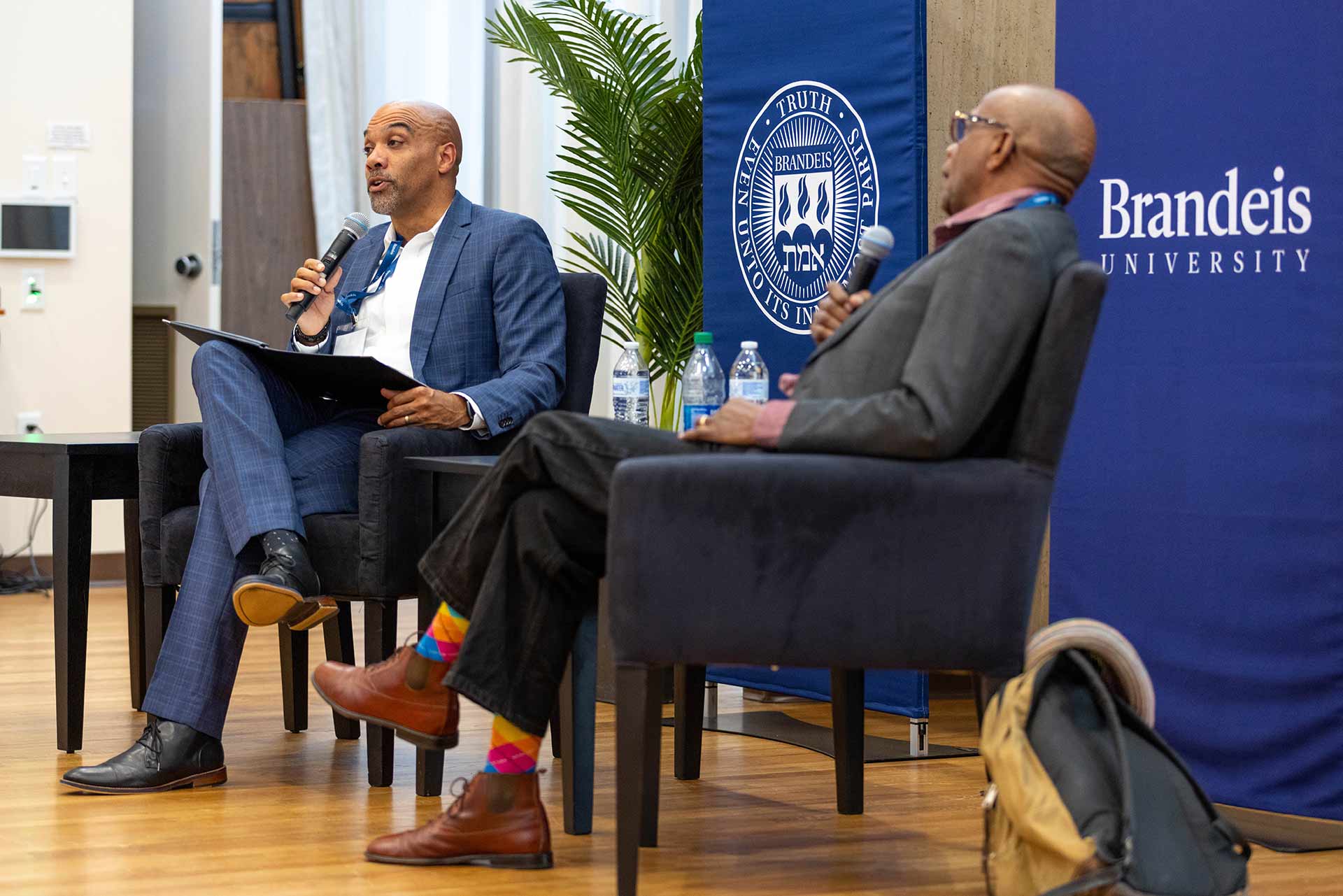 "Black people have been absolutely central to Brandeis' history and recognizing this history is essential for how Brandeis must imagine its future," Williams said.
At the welcome reception Friday evening, alumni, students, faculty, staff and families mingled in an enormous tent that stretched across the entire Great Lawn on a crisp fall evening. 
Among the crowd was Mark Beatty '90, who spent the reception catching up with longtime friends and classmates. The former psychology and history major reflected on the value of friendship and the unique way Brandeis shaped his future.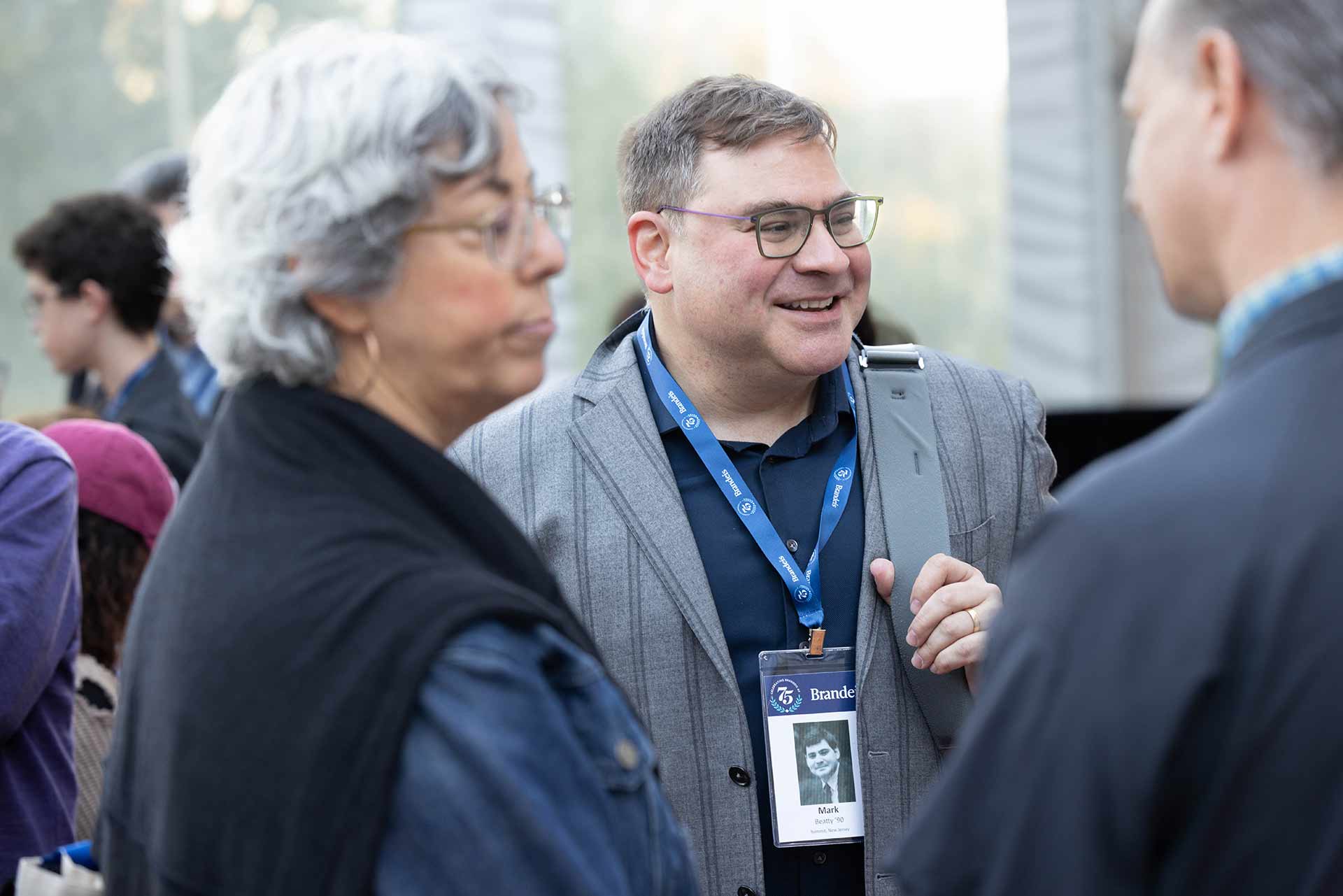 "Brandeis has provided me with lifelong friends, a fantastic education, and the ability to think differently," Beatty said. "I draw on my liberal arts education all the time, even though I do technical work. I think I was the only one in my class to fulfill the language requirement learning Egyptian hieroglyphics."
The 75th celebration weekend converged with Homecoming and Family Weekend, annual events that are typically held on their own. Events and activities took place nearly nonstop, from illuminating academic discussions to class reunion gatherings, to craft markets, to a student talent performance showcase.
"Brandeis has provided me with lifelong friends, a fantastic education, and the ability to think differently."
Mark Beatty '90
At the Homecoming tailgate event outside Gosman Sports and Convocation Center on Saturday, Evan Reif '27 and Marco Ratermann '27 played the lawn game cornhole, taking turns tossing bean bags at a plywood target.
"It's been really nice to meet alumni and see the school come together," Ratermann said. "There's a lot of school spirit this weekend."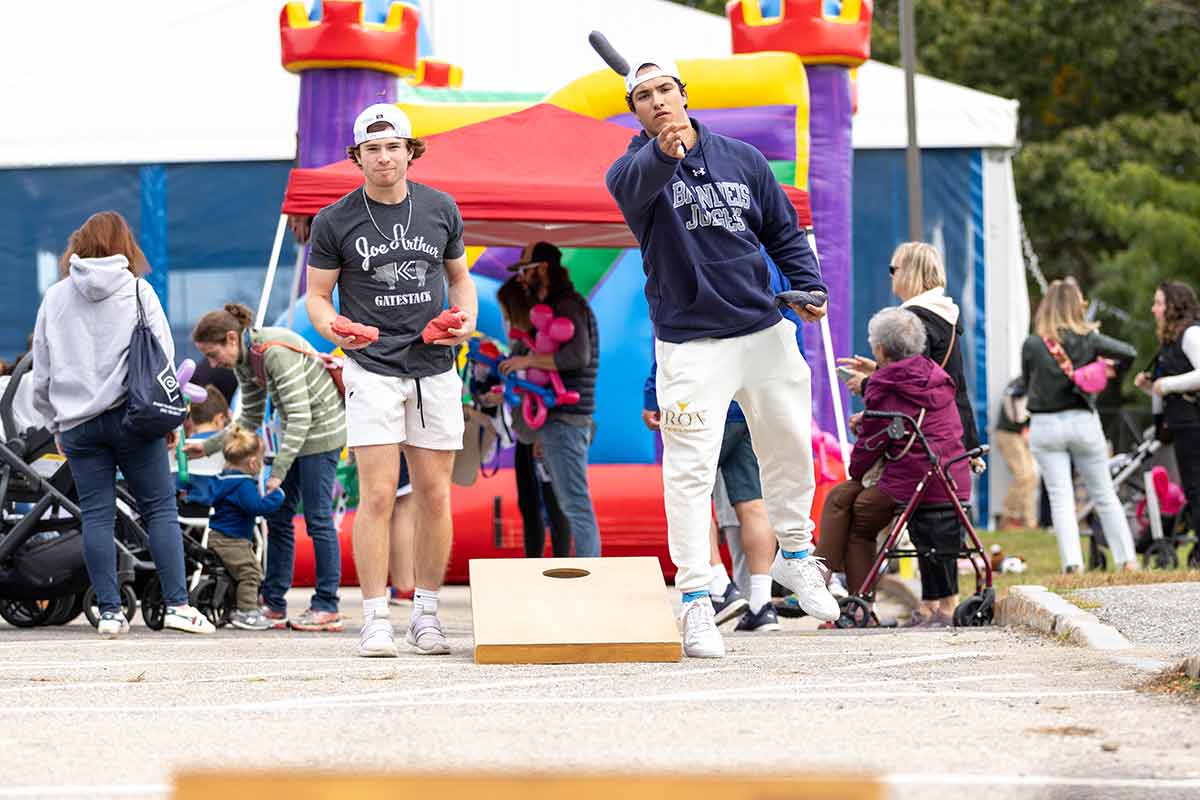 Guy Raz '96, host of National Public Radio's "How I Built This," moderated two panel discussions Saturday with alumni from different fields about their lives and work.
During the panels, the actor John-Andrew Morrison '95 noted how he "learned how to learn at Brandeis." Cheryl Pegus '84, a leader in healthcare and one of this year's Alumni Achievement Award winners, credited Brandeis with teaching her the critical thinking skills to succeed in life.
Perhaps the most Brandeisian sentiment of the Guy Raz discussions came from the author Letty Cottin Pogebrin '59.
"What did I take here?" she asked. "I took civil disobedience."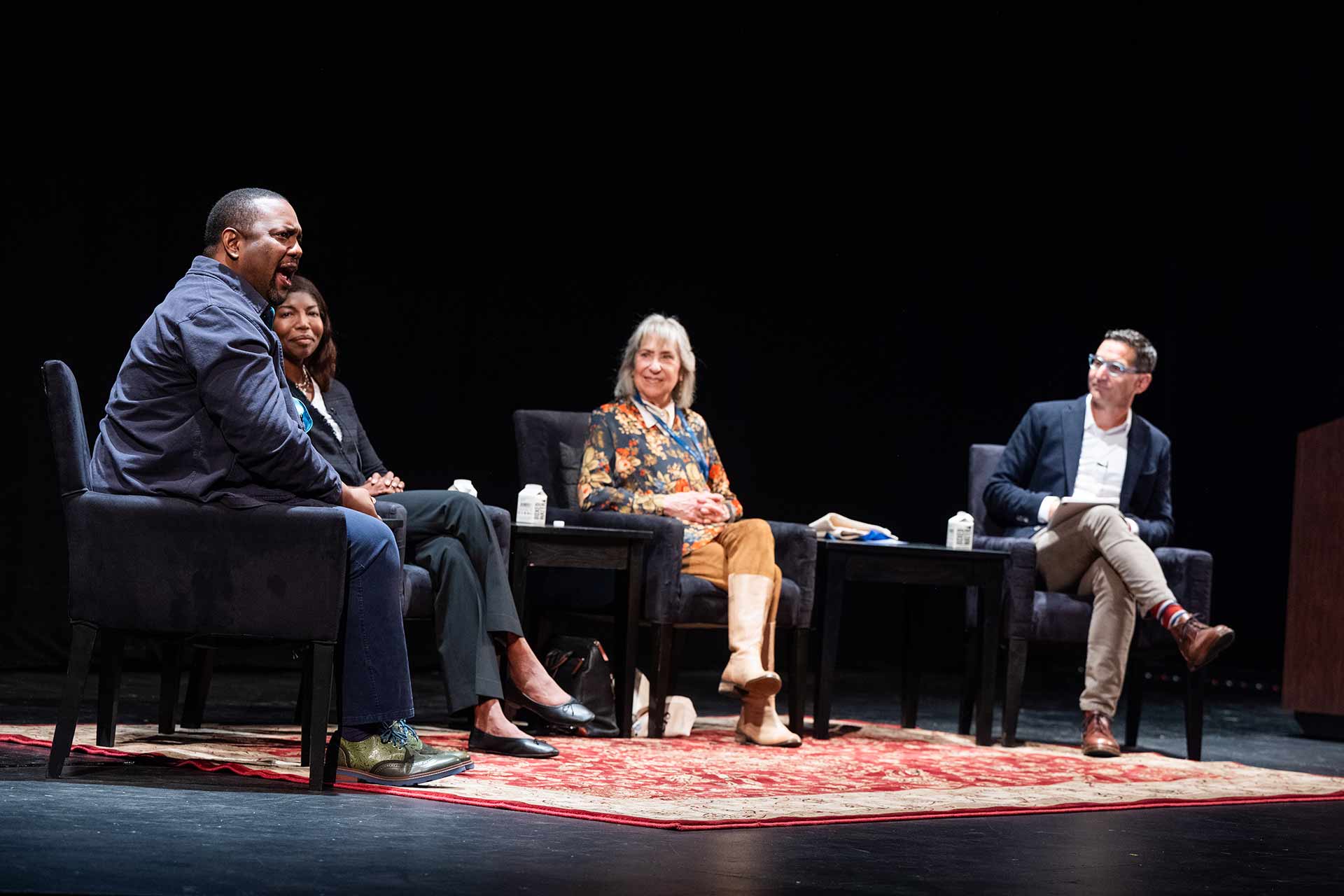 "How I Built This" panel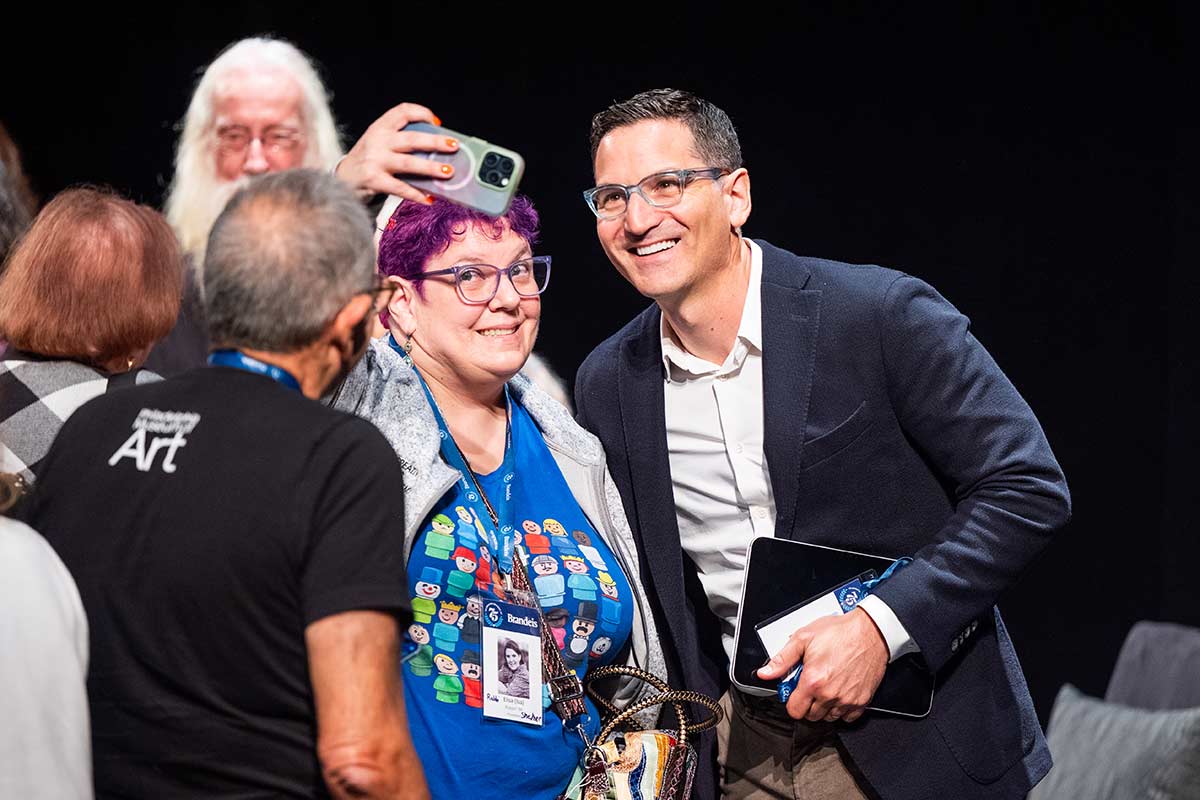 Public radio personality Guy Raz '96 paused for a selfie after a panel talk Saturday.
University Professor Anita Hill and Joyce Antler '63, the Samuel J. Lane Professor Emerita of American Jewish History and Culture and professor emerita of women's, gender and sexuality studies, discussed the impressive array of women who created societal change who have studied, researched and taught at Brandeis.
Hill and Antler recalled a previous event at which 35 Brandeis alumni or faculty spoke about the university's influence on their scholarship and activism.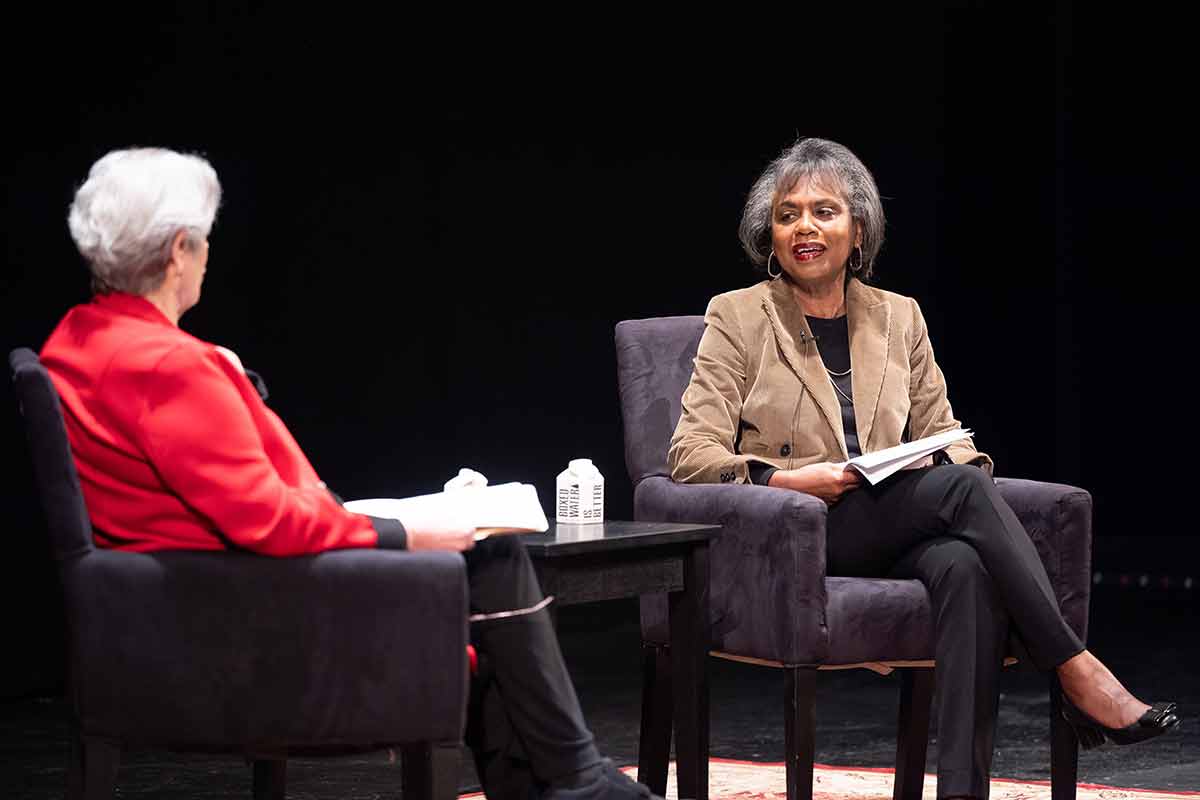 "One thing that stood out for all of them was the fact that they could speak out. That they had been encouraged by their Brandeis professors that Brandeis was a place where it was okay to be obstreperous, to be rebellious," Antler said. "And I think that was particularly unusual and empowering for women. I felt it."
"We are talking about an intergenerational approach to learning," Hill said. "There is a continuum of learning, and hopefully a continuing growth and understanding from the learning experiences that we have."
Later on Saturday, Michael Sandel '75 and Stephen Whitfield, PhD'72, the Max Richter Professor of American Civilization, Emeritus, sat for a discussion in Spingold Theater. Sandel, a leading political philosopher, author, and professor, credited poetry professor Allen Grossman, PhD'60, and economics professor Barney Schwalberg for setting his course for the future.
"I was captivated by both, even though the subjects and their outlook and their teaching were radically different," Sandel said. "And yet they fired my imagination, broadly speaking, with moral and political questions, which were questions that I wound up studying."
Two panels on science, one held Friday and one on Saturday, discussed Brandeis' approach to science research and education. In fields ranging from biology and chemistry to physics and mathematics, the panelists said the university's bedrock culture of collaboration, community and mentorship helped them explore new areas of research and advance scientific understanding.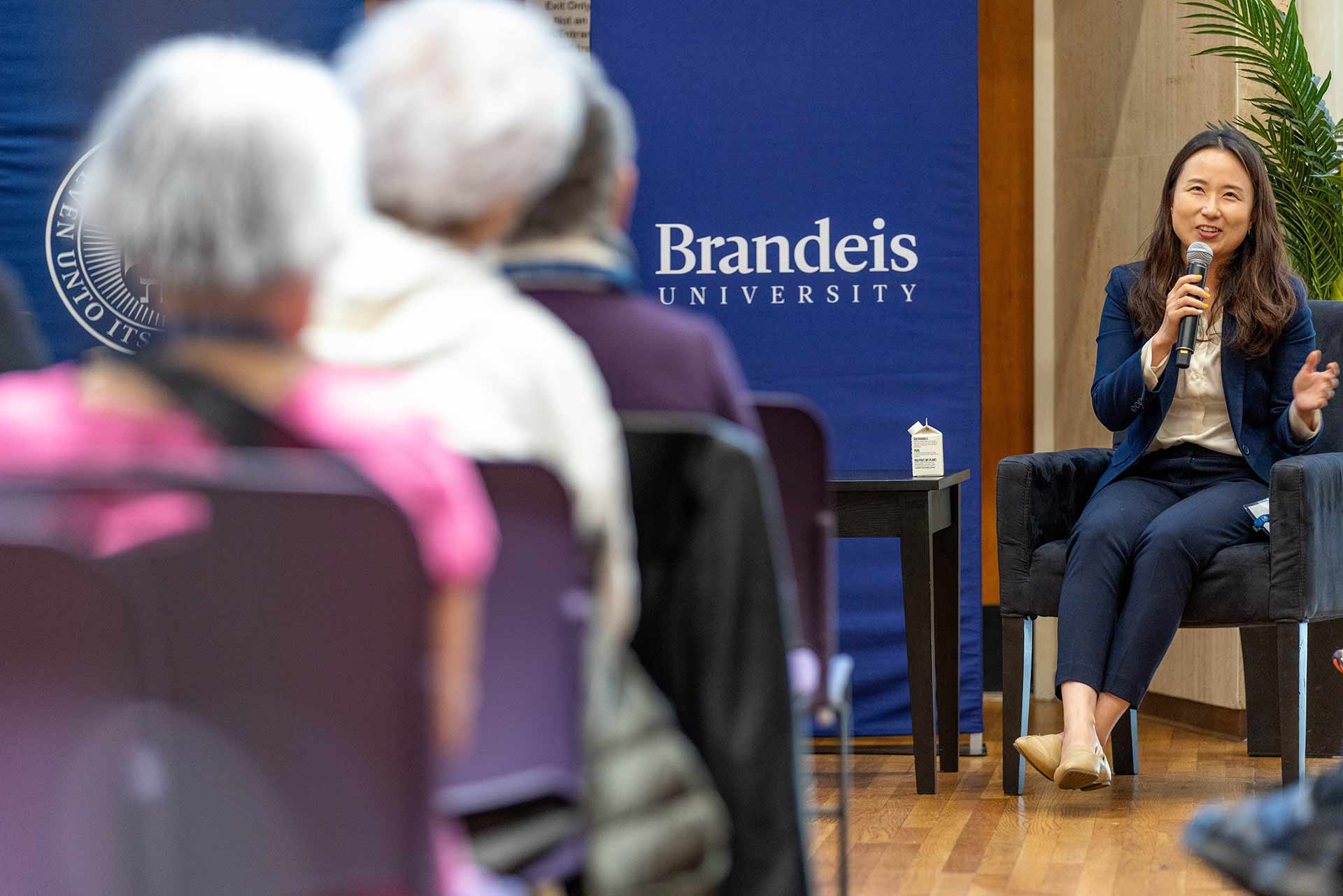 Panelist Gina Turrigiano, the Joseph Levitan Professor of Vision Science, described Brandeis as an "incredibly collaborative, interactive place," characterized by "a rich web of connectivity," with undergraduates, grad students, postdocs and faculty interacting with one another.
Saturday's events were capped by the Diamond Celebration, which convened hundreds of Brandeisians under the tent on the Great Lawn for a night of food, drinks, and dancing.
The party started, though, on a note of solemnity, with President Liebowitz calling for a moment of silence to reflect on the unfolding war in Israel.
"I'm sure many of you are wondering if we thought about canceling this weekend celebration. We did, briefly. But we decided not to, because we didn't want terror to dictate how we commemorate the university's great accomplishments or prevent us all from being together," Liebowitz said. "Our history, and the history of Israel, are similar in some ways and they are intrinsically linked."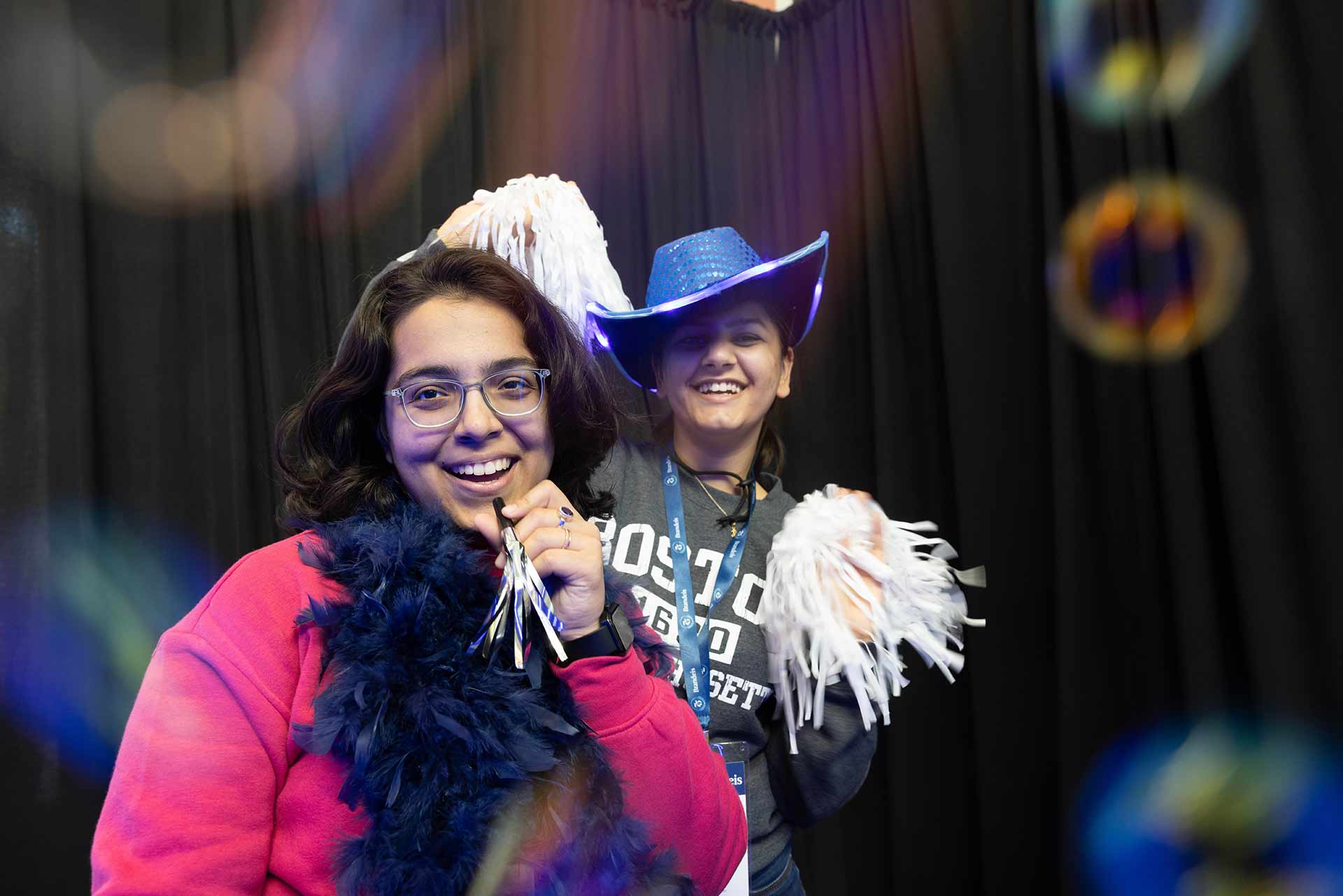 The Diamond Celebration was also the venue for a series of award ceremonies, including this year's Alumni Achievement Awards, and a presentation of the Brandeis National Committee's Abram L. Sachar Award to public television journalist Judy Woodruff. In her acceptance remarks, Woodruff noted how journalism and education share a foundational purpose.
"Brandeis' motto, 'Truth even unto its innermost parts,' this is meaningful not only for a great university, it's also important for journalists, and what journalism means for our country and our democracy," she said. "Even though we know we are not privileged to know the ultimate truth every day, we are privileged to gather facts every day, to bring those facts together, and report them to the American people."
The weekend events wound down on Sunday, with a memorial service, a craft market and pumpkin carving fest.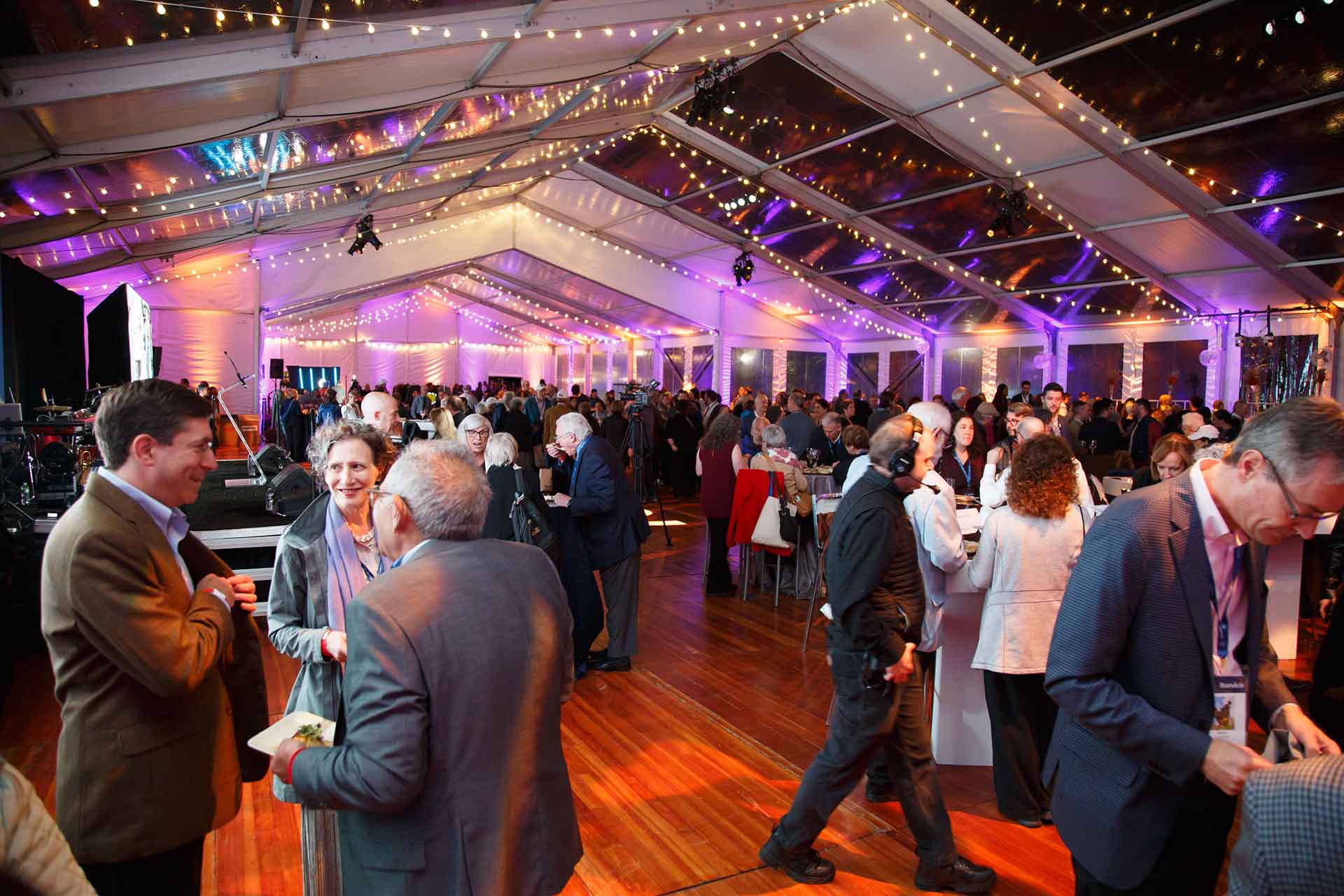 The tent on the great lawn filled for the Diamond Celebration.