What's Happening
IMPACT: IMAGINING TOGETHER
Platform for Arts, Culture and Conflict Transformation
Designing a university-based infrastructure for the field
Listen: Think Tank Discussion on the Emerging ACCT Field with IMPACT Leaders
Hosted by the International Teaching Artist Conference (ITAC)


New Report-
"Imagine IMPACT: An emerging strategy to strengthen the arts, culture, and conflict transformation ecosystem"

2018-2019 Annual Report: Creativity, the Arts and Social Transformation (CAST)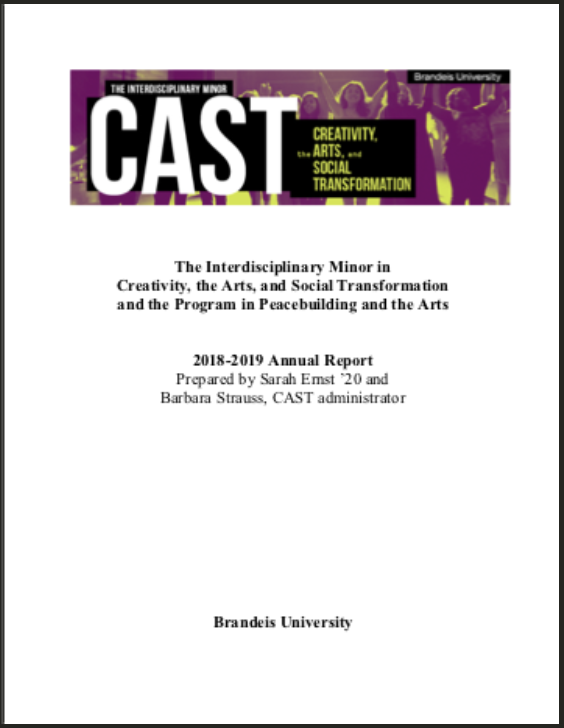 CAST Co-Sponsored Events:
Familias Separadas/Central Americans Held in Detention Centers
November 19, 2:00pm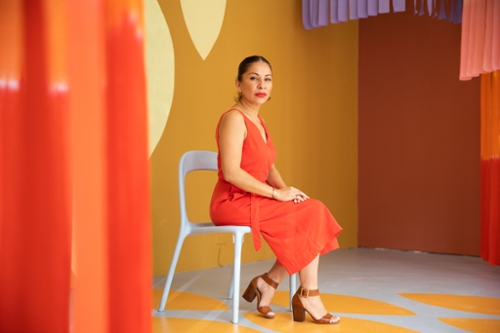 Documentary Screening: Las Madres de Berks
November 20, 2019, 3:30 pm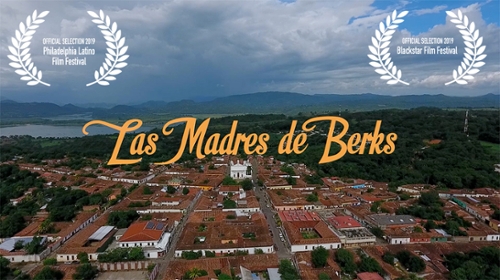 Newsletter
Sign up to receive updates about the Peacebuilding and the Arts program and the Acting Together project.


Highlights
2020 Oak Human Rights Fellowship
Nominations by: Nov 30
Apply by: Dec 30


Video: Fate, Family and the Floundering of a Friendship


Naila and the Uprising
PBS Special


Featured News from the Field Theme: "The Impact of Authoritarian Regimes on Artistic Freedom and Expression"

Songbook: Let's Make a Better World: Stories and Songs by Jane Sapp
*Purchase Now!*


And listen to the related podcast series.

Sarah Terrazano wins Academy of American Poets Prize

A Reflection on Ebony Axis
By Sarah Nzisabira


Past News from the Field Theme: "Artists Respond to Climate Change"
Past News from the Field Theme: "Creative Reflections on Human Migration"

JPSFiction
Creative Ecofiction

Professor Cynthia Cohen Solves the World's Problems with Creativity
The Brandeis Hoot


"Arts and Building Peace: The Basics and Envisioning the Future"
Essay by Cynthia Cohen
Peace in Progress Magazine


Interview with Lee Perlman about the
book "But Abu Ibrahim, We're Family!"

Read more News from the Field.
Acting Together Documentary
Kidnap Road
A New Play by Catherine Filloux
Kidnap Road is a new play by Catherine Filloux, directed by Stan Cahill and starring Kimber Riddle and Steve Guevara. The play focuses on Ingrid Betancourt, a presidential candidate in the country of Colombia in 2002, who while conducting her campaign was kidnapped by the terrorist organization the FARC. Details of Ingrid Betancourt's story can be found in the public record. The story is imagined as a two-person play based in part on those events.

In its first public reading the play headlined the staged reading series at Planet Connections Theatre in New York City on June 27, 2015. A community discussion followed the play, which included: the artists; audience, including members of Encore Community Services; Michael Soussan, a former U.N. humanitarian worker; Jenny Pacanowski, a poet, combat veteran in Iraq, and veteran's advocate, especially doing outreach for female vets issues and concerns. Joining the discussion was also Mariette Kalinowski, a fiction writer who served in the Marines in Iraq and a contributor to "Fire and Forget: Short Stories from the Long War." The discussion addressed: women's rights, discrimination and abuse against women, the backlash against women leaders and a survivor's quest for social justice and spirituality. View the brochure.
The following background about the play's development includes the convening of the play's leading contributors - director Stan Cahill, actors Kimber Riddle and Steve Guevara, sound designer Darren R. Sussman, and playwright Catherine Filloux - and their reflections on the subject of the play and their contributions in bringing it to life:
Kidnap Road:
WOMAN: "For Camus it's all Absurd. Time moves fluidly, there is no past, present, future in the jungle. The existentialists, the absurdists, it's the perfect time to talk about the Absurd. Camus was happy in the theater. He called the theater 'The night when the game is played.' Le soir où la partie se joue."
The play's director Stan Cahill says, "Kimber, Steve and I have shared language, thanks to our training at NYU's Graduate Acting Program." Kimber Riddle, the play's actress describes her role: "This is a powerhouse of a woman, who speaks 3 languages fluently, a jewel but it does have its challenges. Full of complexities, a woman who was thrust into more than six years of day-to-day survival."
"The Edinburgh Fringe is the world's largest performing arts festival that celebrates challenging material," says Cahill. "We are looking to put the show into a venue in August, 2016, that is intimate and immersive, allowing the audience to take the journey alongside Kimber. A centrally-located venue that focuses on socially-conscious material."
"When I first got out of the Grad Acting Program at NYU's Tisch School of the Arts my focus was film and television which I happily did for awhile," says Riddle. "I then started working with the theater artist Anna Deavere Smith, as an actress, and subsequently as an artistic associate traveling with her to collect her interviews and working on her productions. I believe this is what solidified my interest in human rights theater. Working with real peoples' plights specifically on the subject of injustice."
Riddle was first introduced to playwright Filloux by the Argentinian visual artist and human rights activist, Claudia Bernardi, and by Roberto Gutiérrez Varea, the Argentinian theater artist. In 2012 Riddle played the lead attorney in Filloux's play Luz, which premiered at La MaMa. "I brought the story of Ingrid Betancourt to Catherine because it affected me deeply and I had always wanted to explore it. I learned of it by watching a breaking news report of her rescue from 6 ½ years of captivity in the Colombian jungle. She was kidnapped by the FARC while running for president in Colombia. I didn't know of her story and started to dig into it. It has never left me," says Riddle...
Catherine Filloux was recently awarded the Planet Activist Award to honor her long career as an activist artist in the theatre community. Read more.