Frances Smith Foster and Clayborne Carson
2011-12 Co-Recipients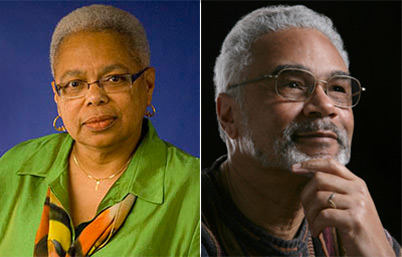 Frances Smith Foster and Clayborne Carson

An Emory University authority on African American family life and slavery narratives and a Stanford University expert on the life of Dr. Martin Luther King Jr. will share Brandeis University's third Joseph B. and Toby Gittler Prize for outstanding and lasting contributions to racial, ethnic and religious relations.
Emory Professor Emerita Frances Smith Foster has published more than a dozen books and numerous articles, many of which pioneered research and challenged existing ideas. A fellow of the Feminist Sexual Ethics Project at Brandeis, she met with members of the campus community, received the prize and delivered her prize lecture on Nov. 28-29, 2011.
Stanford historian Clayborne Carson is the director of the King Papers Project, which has produced six volumes of a comprehensive edition of King's speeches, sermons, correspondence, publications and unpublished writings. He visited campus to receive his prize and deliver a lecture on Feb. 13-14, 2012.
President Fred Lawrence, chair of the Gittler Prize selection committee, praised the scholarly contributions of professors Foster and Carson, saying that they "reflect the highest standards of intellectual excellence that Joseph Gittler sought to honor with the establishment of the prize."
This is the third time that the $25,000 prize has been awarded, and the first time it has been shared. Previous recipients were George Washington University Professor of Islamic Studies Seyyed Hossein Nasr, a scholar of Islamic science and spirituality; and Princeton University Professor of Philosophy Kwame Anthony Appiah.
The prize is a legacy of Joseph B. Gittler, a sociologist who taught at Cardozo Law School and numerous leading universities, including Duke University, George Mason University, Iowa State University, the University of Rochester, Yeshiva University, Hiroshima University and Ben-Gurion University of the Negev. The prize also honors Professor Gittler's mother, Toby Gittler.
Foster retired recently as Charles Howard Candler Professor of English and Women's Studies at Emory. Her specialties include African American family life before the 20th century, women's literature, early African American print culture and the literature of slavery.
Among her influential books are "Witnessing Slavery: The Development of the Ante-Bellum Slave Narrative and Written by Herself: Literary Production by African American Women Writers, 1746-1892."
Foster's discovery of "Minnie's Sacrifice, Sowing and Reaping, Trial and Triumph: Three Rediscovered Novels by Frances Ellen Watkins Harper" and her collection "Love and Marriage in Early African America" earned her College Language Association Creative Scholarship Awards in 1995 and in 2010. Her most recent publications are "Til Death or Distance Do Us Part: Love and Marriage in African America" and "Love and Marriage in Early African America."
An editor of the Oxford Companion to African American Literature and the Norton Anthology of African American Literature, her current work in progress is "A Very Short Introduction to African American Literature," to be published by Oxford University Press.
In addition to the Feminist Sexual Ethics Project, she is a fellow of the Center for Interdisciplinary Study of Religion at Emory Law School and is a past fellow at Harvard Divinity School and the W.E.B. DuBois Institute at Harvard.
Carson, the Ronnie Lott Director of the Martin Luther King Jr. Research and Education Institute at Stanford, has devoted most of his professional life to the study of Martin Luther King Jr. and the movements King inspired. He was selected in 1985 by the late Coretta Scott King to edit and publish her late husband's papers.
In 2005, the King Papers Project became part of the Martin Luther King Jr. Research and Education Institute at Stanford, and Carson became the institute's founding director.
Carson's extensive writings reflect not only his research about King but also his undergraduate civil rights and anti-war activism, which led him to appreciate the importance of grassroots political activity, as well as visionary leadership in the African-American freedom struggle. His first book, "In Struggle: SNCC and the Black Awakening of the 1960s," published in 1981, is the definitive history of the Student Nonviolent Coordinating Committee, the most dynamic and innovative civil rights organization.
He also is author of "Malcolm X: The FBI File" and co-author of "African American Lives: The Struggle for Freedom," a comprehensive survey of African-American history.
In addition to "The Papers of Martin Luther King, Jr.," Carson's other works based on the papers include "The Autobiography of Martin Luther King, Jr.," compiled from the King's autobiographical writings, "A Knock at Midnight: Inspiration from the Great Sermons of Reverend Martin Luther King, Jr." and "A Call to Conscience: The Landmark Speeches of Dr. Martin Luther King, Jr."
He also was a senior historical advisor for "Eyes on the Prize," the 14-part, award-winning, public television series on the civil rights movement, and collaborated with the Roma Design Group of San Francisco to create the winning proposal in an international competition to design the King National Memorial in Washington, D.C.
Frances Smith Foster was in residence Nov. 28-29, 2011. The Gittler award presentation and lecture was held Nov. 28. 2011. Clayborne Carson was in residence Feb. 13-14, 2012. The Gittler award presentation and lecture was held Feb. 14.
Clayborne Carson Videos
Frances Smith Foster Videos
"Why are we here, what is our purpose, what are we trying to achieve with other people? Those kinds of questions can't be answered by physics. But at the same time, religion is not the answer; it is the search."
Clayborne Carson
From his lecture, "Martin Luther King Jr.'s Legacy and the Global Freedom Struggle"