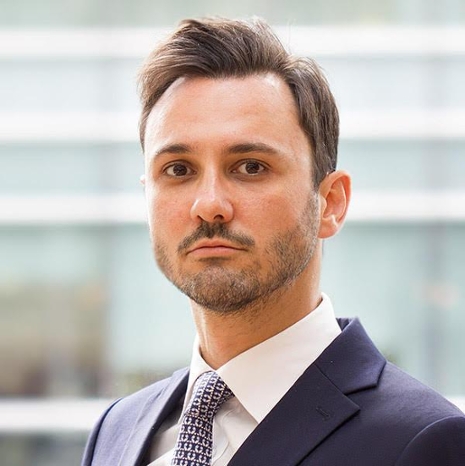 Francesco Lucherelli was born and raised in Tuscany, Italy, but knew that he wanted to study in the United States some day. He received his undergraduate degree in finance from Universita Bocconi in Milan. Soon afterwards, at a local graduate school fair, he discovered the Master of Arts in International Economics and Finance (MA) program at the International Business School. Francesco valued the program's flexibility and course offerings and completed his degree in 2009. 
Since graduating, Francesco has succeeded in a multinational career in electronic trading across the United Kingdom and Singapore, where he currently serves as vice president of FICC eTrading client services at JP Morgan. 
You've enjoyed a highly globalized career so far. Were you always keen to work across cultures and countries?
When I attended Brandeis, it was my first time living in a different country. So much of what I was exposed to at the business school informed my international career choices. It was a place where people came from many countries and continents, and so I understood that I wasn't the only one with co-existing doubts and excitement. It was a fantastic experience to communicate despite various backgrounds, languages, work experience and previous studies. Brandeis influenced the choices I made in my career and informed the kind of people and environments I wanted to surround myself with.
"Different perspectives are the key to success. They ultimately made me more flexible."
How did your studies at the business school affect your perspective on the world?
Early in my program, I was assigned a group project with five other people from five countries. It became clear that different perspectives were actually the key to success, which made me appreciate their opinions and work styles and ultimately made me more flexible. It was important to me to live in a place that offered a similar environment and to work in a firm with offices around the world. The same applied to my teammates. I currently work with people from India, Malaysia, China, Singapore, London and more. They enrich my thinking and give me multiple perspectives to think about as I grow personally and professionally.
You came into the MA program with an interest in finance. How did that evolve over your two years of study and after graduation?
I have always liked math and quantitative subjects. Professor Robert Reitano's class on derivatives markets offered an in-depth analysis based on formulas and theorems, which pushed me to learn more about nonconventional assets and to look for a career that could apply that kind of work. After graduation, I landed a role at Bloomberg in London. Brandeis left me well-prepared to secure that job; my interview included theoretical questions around derivative products and financial markets, all of which I felt comfortable discussing, thanks to my studies. I started in sales and account management and eventually moved to a role at JP Morgan that focused more on client services in the electronic trading space. I knew I wanted to eventually wind up in a banking environment, so when an internal role opened up in Singapore, I took it. I now manage all of the Asia Pacific FICC eTrading client services, controls and projects.
Tell us more about your current work at JP Morgan.
It's a rollercoaster of an experience, for sure. I manage a cross-regional team of employees across Singapore, India, London and other areas. My team manages the day-to-day client requests and handles questions around our electronic trading platform. We handle fixed income and commodities trade queries and financial product trading execution inquiries. Our goal is to support our clients along our eTrading Sales and make sure that they are using JP Morgan as their main liquidity provider. At the same time, we work with our technology team to improve the functionality of the trading platform and incorporate client feedback.
Do you have any advice for current International Business School students as they launch their careers?
Make the most of the alumni network by asking questions and sourcing opportunities. Position your key fields and components in conversation so that they can see the value you'd bring to their organizations. Try to do as many internships as possible in different fields to get a feel for what roles might be the practical fit for you. Brandeis IBS was the best choice I could have made, and it's stayed with me. Even after I left, it never really left me. Your experience there will definitely pay back in the end.