Ashton Graybiel (1902-95)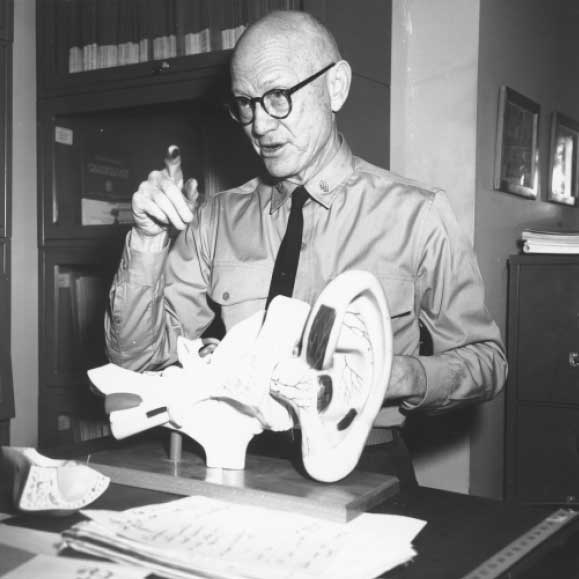 Dr. Ashton Graybiel was among the doctors who examined John Glenn after his Mercury spacecraft circled Earth three times in February 1962 in the first orbital mission by an American. He said Colonel Glenn's scores in balance were "a hair better" after the flight than before.
Dr. Lawrence F. Dietlein, the assistant director for life sciences at NASA's Johnson Space Center outside Houston and longtime associate of Dr. Graybiel, said Dr. Graybiel and his colleagues at Pensacola did seminal research in finding drugs to alleviate motion sickness.
Dr. Graybiel was also a noted cardiologist. His book, "Electrocardiography in Practice," written with Dr. Paul Dudley White, served as a standard text from the 1940s to the 1960s. He also helped develop a technique for operating on important cardiovascular blood vessel in human fetuses, laying the groundwork for repairing certain congenital heart defects.
As a member of the Fatigue Laboratory at Harvard University from 1936 to 1943, he developed methods for measuring cardiovascular performance, and helped design and establish a study of the medical and physical characteristics of commercial pilots that continues today. During World War II, he moved to what in now known as the Naval Aerospace Medical Institute in Pensacola to study the effects of fatigue and cardiovascular fitness on the performance of military pilots.
After the war he remained in Pensacola, where he was director of the naval institute from 1945 to 1970. From then until 1980, he headed the biological sciences department of the newly formed Naval Aerospace Medical Research Laboratory there.
During those years he did experiments on how acceleration affects the organs of equilibrium in the inner ear, the circulatory system and muscle control. His studies later helped National Aeronautics and Space Administration to design spacesuits and determine how fast a space vehicle could accelerate without harming the astronaut.
In the late 1950s, at NASA's request, Dr. Graybiel turned his attention to effects of weightlessness on human body. He helped design and conduct parabolic flight experiments to create short periods of weightlessness. His studies continued through the Apollo and Skylab programs, providing information about the ability of humans to live and function in space.
Space motion sickness, which can cause nausea and disorientation, became an important problem to be overcome for the long-duration Apollo missions, and Dr. Graybiel helped develop drug combinations to prevent or alleviate its effects.
The last of his more than 400 scientific papers and books was published in 1994 and concerned the treatment of space motion sickness. It was written with his son-in-law and long-time collaborator, Dr. James R. Lackner, director of the Ashton Graybiel Spatial Orientation Laboratory at Brandeis University in Waltham, Mass.
Dr. Graybiel was born on July 24 1902, on Port Huron, Mich. He received bachelor's and master's degrees from the University of Southern California before graduating from Harvard Medical School in 1930. He joined the Cardiology Laboratory at Massachusetts General Hospital in Boston in 1934.
He served in many professional organizations and was president of the American College of Cardiology in 1954. He also received numerous awards, including the Distinguished Service Award, NASA's highest honor.
Dr. Graybiel is survived by a daughter, Dr. Ann Lackner-Graybiel of Lincoln, Mass., and son, Dr. Ashton Lynd Graybiel of Pensacola.