Inaugural Culture and Cognition Preconference of the Psychonomics Society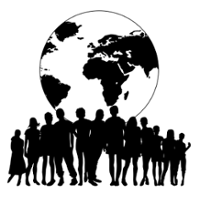 Thursday, Nov. 14, 2019
9 a.m. – 2p.m.
The Palais des Congres de Montreal, Room 523A
Montreal, Canada
Invited Talks
9:00-9:10AM        WELCOME                                     
9:10-9:30AM        James R. Pomerantz (Rice University, United States)
                                   How might culture affect our perception of the world? (Featured Talk)                
9:30-9:50AM        Caroline Blais (Université du Québec en Outaouais, Canada)
                                    The impact of culture on the visual processing of faces, scenes and objects       
9:50-10:10AM      Aysecan Boduroglu (Bogazici University, Turkey)
                                    Cultural differences in object and background processing in early scene perception
10:10-10:20AM     BREAK                                                       
10:20-10:40AM     Angela Gutchess (Brandeis University, United States)
                                     Perceptual and mnemonic differences across cultures               
10:40-11:00AM      Audrey Duarte (Georgia Institute of Technology, United States)
                                     How race influences associations between sleep and memory-supporting brain activity
11:00-11:20AM      Daniel Casasanto (Cornell University, United States)
                                     Do Westerners think more abstractly than East Asians?             
11:20-11:30AM       BREAK                                                      
11:30-11:50AM       Suparna Rajaram (Stony Brook University, United States)
                                      Cross-cultural variations in memory disruption: The part-set cueing deficit                   
11:50-12:10PM       Lixia Yang (Ryerson University, Canada)
                                      Binding and unbinding from the East to the West: Culture and memory            
12:10 - 12:30PM     Lorraine Hope (University of Portsmouth, United Kingdom)
                                      Eliciting information from memory in cross-cultural investigative contexts       
12:30-12:45PM       WRAP-UP     
12:45-2PM               Posters and Lunch (Room available to chat)  *Posters will be in Room517D                   
Due to limited space, advanced registration is required. Please register. *Registration is now CLOSED.
For a full list of our talks and posters, please click here. 
Please check the website of Psychonomic Society for more information about the 2019 Annual Meeting.
Founded and Organized by:
Suparna Rajaram, Stony Brook University
Angela Gutchess, Brandeis University
Student Organizers:
Raeya Maswood, Stony Brook University
Wanbing Zhang, Brandeis University
This meeting is made possible through support from the Psychonomic Society.