Class of 1989
It's been great catching up with Brandeis folks. I attended Rob Levy's daughter's bat mitzvah in November, and there was Sarah Fallowes-Kaplan sitting across the way! She and her husband, Andy Kaplan '87, attended with three of their four kids. More recently, I was able to sneak a coffee break in with Michelle Weisberg Cohen — thanks to the miracle of Facebook's alerting us that we were within blocks of each other. By the time you read this, I'll have finished my latest production and be looking for my next acting job. My most recent production, "Claudie Hukill," was reviewed in The Baltimore Sun. If you're in the D.C. area, let's connect.

David Bernstein and his wife, Sigal Nissan, had a baby boy, Benjamin Isaac, on Sept. 26, 2012, in Arlington, Va. Ben joins older sisters Natalie, 7, and Eden, 4. They moved to Peru in January for Sigal's job with the foreign service. David is on leave from his job as a George Mason University School of Law professor. Laura Abrams, an associate professor of social welfare at the UCLA Luskin School of Public Affairs, has co-written "Compassionate Confinement: A Year in the Life of Unit C." The book, written with Ben Anderson-Nathe, explores the challenges and complexities of the U.S. system of juvenile corrections through a year of fieldwork at a boys' residential facility. Michelle Davis Cohen shares that she is happily living in Livingston, N.J., "with my two teenage boys (junior and freshman in high school); my husband of nearly 20 years; and our very spoiled Maltipoo, who gets top billing in our home. I left the social-work field eight years ago to work full time running a real-estate tax appeal law firm. I am the director of human resources and the office manager — and about a thousand other things as well. I also volunteer with my temple and other organizations. Last year, I had dinner and many drinks with Lalishwar Ramgopal '86 and Israel Levin '86. A fun night in NYC was had by all! More recently, I had brunch with Brandeis roommate Michelle Fiddler, and we caught up on the past 23 years — which was how long since we had seen each other. We pulled out old pictures showing our Ridgewood dorm days and all the great times we had while at Brandeis. We were happy to discover that we live only a half-hour away from each other and are now doing a much better job of keeping in touch." Stacy (Nudell) Ezor is having a great time in her new job teaching special-education preschool classes in Queens, N.Y. Her husband, Jonathan, is approaching his 10th anniversary as a faculty member and director of the Institute for Business, Law and Technology at Touro College's Jacob D. Fuchsberg Law Center on Long Island. His new textbook, "Privacy and Data Protection in Business: Laws and Practices," was just released. Both of them proudly watch their three children — Avi, 18; Eitan, 15; and Elisheva, 11 — grow and thrive. Peter Goldman reports that he is the team chiropractor for the San Francisco Bulls professional hockey team. His clients also include mixed martial-arts champs Gilbert Melendez, B.J. Penn and Jake Shields, and he's the personal chiropractor to Napster founder Shawn Fanning and other tech gurus. Steve Mirmina is an adjunct professor at Georgetown Law School, where he teaches a class on international outer-space law. He also works as an attorney for NASA. Ilene Freier Brookler, her husband and their two kids made aliyah this summer and are living in northern Israel. She is a lawyer, and her husband works in the high-tech industry. They celebrated their daughter's bat mitzvah over Hanukkah. Amy Kessler, IBS MA'90, who hosted the Brandeis International Business School's second annual Women in Finance Dinner in New York last fall, serves as senior vice president for pension and structured solutions at Prudential Retirement. Paul Walborsky, IBS MA'89, is chief executive officer of GigaOM, a technology- and business-focused media company with more than 6 million unique visitors per month. He recently hosted a Brandeis alumni event at the GigaOM office in San Francisco. Philip Solomon is proud to announce the birth of a baby girl, Alexis, on April 26, 2012, in Miami. Alexis is daughter No. 3, and sisters Daniella and Michelle couldn't be happier. Mom is doing great, and dad is now outnumbered 4-1.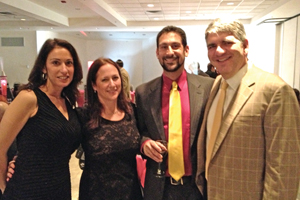 PATERNAL PRIDE. Rob Levy '89 celebrates the bat mitzvah
of his daughter Valerie with some Brandeis friends. From left:
Alyssa Sanders '89, Sarah Fallowes-Kaplan '89, Rob and
Andy Kaplan '87.

Submit a Class Note