Class of 2004
The Class of 2004 has had a lot going on lately, between weddings, babies and various professional achievements. If you are a class member who does not receive my occasional Class Notes solicitations, I encourage you to log on to B Connect and update your email address.
Julia Szymczak married Evan Lerner on Nov. 3, 2012, at the Seaport Boston Hotel. Brandeisians in attendance included Liza (Gonen) Smith; Julie (Sarke) Manus; Max Glantzman; Seth Woolf; Dave Lieberman, MS'07; Dori Block; Adam Wald; Dalit Gross; Glen Shapiro '84; and Ralph Szymczak, P'04, Julia's father and a reference librarian at Brandeis. Julia is pursuing a doctorate in sociology at the University of Pennsylvania, where she received a master's in that field. Evan writes news releases and feature articles on scientific discoveries, research and other topics as a science news officer at Penn's Office of University Communications. He received a master's in journalism from Columbia. Josh and Jaye-Lacey Centor write that they have a beautiful 2-year-old son, Gabriel, and are still living in Pittsburgh. Josh was promoted to associate director of athletics at Carnegie Mellon University in July. Jaye is the school's manager of executive events and oversees all events associated with the president's office and board of trustees. Josh is pursuing his PhD in higher education management at the University of Pittsburgh. The Jewish Federation of Metropolitan Chicago presented Robyn Gottlieb with the Samuel A. Goldsmith Award, given annually to a young professional for exemplary work at a Chicago Jewish community organization. The award is named in honor of the longtime CEO of the Jewish Federation of Metropolitan Chicago. Robyn has been active with the Jewish United Fund. Evan Graber married Jenny Blumberg on Sept. 2, 2012, at Beth Tfiloh in Baltimore. They currently live in New York. Other alumni who attended included Matthew Tash; Marc Kolpon; Susan (Abrams) Kolpon; Imtiaz Billah; Heather (Ames) Elrick, MS'04; Jonathan Senker; and Viveka Prakash '03. In her recent note, Susan Kolpon writes, "Marc and I are the delighted parents of a happy and healthy baby girl, Rebecca Dahlia. She was born in June 2012 in Chicago, and is very smiley. She has often done 'tummy time' on our Brandeis blanket, and already has a couple of Brandeis onesies. We got together with Sara Spurling Williams '03 and her daughters, Meghan and Lucy, and Kate Dugan '03 and her son, Gil." Michael Weinstein-Reiman and Aaron Schwartzbord were married on June 10, 2012, in a small ceremony in New York. The couple celebrated at two receptions: one in New Brunswick, N.J., and another in San Francisco. In attendance were fellow Brandeis graduates Melissa De Lowe, Matthew Bloom, Danielle (Friedman) Kalan, Allison Klein, Sarah Orzalli, Grace Allendorf, Rachael (Kostegan) Jussaume, Joshua Simmons '06, Meredith Bodgas, Mara (Cohen) Jackel, Robert Jackel, Beverly (Levine) Tsacoyianis, Ityng Hsieh, Jesse Gordon, Stephanie Levine, Valerie (Kolko) Glassman '01 and Shira Beckerman '01. Michael is pursuing his PhD in music theory at the University of Oregon, where he is a graduate teaching fellow. Aaron is the education marketing officer for the Northwest Film Center's School of Film in Portland, Ore. Maya Marx and Nick Dufresne welcomed their first child, Jaxson James, on Oct. 18, 2012. Maya, Nick, Jaxson and their dog, Boss, live in Amherst, Mass. Nick is part-owner of his family's publishing company, Pioneer Valley Educational Press, and Maya teaches in the Rhode Island School of Design's interior architecture department. Ben Feinberg and Kazia Levin Feinberg '03 celebrated their sixth wedding anniversary on Dec. 30, 2012. Kevin Skobac married Angela Im on Oct. 14, 2012. Miriam Hurwitz and husband Jonathan Berk had a son, Asa Benjamin, on Nov. 9, 2012. Jeff Rosenspan and his wife, Anna, welcomed son Benjamin Isaac into the world on Feb. 15, 2012. Jeff works at New England Baptist Hospital. Diana Kuan released her first cookbook, "The Chinese Takeout Cookbook," a celebration of Chinese food in America. She teaches at the Institute of Culinary Education in New York. Alyson Decker and William Gynan were engaged in September. Lauren and Andy Stefano welcomed Julia Samara on Oct. 20, 2012. This explains Lauren's huge stomach in Rebecca Incledon's wedding photo in the last issue of Brandeis Magazine. Julia joins her very excited big sister, Robyn. Nina Auster-Cusner was the teacher honoree at the Striar Hebrew Academy in Sharon, Mass., where she teaches Judaic studies. Lynne Gauthier, assistant professor of physical medicine and rehabilitation at the Ohio State University College of Medicine, studies stroke rehabilitation in her lab. In its first year, it was one of 50 labs nationwide to receive funding from the Patient-Centered Outcomes Research Institute to design a Kinect-based video game system for stroke rehabilitation. In addition, the American Heart Association provided a grant to study the brain mechanisms of motor recovery. Lynne also reports that she and her husband are expecting their first child. Sara Phillips earned her law degree after attending the University of Florida and Michigan State University. Hannah Heilman is engaged to Adam Goldman-Yassen, a fourth-year medical student at Albert Einstein in the Bronx, whom she met during a karate class in high school in Newton, Mass. They will be getting married on Memorial Day weekend at Congregation Or Atid, in Wayland, where her mom, Sally Finestone, is the rabbi. Sarah Chopnick married Adam Sofair-Fisch on Nov. 11, 2012, in Philadelphia. They are both lawyers and live in Brooklyn. Sarah and Adam met many years before they started dating through Dalya Levin, a Brandeis friend of Sarah and a childhood friend of Adam. The wedding party included Susan Chopnick '08 as maid of honor and Jordana Luks Cutler. Joining in the celebration were Michelle Battat, Dara Brzoska, Amy Kohen '03, Tamar Senderowicz, Galete Levin '00 and Tali Levin '01. Shelby Bleiweis married Phil Speer in October 2012. She was attended by maid of honor Sally LeGore Nusholtz and bridesmaids Dayna (Sadoff) Spinner and Debbi Finkelstein. The wedding was officiated by Rabbi Rachel Silverman. Ross Shapiro and his wife, Helene Oppenheimer, write, "So the news for us is that we had a new son. He was born on Oct. 23, 2012, and his name is Zev Walter. Very cute and sweet." Adam Batkin, MA'05, and Jessica Greenberg Batkin '05 welcomed their first child, Shifra, in October 2012. Jessica is on leave from a veterinary practice in Stamford, Conn., and Adam is working for AQR Capital Management in Greenwich. They report that Shifra is working on sleeping through the night. Ada Obrea founded Ada James Coaching (www.adajames.com), a career- and life-coaching business in which she helps clients figure out where they are right now, where they want to be and how to get there. Prior to launching her business, Ada earned graduate degrees from Harvard and Stanford, worked as an adviser for MBA students at Wharton, and trained as a career and life coach. On Nov. 10, 2012, Ada married David James in a cathedral of redwood trees in northern California. David, a native Canadian, is a senior software engineer at Google.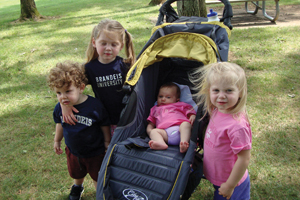 PINT-SIZED JUDGES. Susan Kolpon '04, Sara Spurling
Williams '03 and Kate Dugan '03 held a get-together
with their children. From left: Gil (Kate's son), Meghan
(Sara's daughter), Rebecca (Susan's daughter) and
Lucy (Sara's daughter).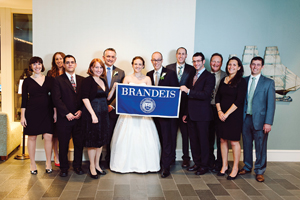 BOSTON UNION. Julia Szymczak '04 married Evan Lerner '04
on Nov. 3, 2012, in Boston. Attendees included Liza (Gonen)
Smith '04; Dalit Gross '04; Dave Lieberman '04, MS'07;
Julie (Sarke) Manus '04; Ralph Szymczak, P'04; Julia; Evan;
Seth Woolf '04; Max Glantzman '04; Glen Shapiro '84;
Dori Block '04; and Adam Wald '04.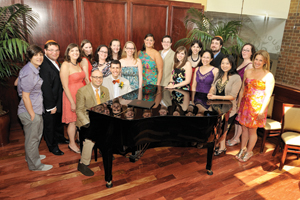 KEYS TO HAPPINESS. Brandeis friends from around the
country celebrated the marriage of Michael Weinstein-
Reiman '04 and Aaron Schwartzbord (seated). From left:
Melissa De Lowe '04, Matthew Bloom '04, Danielle (Friedman)
Kalan '04, Catherine Milne, Allison Klein '04, Sarah Orzalli '04,
Grace Allendorf '04, Rachael (Kostegan) Jussaume '04,
Joshua Simmons '06, Meredith Bodgas '04, Mara (Cohen)
Jackel '04, Beverly (Levine) Tsacoyianis '04, Robert Jackel '04,
Ityng Hsieh '04, Jesse Gordon '04 and Stephanie Levine '04.

Submit a Class Note