Class of 1990
Troy Glover
was named senior vice president in charge of New York Life's long-term care insurance. He is responsible for product development, marketing and administration of the company's long-term care insurance line.
Adam Grundfast
accepted a position as director of client service/legal and regulatory services at Resources Global Professionals in New York. He is responsible for developing business opportunities and driving the company's revenue growth.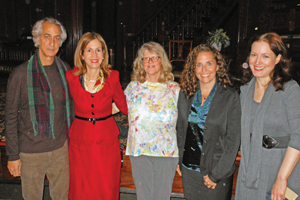 SHOW TIME. As part of the Brandeis Arts Council's annual
Brandeis in the Apple event, a group of lucky theatergoers
attended "The Heiress," a Broadway show produced by
Jessica Jenen '90. Later, Brandeis professor Kathy Lawrence
discussed Henry James (author of the novel "Washington
Square," which the play is based on) in a talk that included
the play's cast members. From left: David Strathairn
(Dr. Austin Sloper), Kathy, two-time Tony Award winner
Judith Ivey (Aunt Penniman), Jessica and Dee Nelson
(Mrs. Montgomery).


Submit a Class Note