Creating a Community of Torah Learners
This case, about Shira Horowitz's teaching at South Area Solomon Schechter Day School in Stoughton, MA, explores the question, "How can I teach Torah to young children in a way that respects the integrity of the text and the developmental and individual needs of my students?"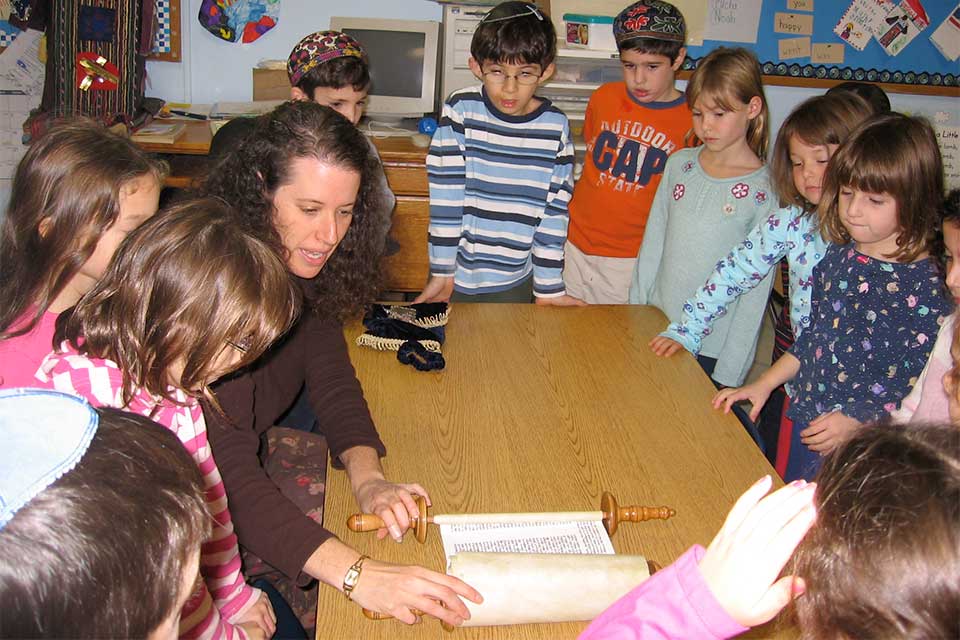 In my classroom, I try to teach Torah to kindergartners and first graders in a way that allows me to share my passion for the text and also allows me to hear my students' voices. While the Torah is certainly a difficult text, it is one which is integral to our identity and education as Jews. I feel a tremendous, awesome responsibility to take this text seriously and share it in an authentic way. At the same time, I am committed to doing all I can to meet the developmental and individual needs of my young students.
Developmentally, the text of the Torah is challenging for young children. The written text is not yet accessible to them because of their reading level, and even when read aloud, the language is often above their comprehension level. Beyond the language, the text deals with abstract themes, difficult concepts and sophisticated topics.
Yet, this text is also filled with stories and ideas dealing with many of the same questions that children wonder about: How was the world created? What is a family? What are right and wrong ways to act with other people? What do we know about God? Given the opportunity, children often ask questions that are deep and philosophical, the type that adults often shy away from. They wonder about the world and think about big, difficult ideas. Studying Torah gives them a place to explore these ideas and express these thoughts.
In Jewish tradition, Torah learning is not only an individual act. With practice, young students can also learn to "talk Torah" with each other as members of a community. They can learn to listen as well as respond, as they relate one part of text to another and ask each other interesting, challenging questions. Given the right support and structures, Torah learning can truly be lifelong learning, beginning at the earliest ages of school.
Some of The Thinking Behind My Teaching Practice
Reflections on Teaching Torah to Young Children