Current Fellow
Rebecca Cokley
The 2020 Richman Distinguished Fellow in Public Life is Rebecca Cokley, a disabilities rights activist who has sought deeper connections across communities pursuing civil rights.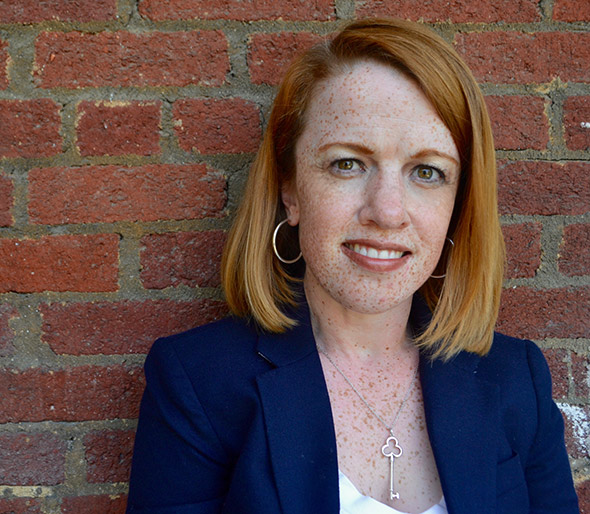 Rebecca Cokley is the director of the Disability Justice Initiative at the Center for American Progress, which focuses on expanding opportunity for people with disabilities and building inclusive policies. Cokley's work at the Initiative focuses on disability policy. She previously served as the executive director of the National Council on Disability (NCD), an independent agency charged with advising Congress and the White House on issues of national disability public policy.
She joined the NCD after serving in the Obama administration for four years, including time at the Department of Education and the Department of Health and Human Services, as well as a period at the White House, where she oversaw diversity and inclusion efforts.
Cokley got her start in advocacy while working at the Institute for Educational Leadership, where she built a number of tools and resources designed to empower and educate youth with disabilities and their adult allies.
In 2017, she and her family were featured as part of CNN's #ToBeMe series. She has appeared in the Vox/Netflix series "Explained" and on "Last Week Tonight" with John Oliver. In 2015, she was inducted into the inaugural class of the Susan M. Daniels Disability Mentoring Hall of Fame and was the recipient of the Frank Harkin Memorial Award by the National Council on Independent Living. She is a Robert Wood Johnson Foundation Health Equity Fellow and previously a Rockwood Leadership Institute National Leading from the Inside Out Fellow.
Cokley serves on the board of directors for Common Cause, the Community Justice Reform Coalition, and the ACLU of the National Capital Region.
Events
Achieving an Inclusive Democracy: What It Means for Every Voice to Count
March 24, 2021
Join the Brandeis community in welcoming Rebecca Cokley for the 2020 Richman Fellow Award Presentation and Lecture.
The Americans With Disabilities Act, one of the most comprehensive civil rights laws in the country, is turning 30, and yet 60 million disabled people still struggle to access key parts of the American Dream.
Disability Rights Inclusion for a Sustainable Democracy
The ideals of our democracy often calls for inclusion of all people, but the advocacy and leadership of the disability rights movement remains separate from broader efforts of building a democratic society that values everyone's participation. Please join the Lurie Institute's Sandy Ho in a conversation with Rebecca Cokley (Director of Disability Justice Initiative, Center for American Progress) and Claribel Vidal (Program Associate, Ford Foundation) to learn how they're working to encourage and support the civic participation and leadership of people with disabilities.