Angela Glover Blackwell
2014 Fellow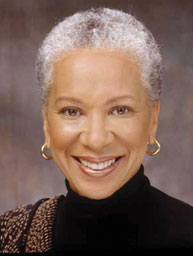 Angela Glover Blackwell, the founder and chief executive officer of PolicyLink, a national research and action institute advancing economic and social equity, has been appointed as the inaugural Fred and Rita Richman Distinguished Fellow in Public Life at Brandeis University.
Blackwell, who has more than 30 years' experience in public interest law, philanthropic foundation public administration and equitable policymaking, founded PolicyLink in 1999. Since then, it has become a leading national voice in the movement to use public policy to improve access and opportunity for all low-income people and communities of color, particularly in the areas of health, housing, transportation, education and infrastructure.
"Angela Glover Blackwell is an outstanding choice for this honor," said Brandeis President Frederick M. Lawrence. "Her contributions span multiple areas of public policy but follow a common thread that links advocacy goals to tangible improvement of public health, economic vitality and neighborhood infrastructure."
Angela Glover Blackwell was in residence 2014. The Richman award ceremony and presentation was held on March 25, 2014. 
Videos