Julian Bond
2015 Fellow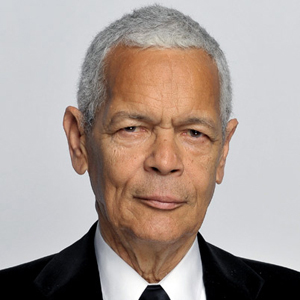 Named a "Living Legend" by the U.S. Library of Congress, Julian Bond has been a driving force for social change for more than 50 years — as a civil rights leader, politician, scholar and writer. In 1960, he helped co-found the Student Nonviolent Coordinating Committee. He went on to serve four terms in the Georgia House of Representatives and six terms in the Georgia Senate. During his legislative tenure, Bond successfully fought to create a majority black congressional district in Atlanta and organized the Georgia Legislative Black Caucus.
He helped to found the Southern Poverty Law Center, whose mission is to seek justice for the most vulnerable members of society. He served as its president from 1971 to 1979. For 11 years he was chairman of the NAACP.
Bond has frequently been in the public eye, including serving as host and commentator on America's Black Forum, the oldest black-owned show in television syndication, as commentator on the Today Show and as author of  "Viewpoint," a nationally syndicated newspaper column. In 1977 he became the first black political figure to host Saturday Night Live. Bond was the narrator of the PBS video Eyes on the Prize, recounting the civil rights movement of the 1950s and 1960s.
Bond has been tireless in his commitment to public service. In 2009 he was honored with the Spingarn Medal, the highest honor given by the NAACP, which recognizes distinguished merit by an African American. He shares this award with such previous recipients as Rosa Parks and Martin Luther King, Jr.
At the University of Virginia (UVA) he had a 22-year career as a history professor, giving students the rare opportunity of listening to Bond draw on his firsthand knowledge of the Civil Rights Movement. In 2013, UVA established the H. Julian Bond Professorship in Civil Rights and Social Justice, a permanent position that will sustain Bond's scholarly legacy by enabling future generations to study civil and human rights. He taught at American University in Washington, D.C. until his passing shortly after his Brandeis residency, on August 15, 2015.
Julian Bond was in residence March 31 - April 2, 2015. The Richman award ceremony and presentation was held on March 31.
Videos