Rev. Jeffrey L. Brown
2017 Fellow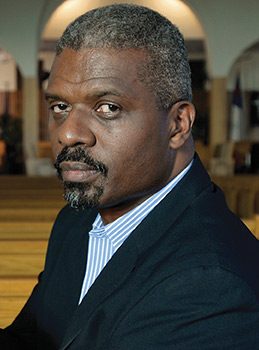 Rev. Jeffrey L. Brown is founder of RECAP (Rebuilding Every Community Around Peace) and a key community leader responsible for what the New York Times called the "Boston Miracle," when the youth homicide rate declined from a high of 73 deaths (1990) to zero (1995–1998). The model of social responsibility Brown helped mastermind involves new roles for youth, police and courts to advance social justice and ensure the right of every young person to live in an urban community without violence.
After obtaining a master's degree from Indiana University and attending Harvard Divinity School, Brown became the full-time pastor at Union Baptist Church in Cambridge, Massachusetts, where watching the rise in gunfire deaths of youth in his community, he became deeply committed to ending the violence cycle. His aim was to prevent the assumption that the youth were "bad" kids who wanted to join gangs, and sought to understand the circumstances that led to their behavior. He saw that preaching alone wouldn't solve the problem. He discovered the best way to connect with teenagers was to walk the neighborhood himself at night, meet with gangs on their own terms and listen.
On May 14, 1992, 14 gang members entered the Morningstar Baptist church in Boston during a funeral and beat and stabbed a rival gang member in attendance at the service. This prompted Brown to join forces with other clergy to develop the TenPoint Coalition, forging connections between the clergy and Boston's minority youth. Brown was recognized for his efforts by President Bill Clinton in 1997 and Senator Elizabeth Warren in 2013. Brown pastored at the Union Baptist Church for 22 years, and continues his ministry in the 12th Baptist Church of Roxbury.
Brown has helped communities all over the world adopt this model, including Louisville, Kentucky; Milwaukee, Wisconsin; and communities in Rio de Janeiro, Johannesburg and Belfast. See his TED talk.
Brown was in residence from March 21 - 23, 2017. The Richman award ceremony and presentation was held on March 22.
Videos