Theaster Gates
2016 Fellow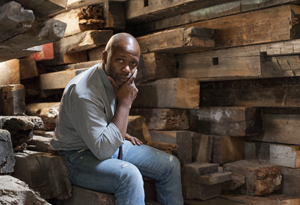 Named one of the hundred most important people in the art world by ArtReview and "Innovator of the Year" by the Wall Street Journal, Theaster Gates is a multimedia artist, activist, social engineer, curator, cultural entrepreneur and esteemed member of the elite global art world. His message that art and creativity are engines for attacking poverty, revitalizing neighborhoods and providing opportunity is motivated by a strong social justice agenda.
Of particular note are his founding of the "Dorchester Project" and "Arts Incubator" in Chicago, turning abandoned buildings into cultural hubs. He also founded Rebuild Foundation, a nonprofit organization focused on cultural-driven redevelopment and affordable space initiatives in under-resourced communities, which currently manages projects in the Greater Grand Crossing neighborhood of Chicago.
As director of Arts + Public Life at the University of Chicago, Gates builds creative connections on Chicago's South Side through artist residencies, arts education, and artist-led projects and events.
The American premiere of Theaster Gates' "Gone are the Days of Shelter and Martyr" (2014) was presented by Rosebud, the Rose Art Museum's satellite gallery in downtown Waltham, March 3 through April 3.
Theaster Gates was in residence from March 21 through March 24, 2016. The Richman award ceremony and presentation was held on March 23.
Videos